District rallies for completion
By Atziry Garcia

Arts & Culture Editor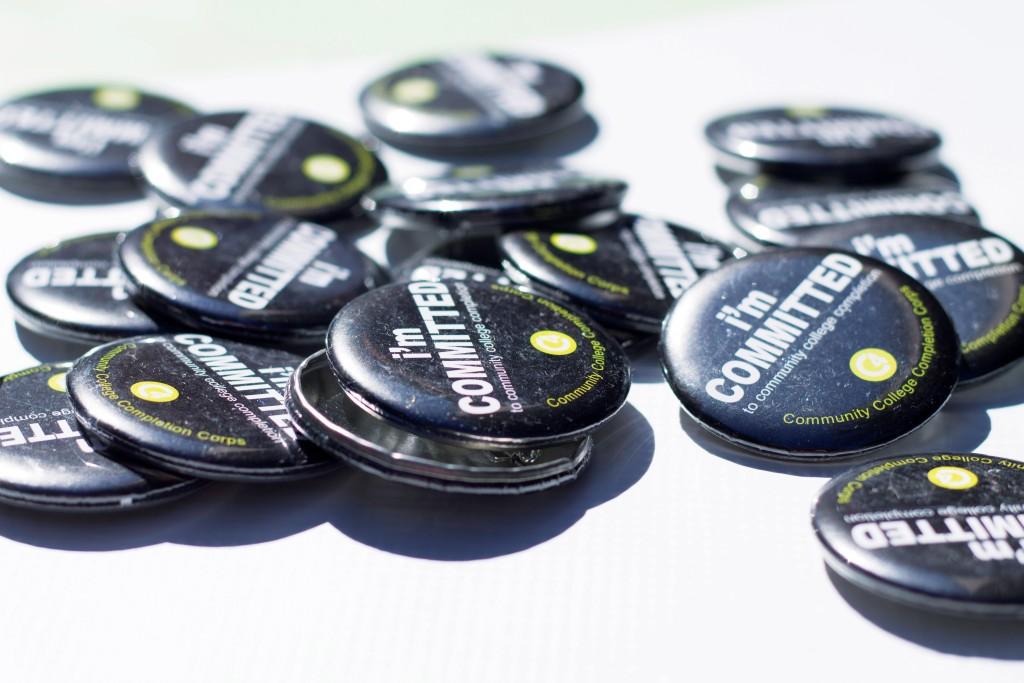 Phi Theta Kappa Honor Society hosted the "College Shirt Day" event in the Commons Courtyard Oct. 14-15. as part of the Dallas County Community College District's Commit to Complete Week.  Students pledged to graduate and continue other personal goals during the event.
Fabiola Barreto, public relations coordinator for Alpha Delta Pi, Brookhaven's Phi Theta Kappa chapter, said students are more likely to be committed to complete not only their time at Brookhaven, but also at a university when they acknowledge their goals. Students signed and customized their own T-shirts and bandanas. They were also encouraged to sign their written motivations for completing their degrees or certificates. Giveaways included buttons and rubber bracelets.
Refreshments included popcorn, nachos and snow cones. Myly Nguyen, Alpha Delta Pi secretary, was recruiting students to sign up for the honor society. She said Phi Theta Kappa offers students many community service and scholarship opportunities. To qualify for membership, students must have completed at least 12 credit hours, excluding developmental classes, have a minimum 3.5 GPA and pay a one-time membership fee of $95.
Students in need of financial aid can apply for a scholarship offered by Brookhaven that will cover membership fees. Applications are available from the Office of Student Life.
The students also had their pictures taken on an Instagram cardboard cut-out wearing their given accessories. Students could promote the project online by using #AlphaDeltaPi, #myBrookhaven, #Commit2Complete, and #DCCCD on Facebook, Twitter and Instagram.
Carolina Wilkins, Alpha Delta Pi chapter president, said this project is designed to empower students to graduate. She said many students come to get an education, but work or family get in their way.
Job placement can be hard to come by with lower education, and these events aim to encourage students to keep going with their academic goals.
During the 2015-16 school year, colleges and universities are expected to award 952,000 associate degrees, 1.8 million bachelor's degrees, 802,000 master's degrees and 179,000 doctoral degrees, according to the National Center for Education Statistics website, nces.ed.gov.
In 2014, a smaller percentage of 20- to 24-year-olds with a bachelor's degree or higher were unemployed compared to those with lower levels of education, according to NCES.
In 2013, the median earnings for full-time year-round working young adults ages 25-34 with a bachelor's degree earned $48,500. In contrast, those without a high school diploma earned $23,900, while those with a high school diploma earned $30,000. Those with associate degrees earned an annual median income of $37,500, according to NCES.
Overall, those with a bachelor's degree earn more than twice as much as those without a high school diploma and 62 percent more than those with a high school diploma, according to nces.ed.gov.