Bears hungry for new season
By Andres Reyes
Senior Staff Writer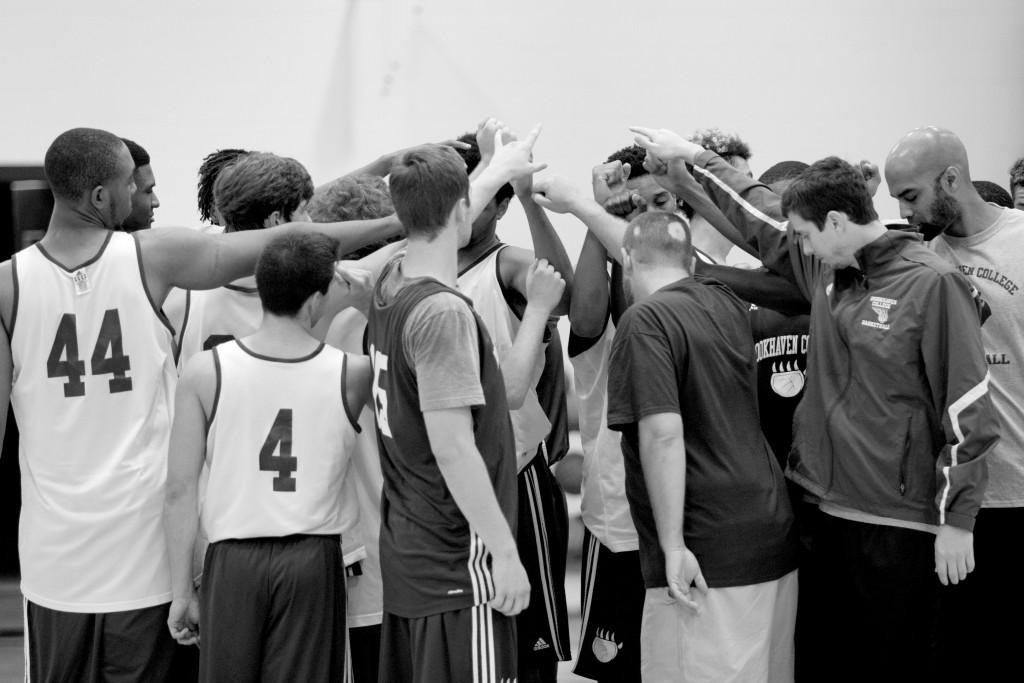 Before the sun rose, the Brookhaven College Bears basketball team was hard at work practicing for the upcoming season, which startsOct. 30 against Tyler Junior College. With one returning sophomore, forward Chisom Obineke, the Bears have a lot of new faces on their team who are working to develop chemistry during practices.

Head coach Kevin Hurst is returning for his 21st year of coaching. Hurst said he has not seen a team with this many players who are hungry to learn and who listen to the coaching they receive.
The Bears start practice with stretches. Hurst then yells, "side to side, post ups," and the Bears all run into their positions as Hurst explains the drill.
"I'm just working hard so I can help my team win games," point guard Jeremy Hicks said. "It's new people and new faces. We're trying to mesh 13 different people together. Hopefully we can make it to the championship in New York."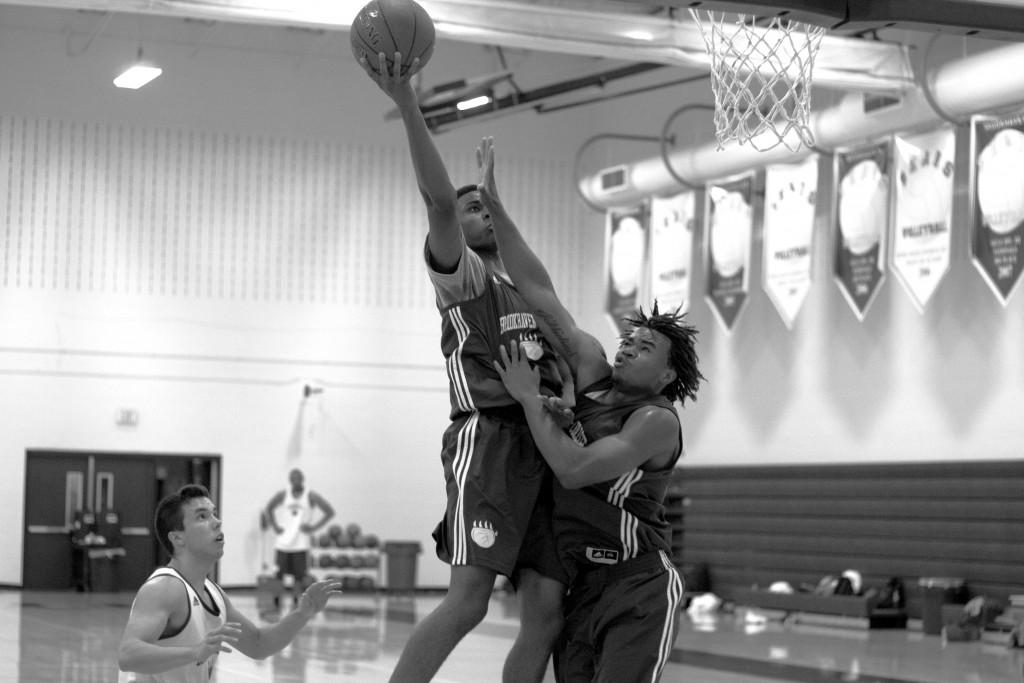 Looking up at the rafters of the Bears gymnasium, Hicks said, "Get a banner up there. That's my goal, and that's what I want to do,"
A booming echo filled the gym as the Bears started pounding two basketballs each in a dribbling exercise. "Back. Back. Forward. Forward," assistant coach Joe Wilson said. Hurst and assistant coach HammMcCoy pleaded for the players attention on the other end of the court, trying to keep the players from looking down while dribbling.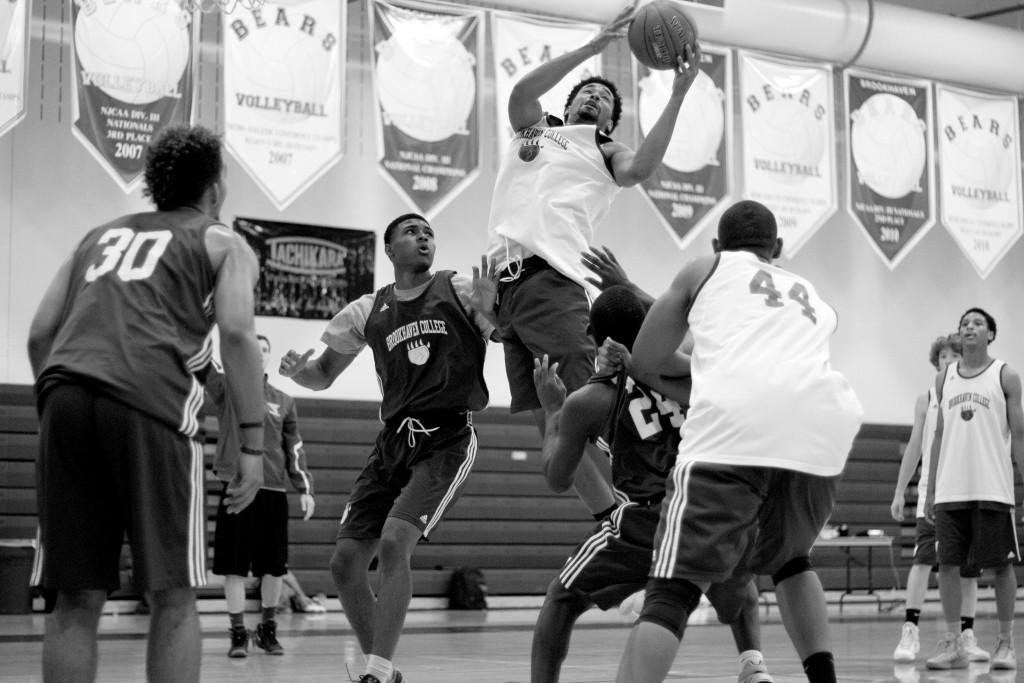 Before practice ended, Hurst brought in the team to practice the triangle halfcourt offense, mirroring the dynamic offenses that were once used by the Chicago Bulls and Los Angeles Lakers.
The triangle offensive strategy was developed byCoach Sam Barry at the University of Southern California, according to coachesclipboard.net.
It was used last season and helped the Bears average 94 points according to njcaa.org. Hurst explained the importance of learning the triangle offense and how effective it can be once mastered.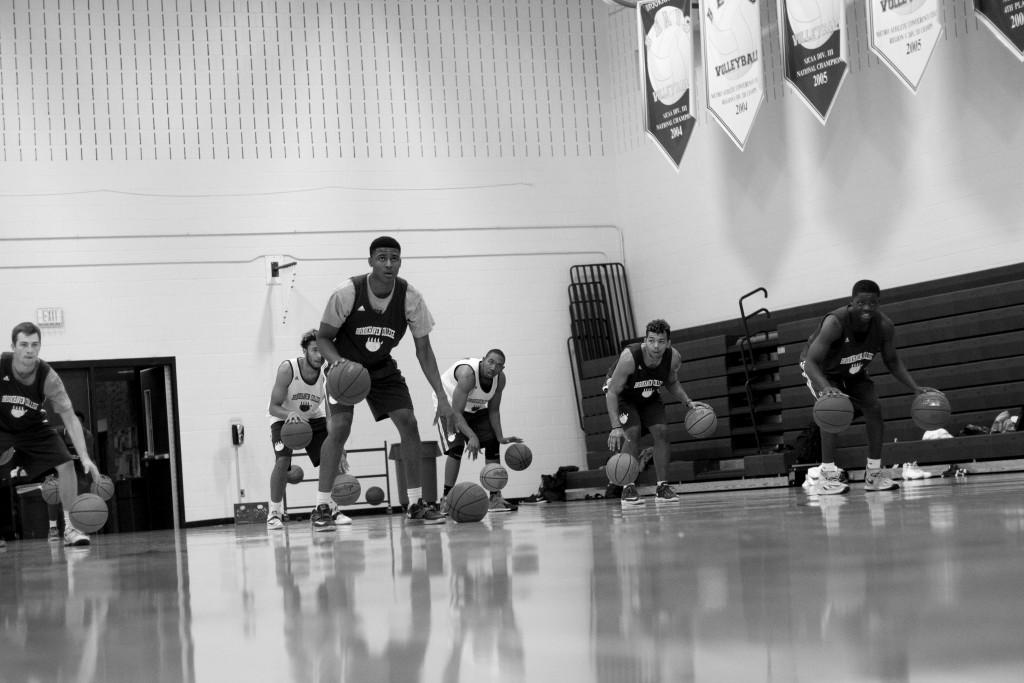 "I know what to expect and can show the new recruits what to expect as well," Obineke said. "I can play wing and feel what I do best is jumping."
Hurst mentioned the athleticism the team possesses as well. "We're talented and athletic and very, very fast. It's just going to take time," he said.
"They listen. They're hungry to learn. It's unbelievably refreshing and exciting," Hurst said. "I can't think of a group where the entirety of the roster just wanted to learn and get better."
The practice concluded with a huddle at half court. "It's not about size or height – it's about heart," Hurst said as the Bears concluded practice.