BHC parties, shows spirit
By Sarah Gutierrez
Staff Writer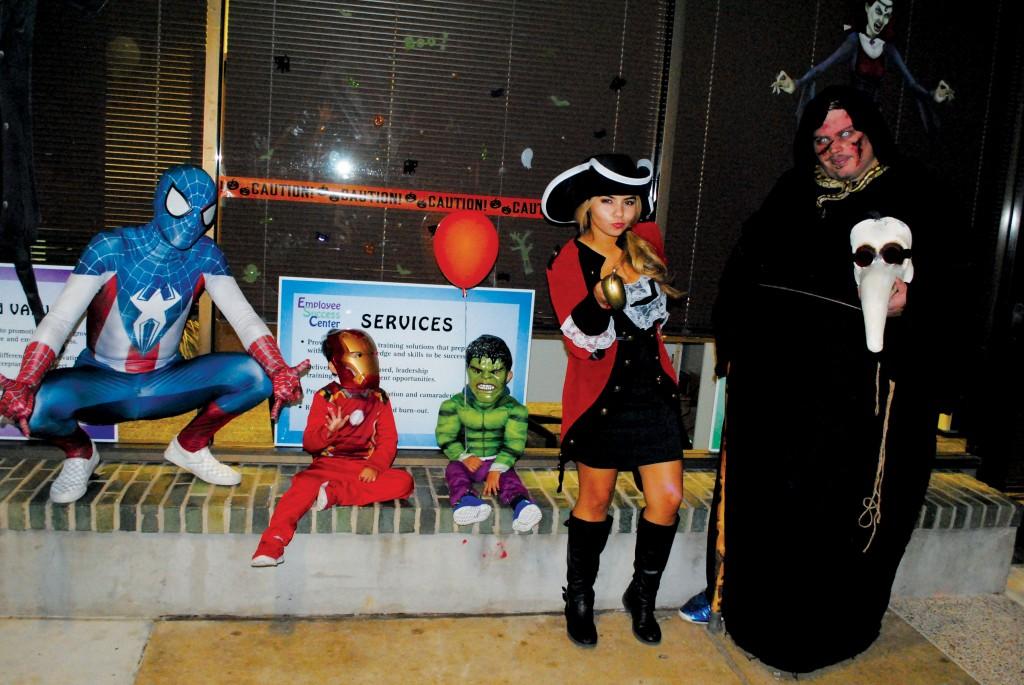 Costume contest winners: George Luetkemeyen, a Brookhaven student, as Captain Spidey; Jason Bennet's, music and humanities professor, and Daffne Bennett's, college outreach and recruitment coordinator, sons Zachariah dressed as the Hulk and Alexendro dressed as Ironman, respectively; Chace Montano, a student, dressed as a pirate; Jason Stringer, a student, as a plague doctor.
On the evening of Oct. 29, Brookhaven College's Commons Courtyard was inhabited by dancing creatures and humans alike. The Campus Activities Board organized the Monsters Ball,which had free hot dogs, music and a haunted house. Students, staff and faculty dressed as their favorite ghouls, characters and superheroes.
The CAB decorated the campus with crime scene chalk outlines and skeletons leading to the event. Caution tape was draped around a tree, which had a strategically placed skull and headstone in the rocks below. Ghosts hung from trees around the benches where students congregated and took selfies.
The smell of popcorn was in the air and the whir of the cotton candy machine beckoned students to stand in line. Carolina Wilkins, Phi Theta Kappa chapter president, stood at the machine learning how to make cotton candy. "I don't like Halloween parties. People are scary," Wilkins, who wore a multi-colored cupcake costume, said.
Lindsey Elliott, a student, was dressed as a scarecrow with a bloody face, a black leather hat and pieces of straw hanging from her brown coat. "They basically can't tell if I'm a dummy or a person, and I scare the crap out of people," Elliott said. "Any chance I have to scare people, I take."
Later that night, as more people showed up, the dance floor filled with monsters and students dancing to the "Cupid Shuffle."
Lauren Orosco, Student Government Association President, stood by the disc jockey booth. She joked with the DJ, Saliou Diallo, who showed off his dance moves to the song "Breaking My Wrist," by Peewee Longway, as it blared from the speakers.
"The Student Government Association is usually in charge of this event, but this year we have a new [organization] called CAB," Orosco said. "They're in charge of posting the events, but there are five different committees. I was in charge of putting this on since I am the head chair of special events." She was whisked away by a student asking where to put the smoke machine while the haunted house was being built.