Love for undead unites the living
By Victor Cruz & Michael Dunlap

Contributing Writers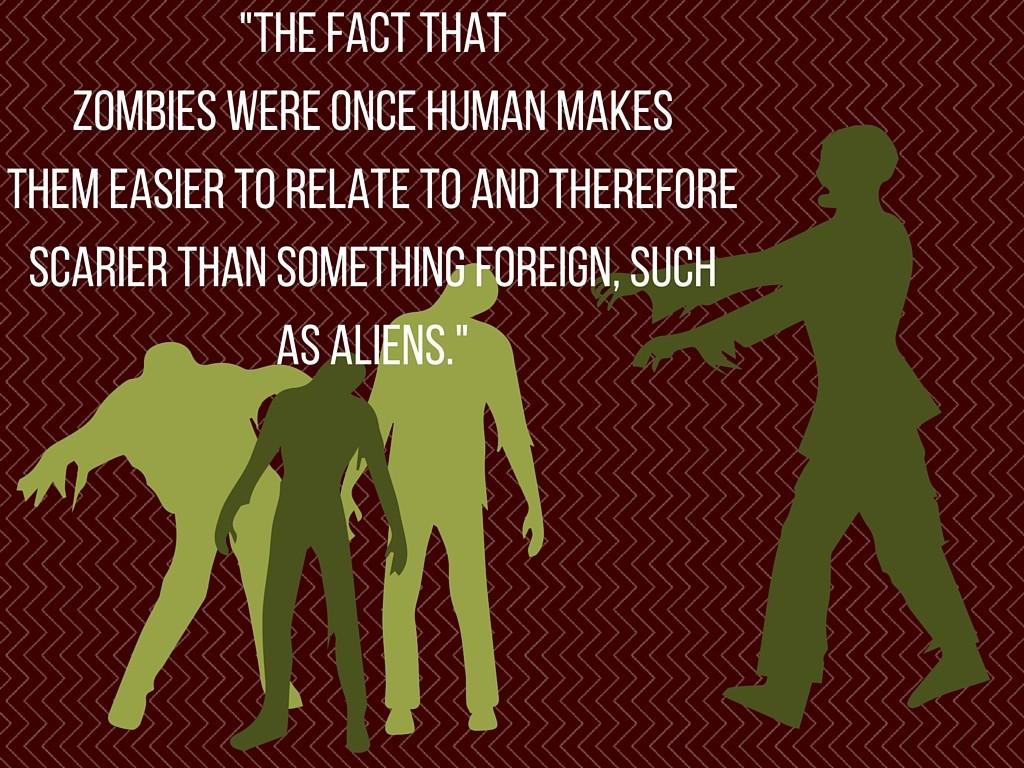 Slow-moving, decaying, brainhungry and undead, zombies have lurched their way into our culture. In recent years, TV shows and films such as "The Walking Dead" and "World War Z" have fueled a resurgence in the popularity of all things zombie. Brookhaven College students, staff and faculty gathered Oct. 29 in H125 for Zombageddon!, an interactive event about zombies in media and pop culture. The event was led by Elizabeth Alewine, English adjunct faculty, who teaches an English 1302 class centered on zombies, and John Flores, Brookhaven librarian.
Attendees played games, ate candy and learned about the history of zombies in American culture. The event was hosted by the Office of Student Life and the Quality Enhancement Plan committee.
Alewine said she began including the undead in her course material in Fall 2008 while teaching at Collin County Community College where instructors were required to assign students lab credits, or "busy work," as Alewine put it.
Alewine said that Collin County was going to be showing George A. Romero's "Night of the Living Dead," so she created a scavenger hunt for her students requiring research and a one-page paper based on results of the scavenger hunt. It was then, Alewine said, she realized her idea could work for a full composition course.
She decided to pitch the idea and "Zombies Ate My Term Paper," also known as Zombie English, was born. Along with writing assignments based on zombie media, students complete group and individual projects, such as researching the best weapons for zombie defense and creating a public service announcement in the event of a zombie outbreak.
Alewine showed a video from YouTube channel "Extra Credits" that explained the history and cultural significance of zombies. The first mainstream zombie film, "White Zombie," debuted in 1932 and played on the exotic and frightening nature of Haitian voodoo, according to the video.
Zombie stories fell to the wayside as America fought two world wars, and it was not until Richard Matheson's novel, "I Am Legend," was published in 1954 that zombies reappeared in mainstream culture.
The video, "Extra Credits: Zombies," said the 1968 film "Night of the Living Dead" established the modern day zombie: an undead creature that eats the flesh of the living, creates other zombies by biting humans and can be killed by destroying its head. In the film, the walking corpses are called "ghouls," not zombies, and are created when radiation from an exploded satellite lands on corpses.
What makes zombie stories interesting is what they have to say about humanity, according to the video. Zombies test human beings as individuals and as a society. Romero said in an interview with cinemablend.com: "[Zombies] don't represent, in my mind, anything except a global change of some kind. And the stories are about how people respond or fail to respond to this." The fact that zombies were once human makes them easier to relate to and therefore scarier than something foreign, such as aliens.
After Alewine's presentation, Flores led a game where each attendee was given a playing card. Flores picked a card from another deck and called it out. The player with the matching card was given a choice: pick a zombie-related book from a cart or answer a zombie related question for a chance to win a zombie survival kit.
Some attendees dressed as zombies and participated in a costume contest. The top three prizes went to Brookhaven students. Leslie Simental won the contest. Second place was awarded to Annette Walls and Jessica Zumaya took third place.
The event ended with a screening of "The Night of the Living Dead." Visiting Scholar Jennifer Laughlin said her favorite part of the event was getting to know people around the campus. Flores said he was happy that people came together to share their love for zombies. He also said "Shaun of The Dead" is his favorite zombie movie and his weapon of choice in a zombie apocalypse would be a shovel.