Clinton rallies local support
By Diamond Victoria
Managing Editor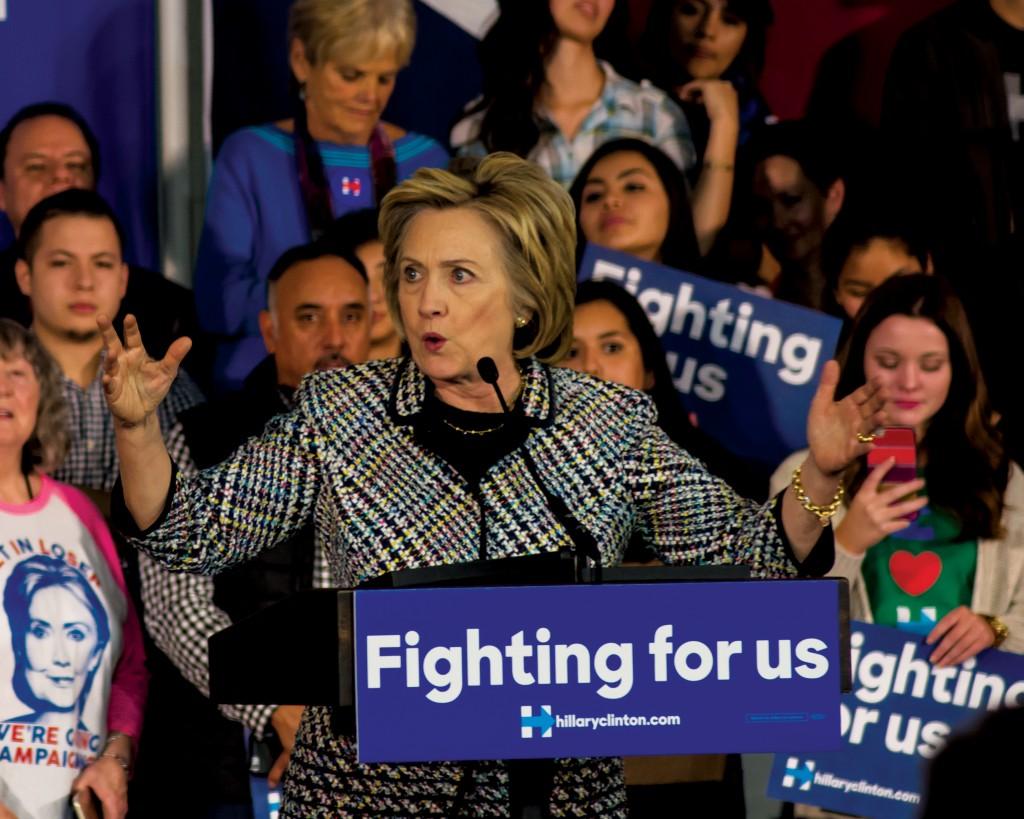 Former secretary of state Hillary Clinton recently visited Mountain View College as part of her presidential campaign trail.
Democratic presidential candidate Hillary Clinton discussed a variety of policies, including student debt, raising minimum wage and healthcare, as part of a campaign visit Nov. 17 at Mountain View College.
"If you have been watching the Republican debates, it is sort of like watching a reality show," Clinton said at the rally. "These people are out of touch with actual reality."
A portion of the half-hour rally involved Clinton calling out Texas Gov. Greg Abbott on topics from defunding Planned Parenthood to limiting healthcare programs such as Medicare and the Affordable Care Act.
The crowd applauded and cheered when jab after jab was made toward the governor. "I don't know about you, but I'd be a little worried about handing over [healthcare] to Greg Abbott," Clinton said. She continued by accusing the governor of placing ideology ahead of the well-being of citizens.
The former secretary of state said the center of her economic policy is raising income, in order to help more Americans be able to afford a middle-class life. She also discussed equal pay for equal work.
"More accountability on Wall Street [will] create prosperity on Main Street," Clinton said.
Student debt and affordable college were also part of Clinton's agenda. She said higher-paying jobs are needed to see education and hard work pay off.
Clinton announced the New College Compact, a 10-year $350 billion plan, which would eliminate the financial barriers that keep students from going to college. Students should never have to borrow to pay for tuition, books and fees to attend a four-year public college in their state, according to hillaryclinton.com.
Under the plan, students at community colleges would receive free tuition and contribute their earnings from working 10 hours a week.
Her plan to create a tuition-free college is for the federal government to make a major investment in the New College Compact. By giving grants to states and cutting interest rates on loans, Clinton's plan has a chance of succeeding, according to her campaign website.
"There is no doubt in my mind that if the community college stays at the center of preparing the people of this country, [then] we will see incomes rise," Clinton said.
Most attending the rally were Clinton supporters, but not all were entirely convinced she was the best candidate for presidency.
Ashleigh Horton, vice president of the Student Government Association at Brookhaven College, said she was there to hear one side of the debates argued by Republican and Democratic presidential candidates.
Horton said that regardless of her political views, she wanted to hear what Clinton had to say. "I'm not a supporter," she said. "But Hillary is a very important person."
One man, holding a sign critical of Clinton that read: "Yes Ms. [sic] Clinton. It does make a difference," was escorted out from the front of the crowd. According to CBS, the sign was a reference to the candidate's testimony before Congress in 2013, regarding the attacks in Benghazi, Libya that left four Americans dead on Sept. 11, 2012.
Another protestor lingered just outside the gymnasium where the rally was held, holding a sign proclaiming both Clinton and Republican presidential candidate Donald Trump as unfit to be president. The protestor said: "I don't think the far right or the far left are willing to negotiate, and decisions aren't being made by Congress."
David Griggs, Brookhaven adjunct faculty who teaches government and criminal justice, was in the crowd. He said discussions on the latest political news are part of his classes.
"[I'm here] to witness history," he said.
Clinton ended the rally with notes on LGBT rights, gun regulations and voting rights. She also discussed women's inequality in the workplace.
"Do we have problems?" Clinton asked. "Yes we do. But have we made progress? Yes we have."