Error displays grace under fire
By Sara Prendergast
Staff Writer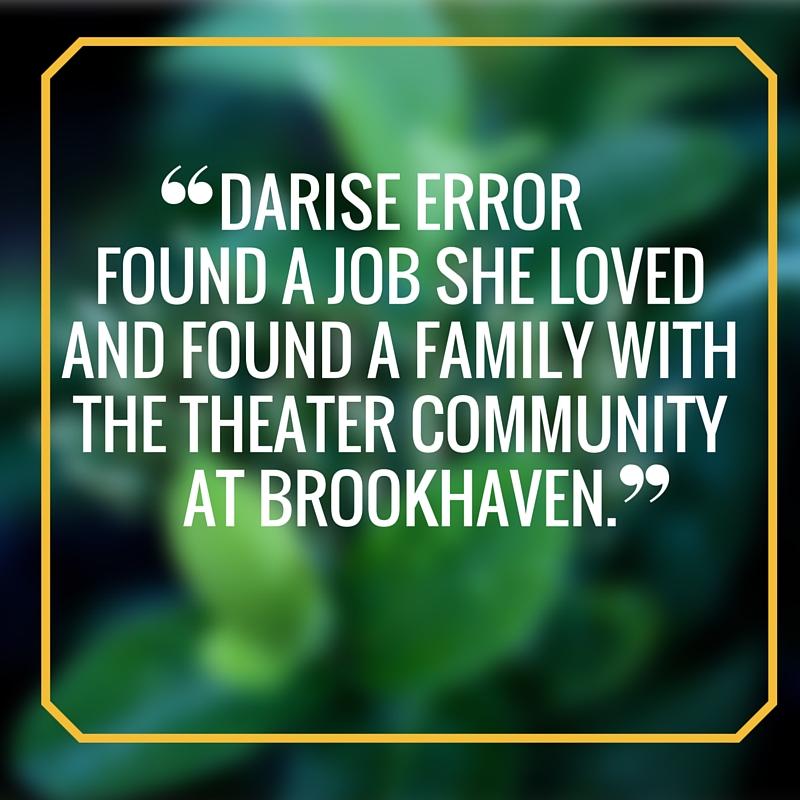 Five minutes after class has ended, students remain in the Black Box Theatre with Darise Error, Brookhaven College theater department chair. A student throws a pillow against the ground. "Harder, harder. Get on your knees and slam it to the ground," Error says. The student begins beating the pillow on the ground, then stands up to catch her breath.
"Sometimes you don't get to an emotion from feeling it on the inside." Error said. "Sometimes you have to feel it physically to bring the emotion from the outside in."
Born in Provo, Utah, Error came from humble beginnings. "I had two loving parents, still married to this day," Error said. "I don't have this angsty past that a lot of actors have."
Error's father was a federal government employee, and his job had him relocate several times throughout Error's childhood.
"We lived in Utah, California, Illinois and then settled into the Dallas area,"she said.
Error always had an interest in theater, but it was not until she attended South Garland High School and played the part of Rebecca Nurse in the school's production of "The Crucible," by Arthur Miller, that she decided to really pursue acting.
"I always wanted to be involved. I just didn't have the guts until high school, and there was no turning back from there," Error said.
In addition to participating in plays, Error competed in the University Interscholastic League's One-Act Play competitions
There she met competition judge Jim Miller.
"I did my undergrad at Sam Houston State University thanks to Jim Miller, who offered me a scholarship without an audition because he had seen my stage work at competition," Error said. "He was a mentor for me throughout my career, and we remained in contact until he passed away a few years ago."
After graduating magna cum laude with her Bachelor of Arts, Error followed her mother's advice and obtained her teaching certificate in drama. After student teaching, she decided a career in teaching was not for her.
"I was student teaching in a middle school," Error said. "The public school system was very regimented, and you were told what had to be taught."
Error then began working as a professional actor. "I spent five years floundering and flopping like a fish out of water trying to be a professional actor," she said. "I got into television production and was a production assistant for television- and video-based educational courses that would air on PBS. I hung out with a lot of great people, a lot of academics, and decided that maybe graduate school was the direction I should take."
She went on to earn a master of arts in theatre and film from Brigham Young University in her hometown. Error decided to continue her education and went to Texas Tech University, where she earned her doctorate in philosophy in fine arts with an emphasis in theatre.
During her graduate studies, Error found what she wanted to do for her career. "I stumbled into what became my passion," Error said. "I became a teaching assistant at the master's level, and I liked it. I decided it wasn't teaching that I didn't like. It was teaching small children in a regimented environment that I didn't like."
Error made her way back to the Dallas area and began teaching English as an adjunct instructor at Eastfield College in Mesquite, Texas. Error said she struggled to find a full-time professor position for eight years. "I had no idea it was as hard to be a professor as it was an actor," she said.
In the fall of 2004, Error began her job as a full-time theater professor for Brookhaven College. "I think I was gently led to the position that I ended up in and that I could excel and really feel fulfilled. I counted my lucky stars because this is what I wanted to be doing," she said.
Things were looking up for Error. She had found a job she loved and found a family with the theater community at Brookhaven. However, in January 2014, she received news no woman ever wants to hear. She had ovarian cancer.
"There is no good news with ovarian cancer," Error said. "It doesn't get diagnosed until it has gone hog-wild. With mine, there was good news." It was found and diagnosed as Stage 1. The tumor had ruptured without affecting the surrounding tissue.
Removing the tumor was only the first step. Error was sent down the road to recovery with weekly chemotherapy treatments. "I was lying in bed one day trying to recover from the surgery, and I came upon a Winston Churchill quote," she said. "He was asked why, during World War II, did he not stop funding to the arts … and he said, 'Then what are we fighting for?'" Error said.
The quote moved and inspired her to push harder to recover and make her doctors push her harder. "I said: 'I want to go back and do art. I want to be with those kids. I want to do what we do.'"
She missed the first week of the Spring 2014 semester and then was back to working full-time, directing two shows with the Brookhaven theater department. She said directing two shows while undergoing chemotherapy was difficult, but it was what she wanted to do. "Being with my kids and doing my art is where I wanted to be," she said.
Error considers her students her children. When some students found out Error had been diagnosed with cancer, they decided to do whatever they could to help. Stephen Wantland, a student, set up a GoFundMe crowd-funding account to benefit Error and help with her rising medical bills. The account raised over $2,000.
"Darise has helped many of us through difficult times. Our little [account] was a very small way to show our gratitude," Wantland said. "I made a giant, fake check to give her in the tartan plaid of "Macbeth" because that's the show we were doing at the time. The cast and crew gave her the check at the final performance."
After the last chemotherapy session in June 2014, Error went in for a CAT scan and blood test. The test revealed that her blood levels had returned to normal and she was in remission. She continues to be tested every six months. As of Nov. 17, 2015, she remains in remission, though that is a word she doesn't use. "I say I'm cancer-free," she said.
Following the diagnosis that the cancer was gone, Error received more great news. She was nominated for and won the 2015 Teacher-of-the-Year award at Brookhaven College by her peer, Adrien Cuellar-McGuire, department of humanies chair. Winning the award made her the Brookhaven nominee for the Minnie Stevens Piper Award, a national award in teaching excellence.
"Darise is such a warm and welcoming person," Cuellar-McGuire said. "She is also very talented and inspiring as a teacher and director. Everyone who works and teaches in the Performance Hall knows what a huge job it is to have that space."
Error said being nominated by one of her peers was rewarding because teachers understand the hard work they put into their jobs every day. "For a teacher it's a hell of a big prize, and I'm very honored," Error said.
Error continues to direct the production of "The Last Days of Judas Iscariot," running Dec. 3-13 in the Black Box Theatre. She is excited about teaching a musical theater class in the spring and directing the premiere of an original work by Caroline Murphy, adjunct faculty, called "Beautiful Dreamer," in the summer of 2016.