By Kate Rhoads
Contributing Writer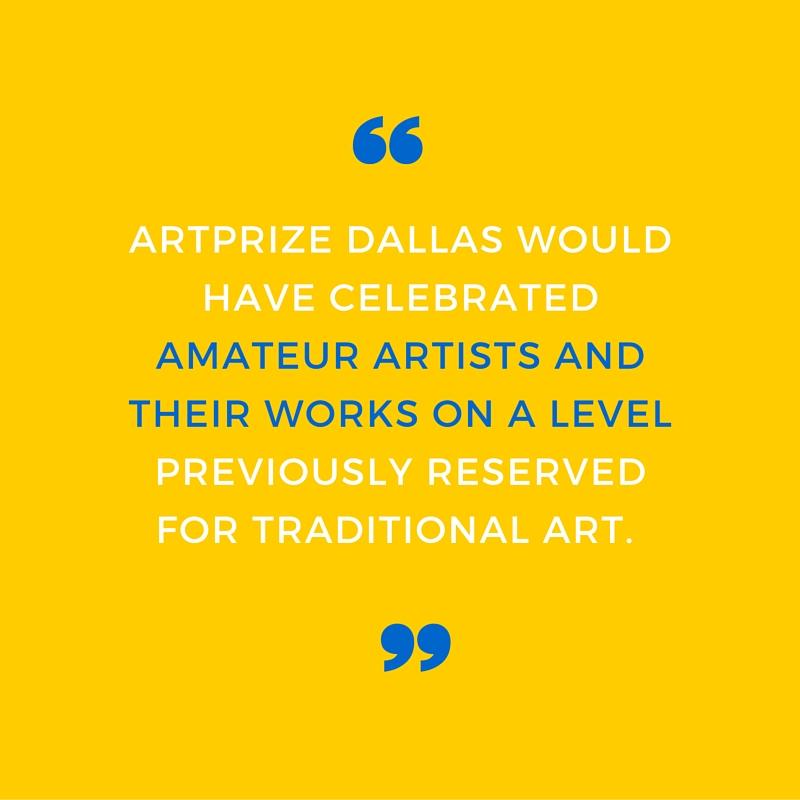 When plans for a Dallas chapter of an international art competition that changed a Michigan city fell through,  Big D lost more than simply a chance to host the event. It missed out on an opportunity to show the world a refreshing, hidden side of its rich art culture.
Grand Rapids, Michigan, entrepreneur and philanthropist Richard DeVos Jr., founded ArtPrize in 2009, according to artprize.org. But ArtPrize was not just another competition or collection of exhibits.
DeVos made ArtPrize entirely inclusive – from the artists themselves to where the art is displayed to who chooses the winners. Anyone older than 18 can enter, regardless of where they were born or reside, according to the ArtPrize website.
Artists can use any space within a designated 3-square-mile area as their venues. We're talking wooden horse sculptures in the Grand River and spinning motorcycles in an abandoned hotel. The lack of restrictions on what is "art" and who can be an artist is a defining facet of ArtPrize.
The artists and venue owners – rather than an ArtPrize committee – organize the competition. The 19-day event is free and open to the public, and both public vote and a jury of art experts select the winning pieces. With a total of more than $500,000 in prizes, ArtPrize is no petty project.
The result is global art in all forms displayed on sidewalks and in coffee shops in the heart of Grand Rapids.
Having lived in Grand Rapids for 10 years, I've attended ArtPrize several times. So when The New York Times ran an article in November 2014 announcing that, after a seven-year exclusive run in Grand Rapids, ArtPrize was expanding to Dallas, I was excited.
I wanted to see what ArtPrize would do for Dallas. But, even more I wanted to see how Dallas would transform ArtPrize.
There is no doubt ArtPrize would've made an incredible, positive economic impact in Dallas. Last year, the event brought in nearly $4.5 million in revenue and ushered more than 440,000 visitors through Grand Rapids, a steady increase from 2009's 200,000 visitors, according to artprize.org.
The thought of its potential impact on Dallas-Fort Worth is staggering.
But more importantly, think of the effect Dallas artists would have on the evolving event. It is unlikely DeVos was able to envision the citywide cultural phenomenon ArtPrize would become when he created the concept. Seven years young, the competition is still growing and morphing as individuals stretch the definition of art to its limits and then some, inspiring some people and offending others.
In fact, the lack of artistic refinery ArtPrize embraces is one possible reason its plan for a Dallas debut did not pan out, according to dmagazine.com. After all, anyone can enter the competition, anyone can attend, and anyone can vote.
Eliminating the exclusivity of the art world is exactly what ArtPrize Dallas was intended to do, ArtPrize Dallas Executive Director Ariel Salvidar wrote in a statement, according to the arts blog on dallasnews.com.
Salvidar said: "[I had] hopes of a student, a day laborer, a merchant – all directly engaging in the cultural landscape that called out to them in their own unique way."
Frank McCammon, Dallas artist and former Brookhaven College student, visited Grand Rapids last year and said ArtPrize seemed to help extend the reach and influence of art. He said he planned on showing his own metal art pieces and acrylic paintings at ArtPrize Dallas.
"I'm disappointed that it's not going forward," he said. "It's just one less opportunity for artists in Dallas."
ArtPrize Dallas would have celebrated amateur artists and their works on a level previously reserved for traditional art.
"We need to continue to democratize the arts," Dallas Mayor Mike Rawlings said, according to dallasnews.com. "So they're part of everybody's life."
This potential disruption of the status quo in the Dallas art scene sparked some resistance, Salvidar said in her statement.
According to dmagazine.com, ArtPrize "lowers the public's expectations for and understanding of contemporary art, while celebrating middle-brow taste in the name of the most pandering form of populism."
I guess some people were worried ArtPrize Dallas was going to be like giving crayons to children so they could draw on the ceiling of the Sistine Chapel.
Ultimately, however, a lack of funding was the demise of ArtPrize Dallas before it even had a chance to show its colors, according to dallas.artprize.org.
Had ArtPrize Dallas materialized, I bet those concerned with the status quo would have been blown away by the creativity of the DFW community.
The Brookhaven community alone would have given ArtPrize Grand Rapids a run for its money. And I think our city would have challenged the concept of art in a way never before seen.
Perhaps in a few years, Dallas will be ready for such a radical, inclusive concept as ArtPrize. Or maybe we will create our own innovative art event.
Either way, it is about time we cut the velvet ropes separating marble museums from common craftsmanship and acknowledge that grassroots artists have something valuable to offer.