Reporter shares part of history
By Jubenal Aguilar
Copy Desk Chief
Former Dallas journalist recounts his coverage of the JFK assassination.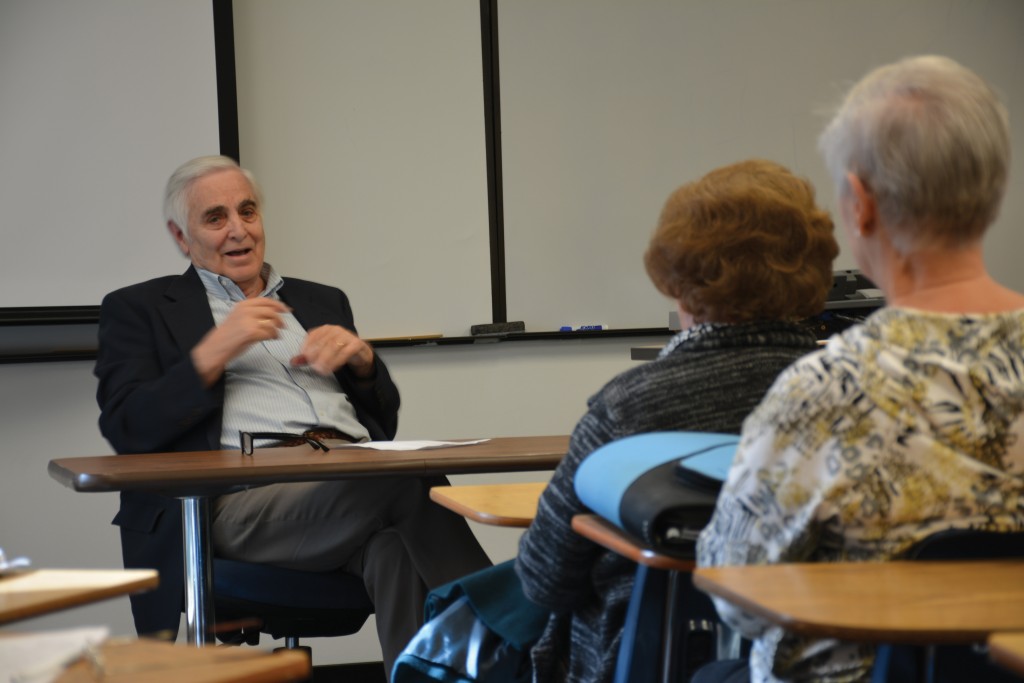 Few people can say they witnessed firsthand the events of Nov. 22, 1963, the day  President John F. Kennedy was assassinated. But one, Hugh Aynesworth, witnessed all the events of that trying time in American history. Aynesworth saw the assassination of Kennedy at Dealey Plaza, the arrest of Lee Harvey Oswald at Texas Theatre and the murder of Oswald by Jack Ruby in the basement of Dallas Police headquarters.
Aynesworth visited students in the Students 50+ Education Program at Brookhaven College on Nov. 12. The students in Barry Hoffman's current events analysis class, Beyond the Headlines, listened as Aynesworth retold the story of Nov. 22 and 24, 1963 – a story he witnessed firsthand and has led him to be "one of the most respected authorities on the Kennedy assassination," according to hughaynesworth.com.
"This kind of original reporting is really valuable, not only for a newspaper, but also for the historical record," Hoffman said.
Sheer luck was not the only factor involved. Aynesworth's reporting experience and journalistic instinct led him to the right place at the right time more than once as the news of those days unfolded.
"I had the feeling something embarrassing could happen," Aynesworth said. "Not like it did, of course, but [that] someone would hit him with something, throw something at him, something of that sort."
Aynesworth, a Dallas Morning News reporter covering the aviation and space beat at the time, did not have pressing news to cover that fateful day, so he decided to take a long lunch and watch the President's motorcade.
"[I] never heard or saw applause like that day," Aynesworth said. "The haters stayed home that day, except for one."
Jeannine Willaert, a 50+ Program student, said she worked near Dallas Love Field airport and saw Kennedy and first lady Jacqueline Kennedy as they passed by. She remembered the moment when her husband called her to tell her the tragic news. "Kennedy is dead," he said. "Get your purse, I'm coming to get you."
She said the town closed down. "All the grocery stores, all the department stores, movie theaters," Willaert said. "You couldn't get away from it. The only thing you had was the TV to watch it over and over and over again."
Aynesworth remained at the scene of the incident and began interviewing witnesses when he heard his next tip.
"There was a [police] motorcycle with a radio open right in front of the depository building," Aynesworth said. The report was of the shooting of Officer J.D. Tippit in Oak Cliff.
"Somebody shoots at the president here," Aynesworth said. "Three or four miles away somebody shoots a cop. There's a good chance there's some relationship." He followed a group of officers to an old furniture store and library, according to 1976 Texas Monthly article by William Broyles.
"The only way to keep up was by police radio," Aynesworth said as he retold how he made his way to the Texas Theatre, where Oswald was arrested.
Two days later, he went to the Dallas Police headquarters after hearing that Oswald had not yet been transferred to the county jail. It was there that Jack Ruby, a local nightclub operator who sat near to Aynesworth two days prior at the DMN cafeteria, killed Oswald.
Aynesworth's findings and reporting of the Kennedy assassination earned him two Pulitzer nominations, according to his personal website.
Aynesworth said he does not believe the conspiracy theories. His research has led him to find an explanation for nearly everything that occurred at the time. He and another reporter, Larry Grove, worked painstakingly for five days to retrace Oswald's escape route from the Texas School Book Depository to the Texas Theatre.
A transfer ticket and an identified cab driver helped Aynesworth prove how Oswald made his way out of the city. According to Broyles, Aynesworth and Grove hailed cabs and grilled drivers for information by discussing the taxi driver they were looking for until they had found him.
Hoffman said Aynesworth's reporting was important to deliberations of the Warren Commission, which investigated Kennedy's assassination. "When they were trying to piece together whether or not Lee Harvey Oswald was the sole assassin of John Kennedy, what he did, how he did it and when he did it were very, very important elements," Hoffman said.
Aynesworth said Ruby could not have planned to shoot Oswald. A ticket timestamp from the establishment showed that, at 11:13 a.m. on Nov. 24, 1963, he stepped out of a Western Union across the street. "If someone is hired or told to kill somebody, they don't take a chance and walk the block, four minutes in, getting in through crowds.
Aynesworth also talked about Mark Lane, a New York attorney who claimed to represent Oswald. They discussed the unfolding of events, and Lane asked to borrow the 70-80 statements Aynesworth had collected.
"And then I made the mistake of my life," Aynesworth said. He allowed Lane to take his notes, without keeping a copy of them. Lane never returned the information and went on to use the statements for his own personal financial gain, exploiting Aynesworth's work.
"He's a wonderful storyteller," Dru Swanson, a 50+ Program student, said. "He's had experiences for about 60 years, working in investigative reporting and he's just an encyclopedia of stories and events and when things happened."