Costume guidelines dampen moviegoers' fun
By Claudia Valerio
Contributing Writer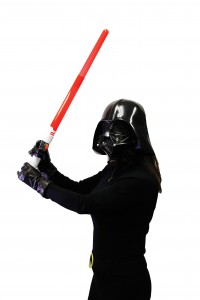 I am very lucky to be part of the Star Wars generation. At first, few people wore Star Wars costumes when a new movie came out, but after a while, more and more people wore them to the premieres. You could see Jedi, Princess Leias, a handful of Chewbaccas and wave after wave of Darth Vaders.
I was so excited in 1983, when I first joined in the fun. I dressed up as Princess Leia for "Star Wars: Episode VI – Return of the Jedi." It was even better when I dressed up as a Jedi for "Star Wars: Episode II – Attack of the Clones," in 2002. But I knew one day, I would don the long black robe of the most dangerous Sith Lord in the universe, Darth Vader.
Then last year, when Disney and Lucasfilm announced the next chapter of the Star Wars saga and released an 88-second teaser for "Star Wars: The Force Awakens" Nov. 28, 2014, I knew my time to dress up as Darth Vader had finally arrived. Why not? In this country, there is freedom of expression. You can wear any clothes or costumes you want, especially when a new Star Wars film comes out.
That was the answer I gave my husband when he questioned my decision to go dressed as a planet-destroying Sith Lord. His only concern was with wearing the mask, though. I initially ignored his comment, but to my surprise on Oct. 21, the story changed.
A friend forwarded me information about the restriction on costumes for people attending the screening of "The Force Awakens." Are you kidding me? AMC theaters announced some rules: "AMC does not permit weapons or items that could make other guests feel uncomfortable or detract from the movie-going experience. Guests are welcome to come dressed in costume, but we do not permit masks. In short, bring your lightsaber, turn it off during the movie, and leave the blaster and Darth Vader mask at home."
I started to do some research on the Internet. I thought maybe it was a joke, but unfortunately the prohibition was real. I was angry at first; I did not understand the reasons. Many fans, myself included, were disappointed because we really wanted to wear our costumes and make this an unforgettable experience.
Security is a relevant issue. With past attacks including the 2012 shooting in Aurora, Colorado, during the premier of "The Dark Knight Rises," it is clear that measures should be taken to ensure fans' safety.
Some Americans are used to wearing costumes to movie premieres, but regrettably, the world we live in has become an unsafe place. People fear going to public events because of these issues. I consider myself a true Star Wars fan. I can watch the movies over and over and never get bored. I love every  thing Star Wars: the music, books, magazines and even cartoons on TV.
I am looking forward to this amazing premiere on Dec. 18, and I am sure I will enjoy "The Force Awakens." But I can't help but feel cheated. The world is becoming a scarier place every day, but the premiere of a Star Wars movie should be a place where you can forget your troubles and feel happy.
I hope new fans of the film series won't miss out on the magic of Star Wars just because they can't wear their costumes. But for fans like me, who were around for the first trilogy, standing in line on Dec. 18 will feel a little less special.