By Sarah Gutierrez & Jubenal Aguilar
Staff Writer/Managing Editor
Open Book Project book author discussed his experience covering modern human slavery on around the world.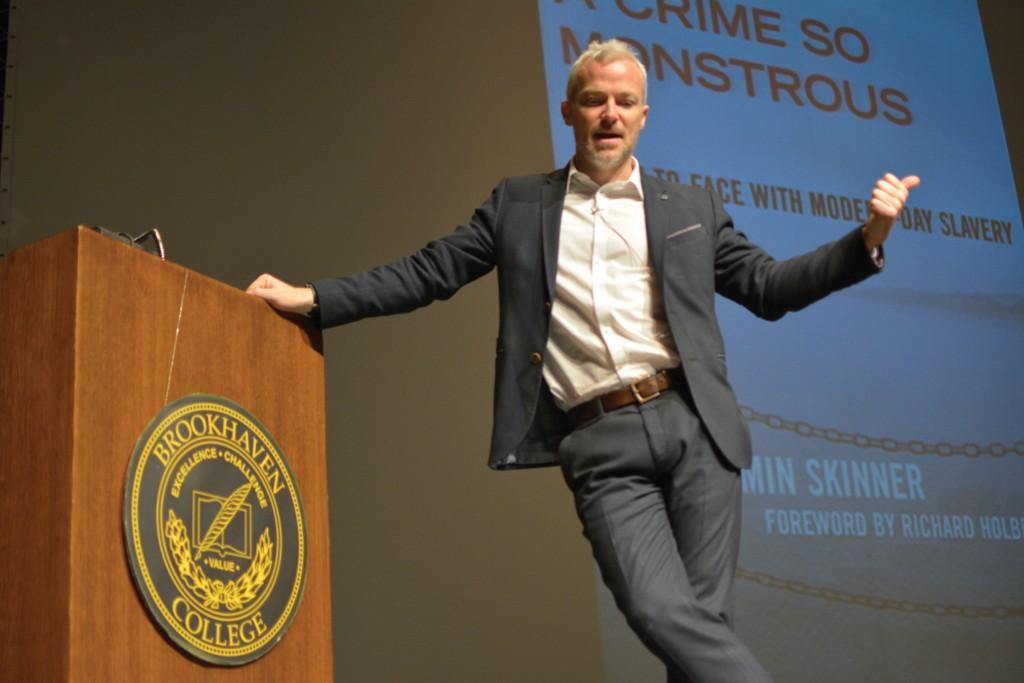 Brookhaven College's Institute of Political Studies and the Open Book Project hosted their first event of the semester around the common reader initiative selection, "A Crime So Monstrous: Face-to-Face with Modern-Day Slavery."
E. Benjamin Skinner, journalist and author of the book, was the event's guest speaker on Feb. 2 in the Performance Hall. He returned to Brookhaven for the third time to speak about human slavery in the modern age. "Slaves are those forced to work, held through fraud, under threat of violence for no pay beyond subsistence," Skinner said. "These are people who cannot walk away from their work."
Skinner said there are more slaves today than at any point in human history. In the U.S., 14,000-17,000 people are trafficked into slavery annually – about one person every 30 minutes. Texas alone, Skinner said, accounts for quarter of all certified trafficking cases in the U.S. Skinner said the reason there are more slaves today is that they are hiding in plain sight, and their conditions are not recognized by those in place to help them.
"In many cases, their slavery is not recognized as slavery by [the people] themselves," Skinner said. "These are people that are held in social isolation, that are in deep poverty, that are away from those that would educate them about their rights and help them exercise their rights."
In India, some families pay off debts incurred in past generations through hereditary collateralized debt bondage, Skinner said. Ganu, a quarry worker, was in bondage for a debt equivalent to $0.62 in U.S. dollars.
Skinner said Ganu was caught in a cycle of dependence to Ramesh, his slave master. "For Ganu, slavery was no mere mental construct," Skinner said. "Slavery was his world, and Ramesh was God in that world. Not only was he the taker of life, but the giver of sustenance." Skinner said Ganu told him that he could not escape his debt and asked Skinner where he would go and how he would eat. Skinner said he also told him Ramesh and his "sand mafia" would find him.
Skinner said Yusril, an Indonesian fisherman, believed he had found a promising job only to end up a slave on a foreign-chartered vessel in New Zealand. Recruiters told Yusril he could earn eight to 10 times what he made in his home country by working on a Korean fishing vessel in New Zealand, Skinner said.
Yusril signed a contract with pre-conditions that included surrendering the deed to any property he owned. If he ran from the job, Skinner said, the property would be seized. Additionally, Yusril would not be paid for three months and had to submit to the will of the vessel officers. Skinner said there were two other contracts Yusril signed, one in English and one in Korean. Yusril could not read the contracts, which spelled out different terms. Those contracts were used for presentation to authorities.
Skinner wrote and published an article describing the situation of slaves in foreign-charter vessels working off New Zealand. The fish from the vessels were bought and processed by United Fisheries. The squid caught by the vessel Yusril was on supplied squid to P.F. Chang's across the U.S. between 2010 and 2012, Skinner said.
Conditions on board the ship were inhumane, Skinner said. Yusril and the other fishermen were verbally and physically abused, beaten with frozen fish, forced to work 20-hour shifts with no breaks, fed fish bait and rusty water and slept on finger-thin mattresses – essentially just a folded blanket on the floor.
During his research, Skinner said he met a New Zealand immigration worker who, without authorization from the government, translated the minimum rights of fishermen in New Zealand to basic Bahasa Indonesian.
After confronting the captain about their rights, Ganu and the fishermen left the ship. Skinner said they were deported soon after and targeted and forced to sign over the deeds by the agents when they returned home. After a call for help to Skinner, Ganu was aided and placed in protective custody under an assumed name.
Eighteen companies were named, including some of the largest retailers in the world, in Skinner's article for Bloomberg Business. Skinner said the largest publicly traded fishery in New Zealand lost a third of its share price. Two others went out of business. Three months after the article was published, the New Zealand parliament moved to ban foreignchartered vessels.
Student Alexander Ward said he attended the lecture to receive credit for a class. "My history teacher offered extra credit to attend and [take] notes," he said. "I thought it was an interesting speech. He certainly spoke to more than what I believe the general public knows about different forms of servitude."