By Ravin René
Layout Editor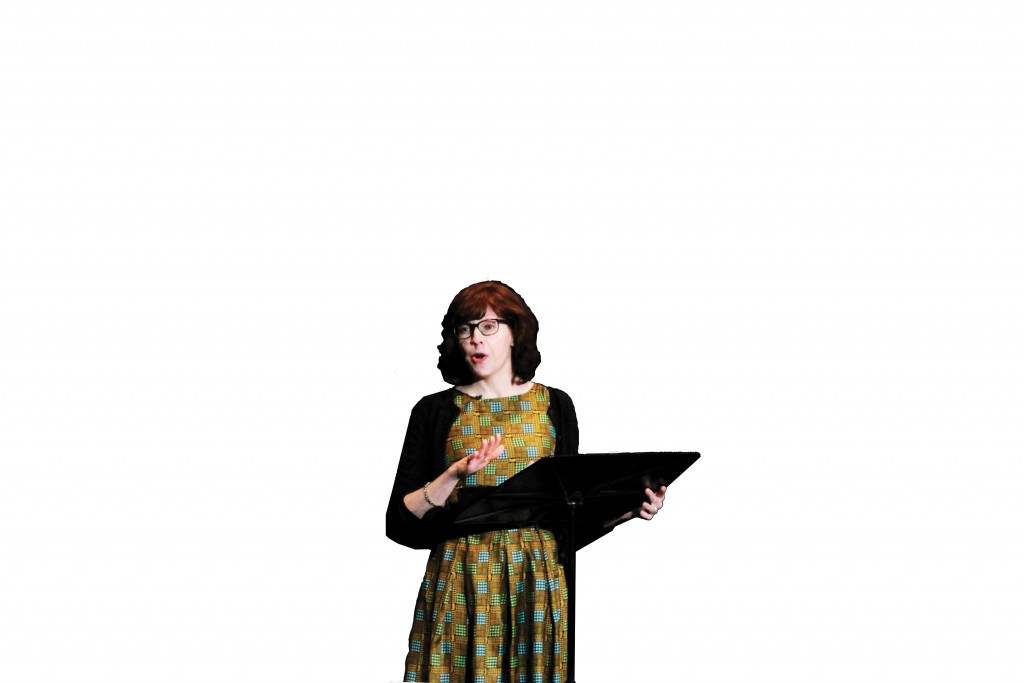 BHC's Haven Abedin takes part in Oral Fixation's first show of the year.
As an English professor, Haven Abedin speaks to crowds of Brookhaven College students on a regular basis. But on Feb. 2, she performed before a much larger audience at the Dallas City Performance Hall. Abedin was chosen to perform in the first show of Oral Fixation's fifth season.
The event, titled "Partners in Crime" is a spoken word performance during which authors take the stage to tell tales of true life, all tied to a central theme. "Partners in Crime," featured stories about the authors and their experiences with individuals who had significant impacts on their lives from former lovers to four-legged pals that helped the authors through tough times.
Oral Fixation's next event will be April 13 at the Dallas City Performance Hall. Those interested can submit stories for the theme "Pulling Teeth," according to the Oral Fixation website.
Nicole Stewart, creator of Oral Fixation, and Hal Karp, story editor, prepared the writers before they went on stage. "My stories always start out a little less transparent," Abedin said. She said she then transitions from being funny to telling the audience her story.
"I think that we all have stories to tell, and the experience of telling that is healing for both the teller and the listener," Stewart said. "You don't have to be a professional writer or performer to participate in Oral Fixation."
Abedin spoke at the show about a college romance with Joe, who understood her from the beginning. "'I need that bagel to live!' Not many people know this line from the ridiculous movie 'Stone Pillow,' which stars Lucille Ball as a wise hobo, but Joe knew it," Abedin said. "From day one, Joe got all my weird TV and movie references."
Abedin has been teaching English classes at Brookhaven for 20 years. She said Oral Fixation is a great opportunity to meet people and be creative in writing and performing.
"When I heard 'Partners in Crime,' I thought about what a great friend [Joe] is, and I just felt like writing about it," Abedin said.
Abedin and Joe met in the spring of 1988 during their second semester as theater majors at North Texas State University (now University of North Texas). "From the start, I felt like I had always known him," she said.
In summer, their friendship blossomed into romance, until school started again and the awkwardness began to bubble back up. "Back on campus, Joe and I were both extremely uncomfortable. The kissing never got less awkward, and our effortless rapport was replaced by stilted, uneasy exchanges," Abedin said.
At a Halloween party that fall, Joe and Abedin ended the relationship, but they kept in contact when Joe transferred to Texas Christian University. They began seeing each other again romantically, but ultimately settled for friendship once again.
After a few years without contact, Joe called Abedin in the middle of the night. "I sat back against my headboard smiling, overjoyed to hear his voice," she said. Shortly after, Abedin said that Joe told her he was seeing someone. "'He's a nice guy,'" she said.
Darius Frasure, English professor at Mountain View College, was also among the eight performers of "Partners in Crime." This was his first performance with Oral Fixation, but he said he has performed at other events.
Frasure said that as a child, he and his friend Louis used to roam the streets of their neighborhood causing trouble, and eventually Louis ended up in jail. "For Louis and I, separation seemed necessary," Frasure said. He began attending college in Dallas and said he found his new path through education. During the performances, the audience laughed and, at the end, gave a standing ovation. For more information on Oral Fixation and upcoming events, visit oralfixationshow.com.