Dean details move, career
By Brigitte Zumaya
Senior Staff Photographer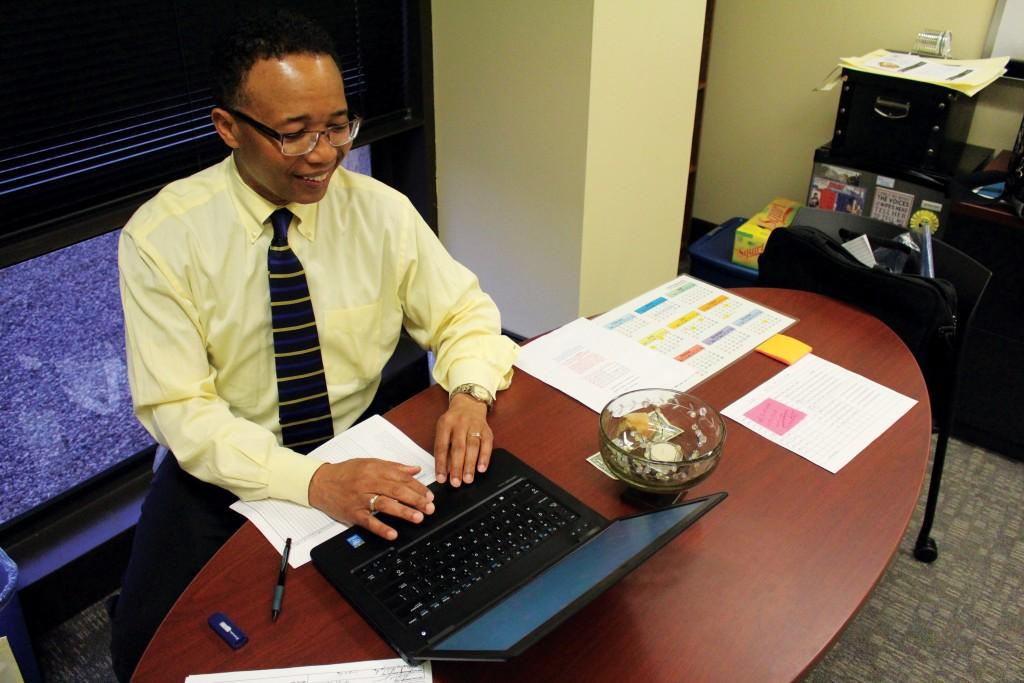 Sandy Wyche has worn many hats during his tenure at Brookhaven College, including the trilby he was often seen wearing on campus. But Brookhaven's former dean of automotive technology, business studies and Students 50+ Education Program, worked his last day Jan. 6.
Wyche is now the executive dean of career and technical education at Mountain View College. He said he will be helping to plan and implement new Computer Information Technology programs.
"I've been here so long, developed so many good relationships," Wyche said about his last day at Brookhaven. "My heart was heavy, but I didn't cry." Wyche said he grew up hoping to become a banker. He said he remembers his father taking him to the bank where he worked as a custodian. The younger Wyche watched with excitement as money was broken down by denomination and families celebrated over newly aquired housing and business loans.
"Mathematics was like a game for me," Wyche said. "Either right or wrong, win or lose." Wyche said he was encouraged to earn a college degree. He attended Van Vleck High School in Van Vleck, Texas, a town 70 miles outside of Houston, where he said he discovered his passion for math.
Wyche grew up on a farm with his parents and eight siblings. "I had to get up at 5:15 a.m. to do my morning chores such as feeding animals before catching the school bus," Wyche said in an email to The Courier. After morning chores, he and his siblings took a 40-minute bus ride to school.
In 1972, he graduated among the top 10 students in his high school class. "I kept motivated because I saw the things my father had to go through in life, and I knew he wanted a better life for me and my siblings," Wyche said in an email.
After high school, Wyche moved to Kingsville, Texas to study at Texas A&I University, later renamed Texas A&M University– Kingsville. He said scholarships, grants and work as a math tutor and teacher, helped him pay his college expenses.
In 1975, Wyche earned his bachelor's degree in mathematics and then his master's degree in 1977, while still attending Texas A&I. Wyche said he then took a job at Southwestern Bell Telephone Company in San Antonio; and in 1985, relocated to Dallas.
"In 2001, I was offered an attractive enhanced pension retirement package," Wyche said in an email to The Courier. After that, he went to work at El Centro College where he taught developmental and college-level mathematics from September 2001 until August 2007. He was given a temporary position at Brookhaven as executive dean of business studies.
After a year, the job was still open. Wyche said he took the opportunity to make the temporary position permanent and applied for the job, ultimately securing it in 2008. "Brookhaven served me well, and I served Brookhaven well," Wyche said.
"I have been teaching long enough to know that students in each class have different personalities," Wyche said in an email. "To engage students, I sometimes do different things."
He said he told one class that if they did every problem and showed their work, he would dress up as an urban cowboy. "I remember seeing him out in the parking lot, like, 'What is this get-up?,'" Toby Lackey, instructional specialist in the business studies division, said. "[Wyche] was like, 'It's a long story.' … He would always put people at ease just by being nice and funny."
Cindy Clem, Wyche's former administrative assistant, said she does miss him.
"Change is never easy," Clem said. Wyche said the distance from his home in DeSoto to work was one reason he left Brookhaven. "I miss working at Brookhaven, but I don't miss the drive," he said. Wyche said in an email to The Courier: "I kept my father in mind whenever there was a 'bump' in the road."
Wyche said he can now be more active in his local community, such as volunteering at his grandson's school. "Closer to home, closer to my family," Wyche said.