Students tackle trivia challenge
By Ravin René
Layout Editor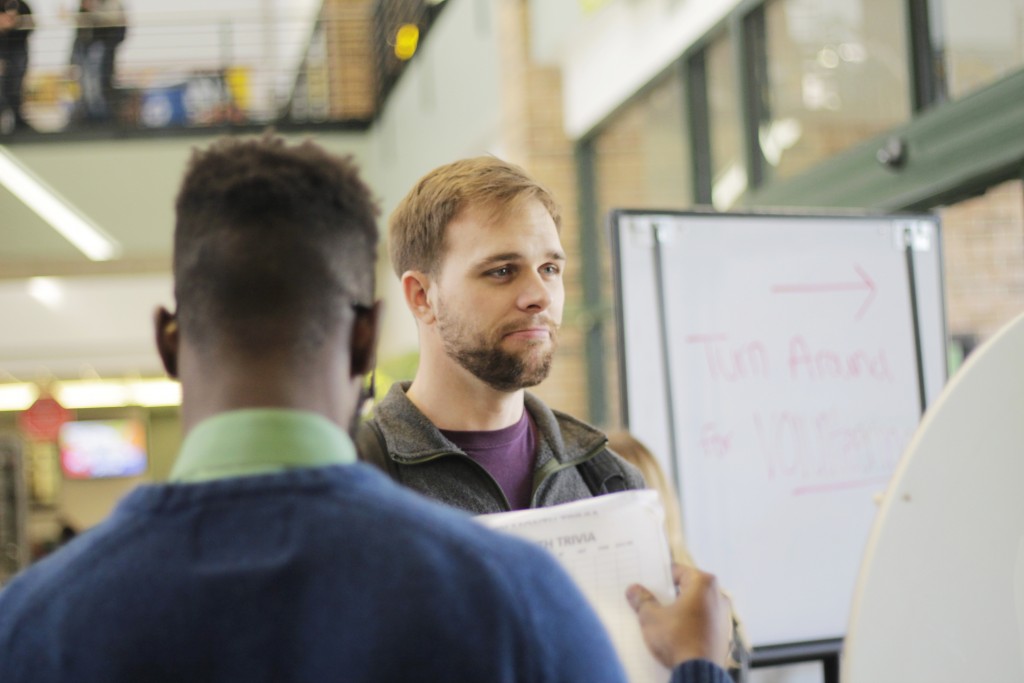 The Campus Activity Board hosts a Black
History Month Trivia event Feb. 9.
Brookhaven College students tested their knowledge of black history in a game sponsored by the Campus Activity Board. The Black History Month Trivia event was held Feb. 9 in S Building lobby and hosted by Hubert Hirwa, student and CAB chair of hot topics.
The trivia game was a precursor to the Speak Up! Black Lives Matter event held Feb. 16 in the TreeTop Café, Hirwa said.
"Even though it's Black History Month, really it's everybody's history," Hirwa said.
Black History Month is an annual observance of important black people and events throughout history, according to history.com.
Hirwa came up with 45 questions in categories for STEM, history, and arts and culture. He said the hardest questions to come up with were for STEM such as, "Who invented the self-lubricating cup in a car engine?"
The answer, according to blackinventors.com, was engineer Elijah McCoy.
Hirwa said while some questions were designed to be difficult, the first few were simple. Hirwa said his favorite was: "Who is the first black president?"
Aaron Pape, one of the first students to be tested, knew his black history trivia. "It was fun to participate, but some of the questions were challenging," Pape said. "I liked it, though. It was a good idea to get people interested."
Emmy Fuentes, an Early College High School student, also found the questions interesting. Her favorite question was: "Who sang 'I Wanna Dance With Somebody?'"
Students who participated had a chance to win small prizes, from stress balls to highlighters, and were entered into a raffle to win a bag from mtvU, an MTV station aired on college campuses, Hirwa said. The drawing took place during the Speak Up! event.
"The goal of 'Black Lives Matter' is to get to 'All Lives Matter,'" Hirwa said.
Another Black History Month event – "The Celebration of the Poetry of Motown" – was held Feb. 17. The event was a tie-in to the African American Read-In, according to brookhavencollege.edu.