Candidates visit North Texas

By Ravin René
Layout/Photo Editor
Presidential hopefuls make last-minute visits before Super Tuesday.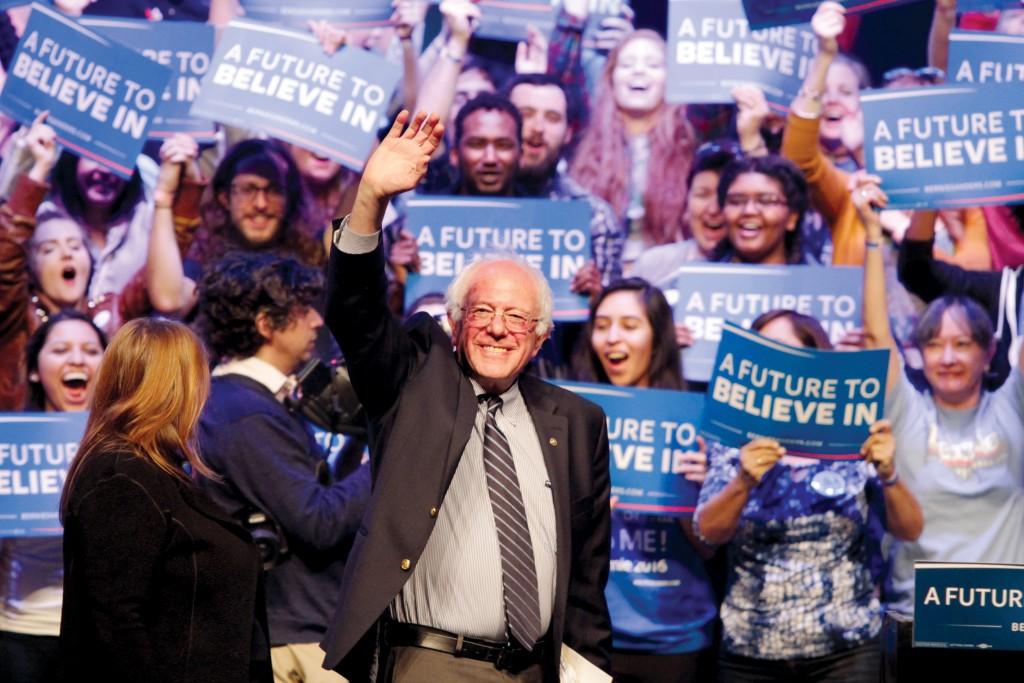 A handful of the 2016 presidential candidates recently visited North Texas as part of their campaign tours. On the bill were Republican candidates Ted Cruz and Donald Trump. Democrats Bernie Sanders and former president Bill Clinton, representing candidate Hillary Clinton, also visited.
Cruz focused on Downtown Dallas, Trump and Bill took to Fort Worth and Sanders spoke in Grand Prairie.
Prior to Sanders' Feb. 27 appearance at the Verizon Theatre at Grand Prairie, Rep. Marisa Márquez of El Paso and Jim Hightower, former agricultural commissioner of Texas, spoke on Sanders' behalf.
Márquez said she was the only Texas representative to back Sanders for the presidency. Hightower said the 7,030 people who showed up to support Sanders made him "happier than a flea at a dog show."
Hightower introduced Sanders. "[He is] running a revolutionary campaign," he said. "Going right at the plutocratic, autocratic, kleptocratic corporate powers in this country."
During his speech, Sanders compared his political stance to Hillary's, starting off with a blunt statement: "I am very proud to come before you and tell you I do not have a Super PAC."
Sanders mainly discussed economic issues affecting the middle class and those in poverty. He said the national average of unemployment, which is close to 10 percent, does not include those who have stopped looking for jobs or those working minimum wage jobs. He also said the unemployment average is worse for those between the ages of 17-20, with 33 percent for whites, 36 percent for Latinos and 51 percent for blacks.
"If anyone here thinks that there is not a direct correlation between very high youth unemployment and the fact that we have more people in jail than any other country, you would be mistaken," Sanders said.
Sanders said he hopes to make public college free and decrease the amount of current student debt by putting a tax on Wall Street speculation. Sanders also said he hopes to rebuild the country's crumbling infrastructure.
"We have got to rebuild our roads and bridges and wastewater plants," Sanders said. "We should have the best rail system in the world. No more Katrinas. We have to rebuild our levees and our dams, and when we do that, we create 13 million good-paying jobs."
Abby Caravalo, administrative assistant for a certified public accountant, said her favorite part of the speech was when Sanders said: "I believe that health care is a right of all people, not a privilege."
Cameron McVay, a student, said the message Trump sends threatens the kind of conservativism that Ronald Reagan brought to the country.
Gov. Chris Christie of New Jersey endorsed Trump to a crowd of more than 7,000 in Fort Worth, according to dallasnews.com.
Betty Mehling, a Brookhaven history professor, said she attended the Feb. 26 Trump rally.
Mehling said Trump's personality and lack of specifics are disturbing. Trump directed jabs at Cruz and said he hoped to do well in Cruz's home state. "If [Trump] is at the helm of what being conservative is, it no longer really means anything," McVay said.
Cruz was the last candidate to speak to North Texans prior to Super Tuesday.
Several Texas legislators were in attendance to show support for Cruz – Sen. Don Huffines, Rep. Louie Gohmert, former Gov. Rick Perry and Gov. Greg Abbott, who gave the official introductions for Cruz, according to dmagazine.com.
Perry said he wants someone in the president's seat who takes cues from two things – the U.S. Constitution and the Bible, according to dmagazine.com.
Cruz criticized Trump when he said: "You don't get to spend four decades funding open-border Democrats and then suddenly, when you run for president, discover that you want to secure the border," according to dallasnews.com.
Cruz said he will protect Second Amendment rights, develop a strong military and protect religious freedom. Bill outlined Hillary's stance on the positives of where the country is now and how she will build on that, according to cbslocal.com.
"[Hillary] doesn't believe we have to build walls. She thinks we have to build ladders of opportunities and tear down barriers that keep people off the ladders," Bill said.
Bill said Hillary will work to allow students to refinance their college debt and treat it like a mortgage. "A college loan is the only kind of loan you cannot refinance," he said, according to cbslocal.com.
On March 1, Cruz upset Trump's lead by winning Alaska, Oklahoma and Texas. Trump took the overall lead for the GOP, according to washingtonpost.com.
Hillary won seven states to take an increasing lead over Sanders. Sanders surprised many by winning four states and holding on tight to second place, according to washingtonpost.com.
Information on upcoming events can be found at gop.com and democrats.org.
Editor's Note: Former presidential candidates Ben Carson and Marco Rubio also visited the D-FW prior to Super Tuesday. They have since dropped their presidential bids.