The Courier breaks record
By Jubenal Aguilar
Managing Editor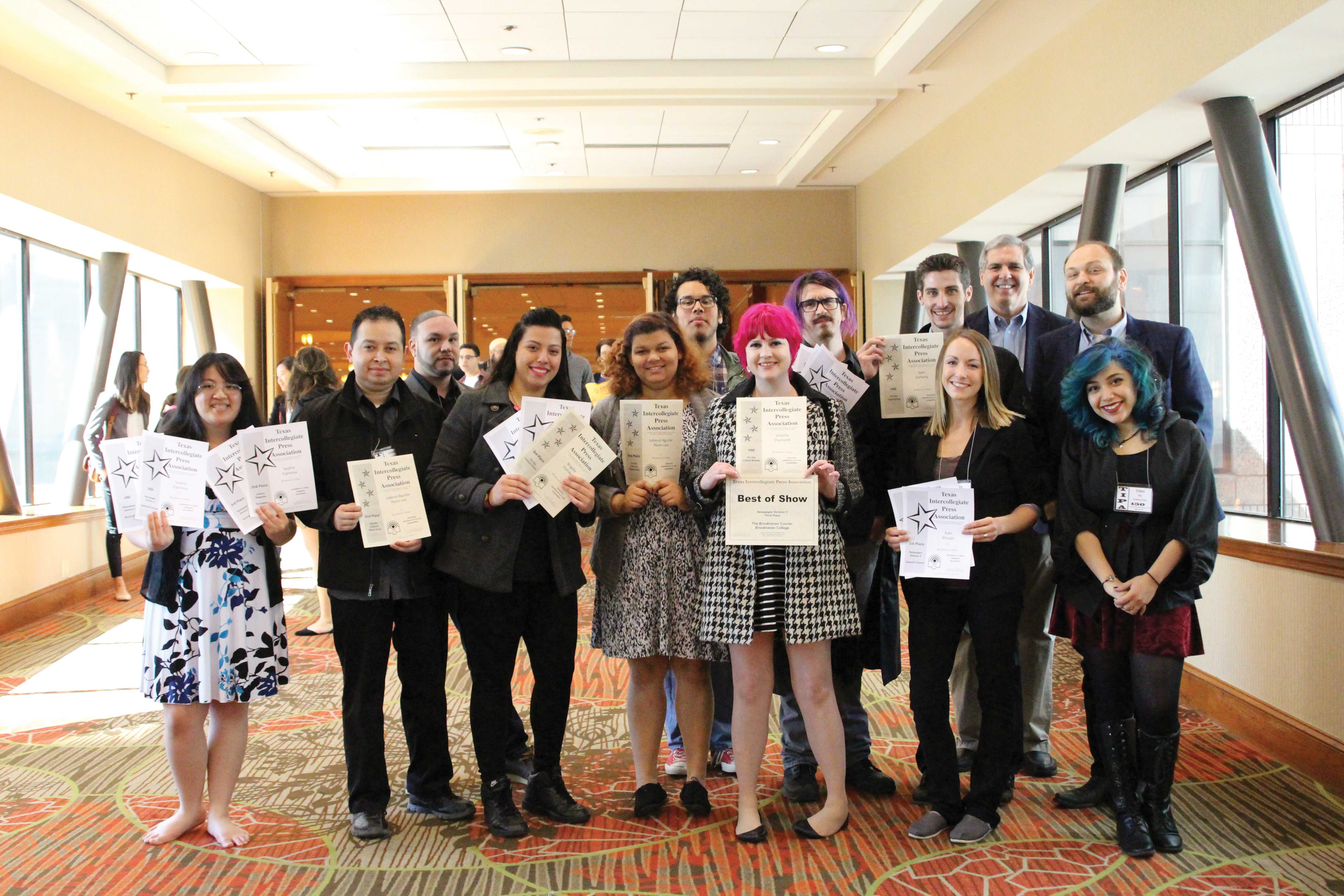 The Brookhaven Courier staff continued their winning streak, breaking their awards record at the 2016 Texas Intercollegiate Press Association Convention held March 31-April 2 in Dallas. Editors and staff brought home 31 awards – one more than last year and nearly double the number from 2014 – for their work in The Courier and The Windmill literary magazine.
"I continue to be very proud of our students' work – we truly have one of the best student newspapers in the state," Daniel Rodrigue, student publications adviser, said in a campuswide email.
Convention participants from across Texas had the opportunity to compete in 30 on-site contests designed to test their journalistic skills in categories such as print news gathering and writing, critical review, copy editing, photography, design, illustration and radio and TV news.
More than 500 contestants competed directly against the news teams from nearly 50 other two- and four-year colleges and universities from across the state.
The Courier staff won four awards for the live competitions.
Jubenal Aguilar, managing editor, and Ravin René, layout and photo editor, took second place in the two-person photo essay contest.
Brigitte Zumaya, senior staff photographer, won third place for feature photo. Diamond Victoria, editor-in-chief, and Sam Doherty, copy desk chief and sports editor, received honorable mentions for critical review and copy editing, respectively.
"I had such a blast competing at TIPA and watching my fellow classmates compete," Doherty said. "Winning an award feels so good; like all your hard work has paid off. And being there to celebrate with your fellow staff members when they win an award is an awesome feeling."
The staff also won third place for Division 3 Best of Show for their work on Volume 38, Issue 10 of The Courier, published March 28. "This is my first semester as editor-in-chief of The Courier," Victoria said. "I was really excited to win third place for Best in Show and very proud of my staff."
The staff earned 15 awards for work previously published during the 2015 calendar year, TIPA's judging cycle – four overall staff awards, 10 individual and small team collaborations and one for multimedia projects.
The Fall 2015 edition, and fourth issue, of The Windmill brought in the first set of awards for editors and staff. Eleven awards were earned in the literary magazine open division, which included submissions from four-year universities.
The Windmill was previously recognized as the sixth place winner of the 2015 National College Media Convention Best of Show award.
Students also attended a variety of workshops geared toward aspects of journalism and photography.
Staff photographer Noel DeJesus attended the convention photography workshops. "I learned that creating a photography blog is a great way to get my photos out there for people to see," he said.
DeJesus said he was inspired to aim higher next year. "I want to see my name come up on the screens," he said. "I want to be part of the bigger picture and bring home an award for Brookhaven."
René said conventions such as TIPA can make a difference in a student's education. "You can learn a lot from your professor, but through seminars, you get to learn what people are looking for in new hires right now," she said.