Bryant ends legendary career with record-breaking final game
By Andres Reyes
Senior Staff Writer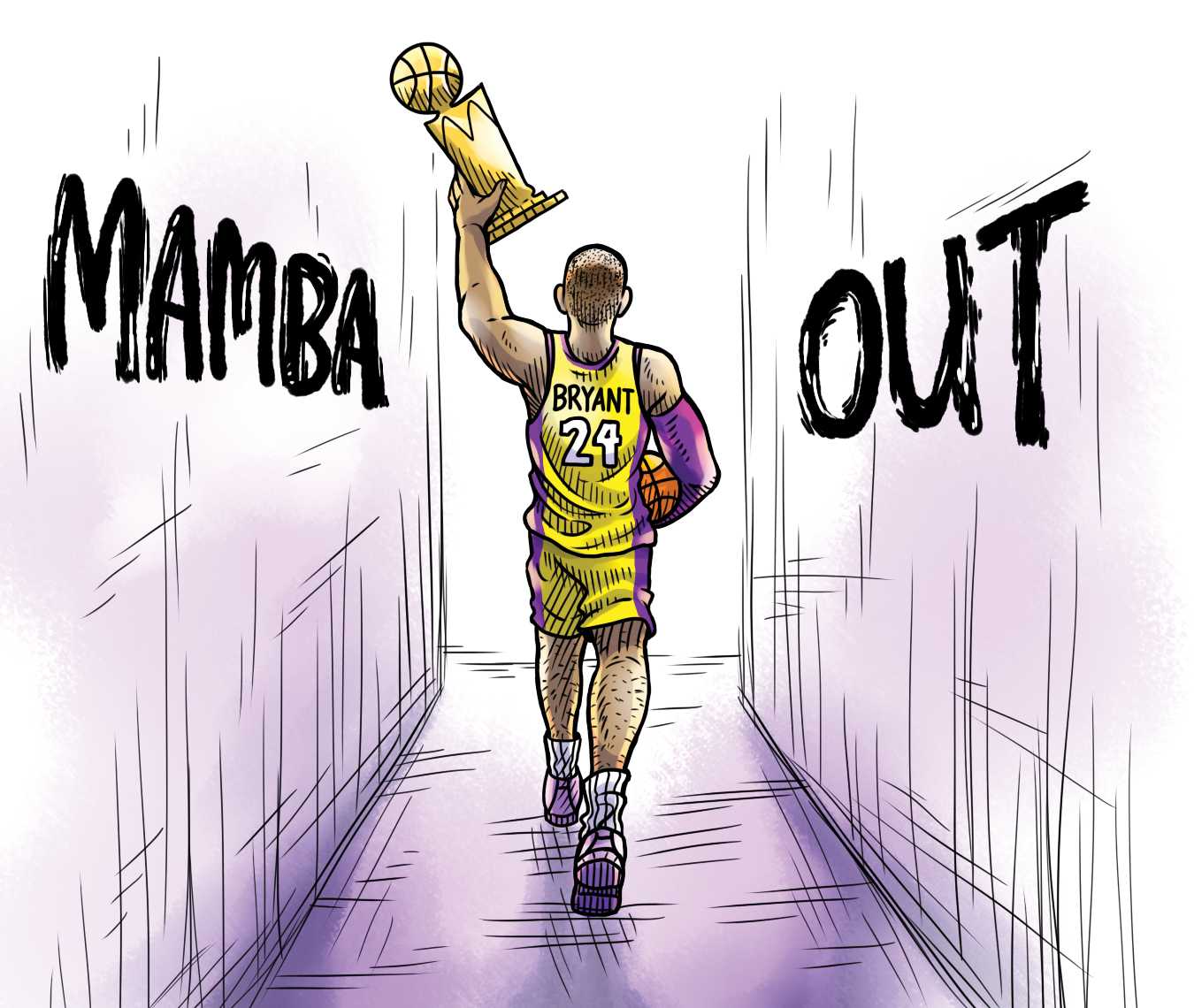 The NBA world got its last glimpse of one of the league's alltime greats, Kobe Bryant, when the superstar put on a show in the final game of his 20-year career by leading the Los Angeles Lakers to a 101-96 victory against the Utah Jazz in the regular season finale. 
Five months ago, this game meant nothing to the Lakers franchise, until Bryant announced he would be retiring at the season's end. The date was circled on many calendars as this game suddenly meant everything to fans across the world.
Bryant's final point was a free throw, giving him a total of 60 for the night. No other player has scored more during the entire 20152016 season or in a career-ending game before. The performance was masterful, and Bryant wouldn't have had it any other way. He did it the way only Bryant could – he shot the ball 50 times and drilled shot after shot to keep the Lakers in the game.
Devastating injuries shut down Bryant for three straight seasons late in his career. After he ruptured his Achilles tendon on April 12, 2013, he got up and sank two free throws before walking off court. After he fractured his lateral tibial plateau in his left knee, he remained in the game and hit a crucial 3-point shot to beat the Memphis Grizzlies in crunch time on Dec. 19, 2013. In January 2015, he tore his right rotator cuff and started shooting with his left hand.
In "Kobe Bryant's Muse," a documentary directed by Gotham Chopra, Bryant said by using his darker emotions, such as anger, frustration and resentment, as weapons and a form of offense has helped him play better. "Some people are probably afraid to tap into that side of them, but it's such a powerful thing," Bryant said.
In 2008, Bryant led the Lakers to the NBA Finals, but they were beat by the Boston Celtics in six games. After that series, many thought he would never win a title without former teammate Shaquille O'Neal.
Bryant didn't need any motivation to come back from that loss, but his teammates did. Bryant set out to instill his basketball soul in each and every Laker for the rest of his career. "So when you step on the basketball court, you're not just facing me and my competitive fire – you're facing 12 of those," Bryant said.
The Lakers went on to win two straight titles following their 2008 loss. They beat the Orlando Magic in 2009 and the Celtics in 2010. Bryant finished his career with five titles. Bryant has always mesmerized fans on the basketball court, and over a span of 10 years, he averaged more than 24 points per game, according to espn.com.
In the documentary, Bryant said he created the Black Mamba, his alter ego, in 2003 when he was facing marriage issues. "I had to separate myself," Bryant said. "So I created the Black Mamba. Kobe has to deal with these personal issues, and the Black Mamba steps on the court and does what he does." The Black Mamba came out and won games for Bryant. He had a venomous sting filled with anger and would strike repeatedly until the game was over. The transformation into the Black Mamba induced a gripping stare that took over Bryant's eyes and pierced through any opponent who dared to confront him. The Black Mamba was deadly, and Bryant used the persona to handle basketball while he handled anything else.
"It was just fun; I'm destroying everybody that steps on the court," Bryant said in the documentary. "There was nothing that was going to get in the way and stop me." Bryant made a choice to become the legend he is.
Bryant gave everything he had to basketball. He gave up his family, friends and body, but his legacy goes far beyond basketball. He showed that anybody could be a master at what they do if they just do it with passion and work hard at it.
He scoffed at brutal injuries to continue to do what he loves. Bryant was an outcast. He had no friends growing up, so basketball was his escape, according to the documentary. Among Bryant's career highlights was finishing as the third alltime leading scorer in NBA history and scoring the second most points ever in a game with 81 against the Toronto Raptors back in January 2006.
Before his career started, Kobe was a scrawny kid coming out of Lower Merion High School in Philadelphia. Bryant's first appearance with the Lakers was when he was only 18. Kobe drove left, lost the ball, then got it back and went up and got fouled. Ironically, his first point was a free throw.