By Diamond Victoria
Editor-in-Chief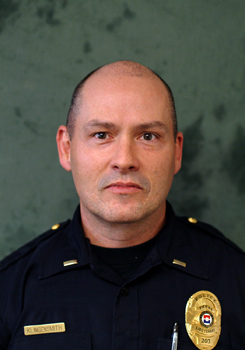 Brookhaven Police Chief John Klingensmith announced his retirement shortly before the start of the fall semester. Klingensmith served Brookhaven for 25 years, four as police chief.
Throughout his career, Klingensmith played a key role in several memorable events on campus, including the creation of the district's first centralized dispatch call center and the beginning of city-issued citations from campus police, according to previously published Courier articles.
Aside from the work he did on campus to maintain the law, Klingensmith started a family during his time at Brookhaven.
Klingensmith met his wife, Blanca Klingensmith, senior manager of media support and production services, while they were both working on campus.
"It was great. Sometimes we would eat lunch together [and] carpool," she said. "We met at Brookhaven. So, it has always been 'us' here."
Capt. Mark Lopez, Brookhaven interim police chief, said he worked with Klingensmith for 11 years in the district and will miss the off-campus trips the two would take for training. "There was never a dull moment when we were out there," he said.
Lopez will remain in this position until Lauretta Hill, Dallas County Community College District public safety commissioner, finds a permanent replacement.
Capt. Gabriel Galvez, a Brookhaven police officer, said Klingensmith was his field training officer when he first came to the district. "I worked with [him] for 18 out of my 21 years in the district," Galvez said. "We shared a lot of good times, which will be greatly missed."
Klingensmith said he plans to spend his time off with rest and relaxation.
"He's been taking several naps throughout the day," Blanca said. "He said when he runs out of things to do, he'll eventually find a part time job at a golf course so he can play there."
Brookhaven President Thom Chesney said he has valued Klingensmith's experience, counsel and service throughout his time at Brookhaven.
"He has prepared not only his officers and dispatchers well, but also enhanced safety and security through employee and public awareness, regular drills and training and open communication," Chesney said.