Brookhaven College student turned-assistant coach for the men's basketball team says coming back to campus to coach was a dream come true.
By Juan Betancourt
Sports Editor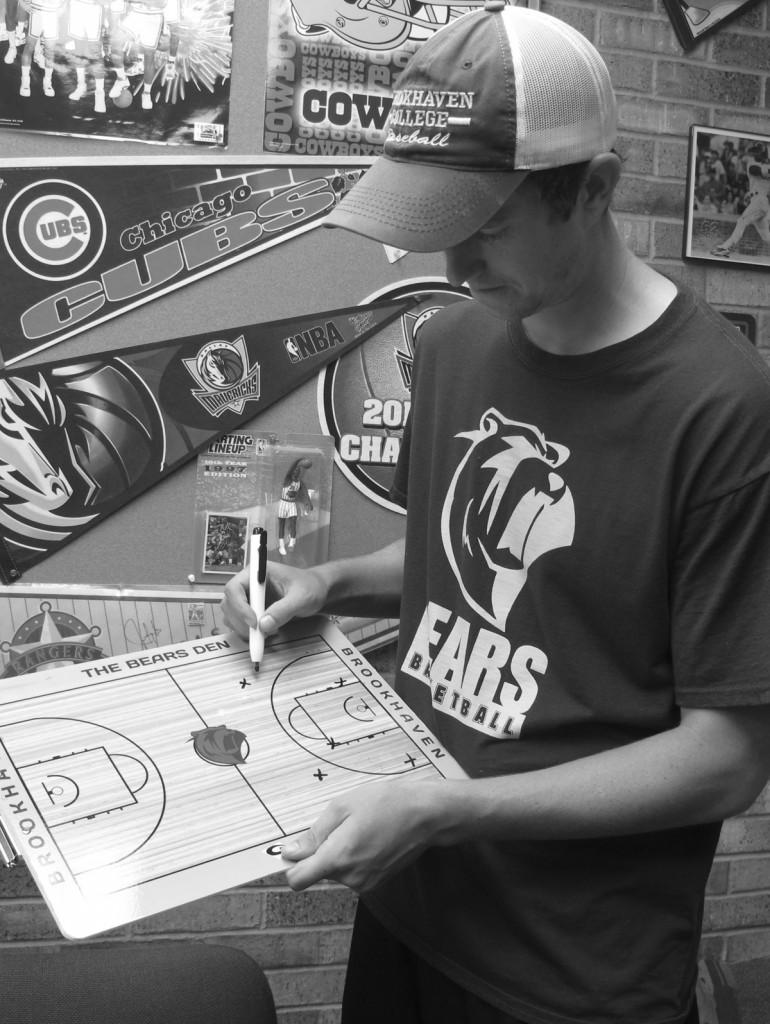 Entering his fifth season as assistant coach for the Brookhaven College men's basketball team, Joe Wilson said he knows a thing or two about life as a student athlete.
After trading his Bears jersey for a clipboard, Wilson now assists Kevin Hurst, head men's basketball coach, in leading and mentoring the team.
Wilson played as point guard on Brookhaven's basketball team from 2007 to 2009. After his original term at Brookhaven, he went on to receive a bachelor's degree in history at Clarke University in Iowa before returning to Brookhaven for a teaching certification.
His new career was just a phone call away.
"I was working at a car dealership, and coach Hurst called me up," Wilson said. "His assistant moved on, and [being a basketball coach] is what I've always dreamed of being."
Wilson said Brookhaven was not number one on his list of schools to attend, but with a little push from Hurst, he ultimately decided it was the ideal school to enhance his skills.
Wilson was introduced to basketball during his elementary days in fourth grade. Wilson said during layup drills in physical education class, his teacher noticed his talent and convinced him to play for a basketball league. Once in high school, Wilson said the transition into college-level playing was difficult to adjust to.
During his final season at Brookhaven, Wilson scored 51 percent of two- and three-pointers and with a total of 133 scored points. He was third overall for assisted points with 67, according to njcaa.org.
Knowing athletes can struggle in school, Wilson said he always tries to help his team balance studying and playing basketball.
"If you ask for help, school comes first," Brady Chamberlain, Bears' guard, said.
Wilson said he knows it can be difficult for newer students to transition from high school to college.
"I know what they're struggling with. I've been through all the classes they [are taking]," he said.
Already knowing the Bears' system of play, Wilson said he knew the drills perfectly from doing them before, but being able to explain certain elements to the team was difficult.
"I've gotten better at it. But that was my biggest hurdle," he said.
With five years of experience at Brookhaven, Wilson said he would love to ultimately become a head coach of his own college basketball team and will continue learning the skills needed.