BHC becomes early voting venue
On Nov. 2-3, Brookhaven College will host voting booths for the 2016 presidential election after a successful campaign to register Brookhaveans to vote.
By Stephon Smith
Contributing Writer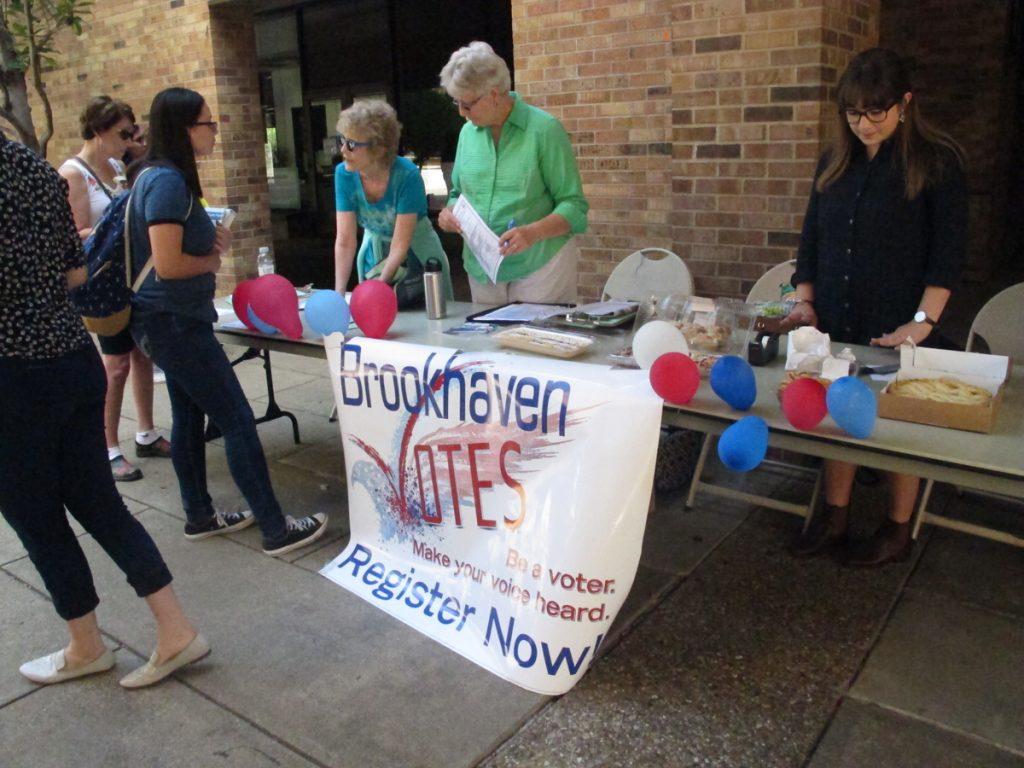 Brookhaven College has been designated a Dallas County early voting location. Voters will be able to cast early vote ballots from 7 a.m.-7 p.m. Nov. 2-3 for the upcoming presidential elections on Nov. 8.
"This is a first for Brookhaven College," Carrie Schweitzer, director of sustainability, said in an email to The Courier.
The effort was a conjoined campaign initiated by Andrew Deibert, who was service learning and civic engagement coordinator when the process to make Brookhaven a temporary Dallas County early voting location began. This is according to an email chain sent to The Courier by Schweitzer.
The announcement comes off the heels of the Brookhaven Votes! team's registration drive, which Asmara Saleemi, a government professor and Brookhaven IGNITE adviser, said was one of the largest campaigns of it's kind in the district, in an email to The Courier.
Students, staff and faculty were able to register to vote on Brookhaven College campus Sept. 7-15, as volunteers visited classrooms and set up tables in the courtyard.
Brookhaven Votes! registered 368 people from Sept. 7-15, Asmara Saleemi, a government professor and Brookhaven IGNITE adviser, said in an email to The Courier.
During the Spring 2016 semester, IGNITE registered nearly 170 students over four days. Saleemi said IGNITE hopes to register more people before the upcoming Nov. 8 presidential election.
The Brookhaven Votes! campaign is a collaborative effort between IGNITE, the Brookhaven Student Government Association, the Green Team Coalition, student volunteers, faculty, college administrators and a team of community volunteers, including Susie McMinn, an exercise physiologist at Pediatrix Cardiology of North Texas.
"We're the only campus that is doing this big of a voter registration effort, [while] everybody else is doing kind of the traditional, set up a table for a day and hope [students register]," McMinn said.
McMinn added that the efforts of Saleemi and the IGNITE group, as well as SGA's Brookhaven Votes! campaign resulted in Brookhaven's large voter registration.
"Everyone has played a role in making this voter registration drive possible," Saleemi said. "It's important to get out [and] vote, because it is a fundamental right we have as American citizens, and voting is essential for a well-functioning democracy."
The campaign's goal was to register students who reside in Dallas and Denton counties to vote, Saleemi said. The group plans to implement phase two of its effort in October.
Phase two will focus on ensuring registered voters go to the polls in November. Saleemi said Brookhaven Votes! plans on bringing guest speakers to teach students about the changes to the Texas voter ID laws.
The percentage of young voters has been on the decline in recent years. The Center for Information and Research on Civic Learning and Engagement found that nearly 20 percent of 18- to 29-year olds cast ballots for the 2014 election. This constituted the lowest youth turnout ever recorded in federal elections, including presidential elections.
The same metric was 51 percent in 2008 and 45 percent in 2012.
Additionally, the Texas Tribune reported only a little more than 21 percent of Texans aged 18 and older voted in the March 1 primary. This statistic makes Texas the second smallest pool of voting-age participants in the U.S., beating only Louisiana's 17 percent. Early voting begins Oct. 24 and will end Nov. 4.
Early voting absentee mail-in ballots must be received by Early Voting Clerks by 7 p.m. Election Day to be counted. Requirements and local polling location information can be found at votetexas.gov.