Students save patients by the pint
By Jaz'man Hampton
Contributing Writer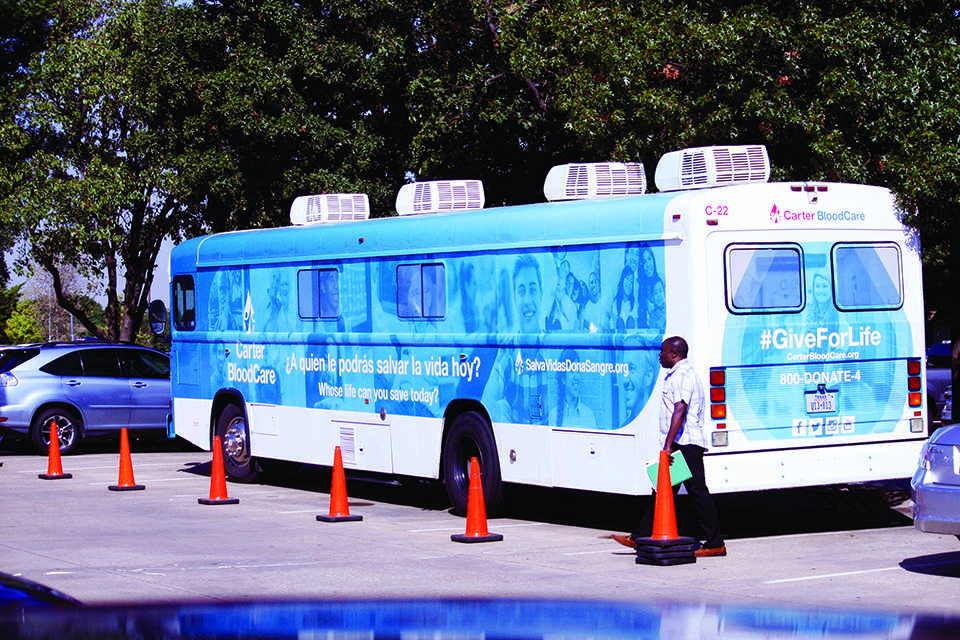 Brookhaven College held a Carter BloodCare Blood Drive giving students, staff and faculty the opportunity to donate blood and help save lives. The Carter BloodCare mobile clinic visited the campus Sept. 22-28 with information about why donating blood is important.
"It's easy," Kim Brown, a phlebotomist with Carter BloodCare, said. "It's free. And it's helpful to the community."
Brookhaven volunteers and Carter BloodCare employees explained the process to those passing through S Building.
The process of donating blood starts with a short interview with a phlebotomist, the person responsible for collecting the blood donation. The phlebotomist goes over a series of questions with potential donors to make sure they are eligible to give blood. Donors are asked about travel history, height, weight and other health-related information. The process can take up to an hour.
"We love coming here," Donna Diehl, a Carter BloodCare consultant, said. Diehl has been with the company since 2008 and comes to Brookhaven for the fall and spring blood drives.
Carter BloodCare now requires potential donors to sign a new form regarding the risks of the Zika virus said Kristy Lacy, a phlebotomist with Carter BloodCare. The Zika virus has been connected to Guillain-Barré syndrome in adults and microcephaly in unborn fetuses according to the World Health Organization.
According to carterbloodcare.org, donors are required to have a well-balanced meal at least one to two hours prior to donation. Donors should avoid aspirins or products containing aspirins and should also limit their caffeine intake on the day of donation. Most health conditions are acceptable when donating blood. However, some exceptions such as pregnancy, skin cancer and heart disease may prevent a person from donating.
Once donors meet the requirements for donating, a phlebotomist begins collecting blood. A pint of blood is gathered during the process, which can take anywhere from seven to 12 minutes to complete.
Each pint of blood can save three lives, Diehl said. The blood is donated as whole blood, but can be separated into red blood cells, platelets and plasma which can all be used in blood transfusion. Donations must be used within 42 hours.
Diehl said, plasma can help burn patients, platelets are needed for cancer patients and red blood cells can help replenish surgical patients.
After the donation process is complete, donors sit and relax for a few minutes before returning to their normal daily routine. During this time, a phlebotomist provides patients with refreshments to help regulate their blood sugar, according to The Blood Center of Central Texas.
According to redcrossblood.org, the main reason most people donate is because they want to help others.
About 38 percent of the U.S. population is eligible to donate blood at any given time. Fewer than 10 percent of those eligible donate blood each year, according to redcrossblood.org.
For more information on the process of donating blood, how you can become a donor and where you can participate in your community, visit carterbloodcare.org.