Special agents discuss cartels
By Jubenal Aguilar
Managing Editor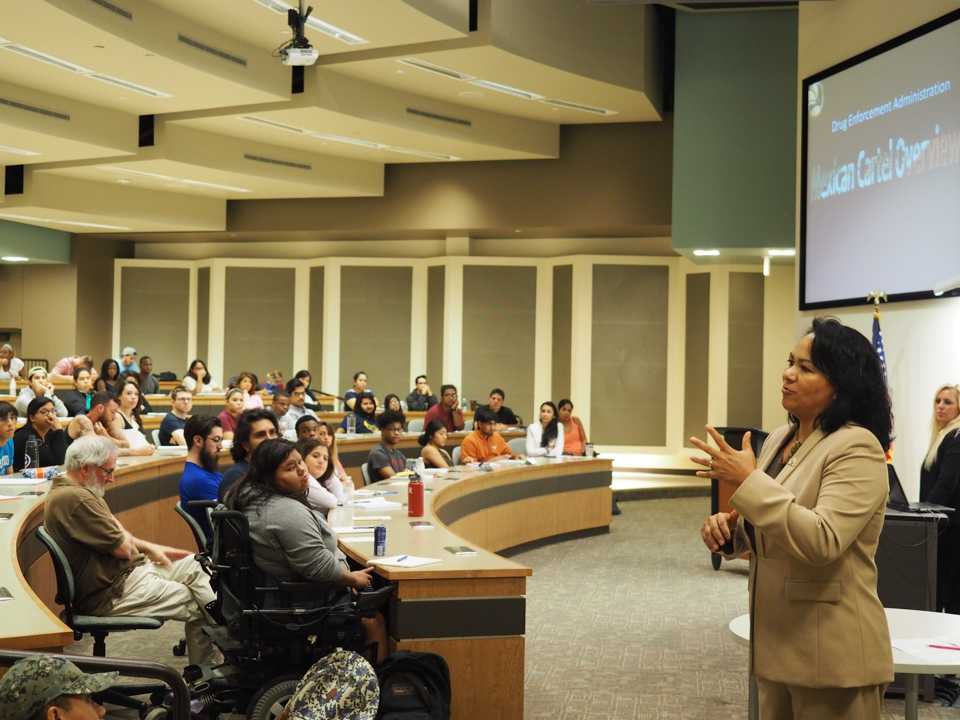 Mexican drug cartels have a long history of restructuring, disbanding, allying and turning on each other to ensure their organizations thrive as they keep their multimillion dollar businesses afloat.
Two Drug Enforcement Administration special agents, Angelica Gurrola and Elaine Cesare, were the guest speakers of the third Open Book event focusing on drugs and drug cartels in Mexico. The event was held in conjunction with the Institute for Political Studies. The standingroom-only event was held Oct. 5 in Room X1091.
The DEA agents spoke to students, staff and faculty about the organization of the eight major drug cartels in Mexico, their history and major events. They also spoke about the requirements needed to become a DEA agent and
answered other questions pertaining to local and international drugrelated issues.
SINALOA CARTEL REIGNS SUPREME
Gurrola said the Sinaloa Cartel is the most powerful crime organization in Mexico. The cartel is responsible for the trafficking of drugs – including cocaine, methamphetamine and marijuana – from Central America through Mexico and to the U.S. via the use of vehicles with false compartments. Gurrola said more than 90 were seized tunnels along the south border have been attributed to the Sinaloa Cartel.
Gurrola said the cartel's most notorious leader, Joaquín Archivaldo Guzmán Loera, also known as El Chapo, has been called one of the wealthiest men in the world by Sports Magazine, with a net worth of over $1 billion. Gurrola said El Chapo's wealth comes from destruction and millions of deaths through addiction, violence and corruption.
According to The New York Times, Guzmán Loera was captured Feb. 22, 2014, in a beach resort known to be a hangout spot for drug traffickers in Mazatlán, Mexico. He was captured without any shots being fired.
"He was transferred to a Mexico City high security jail … [where] he made his Hollywood escape," Gurrola said. Guzmán Loera escaped on July 11, 2015, from El Altiplano, a maximum security prison, through a nearly mile-long tunnel from his cell to a nearby construction site.
Guzmán Loera's second escape was short-lived as he was recaptured Jan. 8 near Los Mochis, Sinalia, after attempting to escape, according to CNN. Gurrola said the drug lord was recently transported to Ciudad Juarez and is awaiting extradition to the U.S.
SURVIVING ADVERSITY
Gurrola said the cartels have a history of splitting after adversity.
She said the Cártel Jalisco Nueva Generación, also known as the CJNG, is a cartel whose origins go back to the Sinaloa Cartel.
According to Reporte Indigo, a Mexican political magazine, the rise of the CJNG, is the result of internal fractures in the Sinaloa and the Millennium cartels.
The CJNG, Gurrola said, is the leading producer of meth in Mexico and the fastest growing cartel at the moment, second only to the Sinaloa Cartel.
Other cartels have not fared well after the fall of their leaders, Gurrola said. The Gulf Cartel, one of the oldest Mexican cartels, became fractured and weakened financially after the arrest of its leader, Mario Armando Ramirez-Treviño, on Aug. 17, 2013.
An ongoing feud and break of alliance with Loz Zetas left the cartel struggling. Gurrola said that with no clear leadership succession, it is possible the cartel will disappear within a year.
Los Caballeros Templarios formed from the remnants of La Familia Michoacana, a once-powerful cartel, Gurrola said, and primarily produces meth.
They abide by an ethical code of the pseudo-Christian principle of the Knights Templar as guidance for their behavior and to justify their actions, Gurrola said.
"They have basically been dissolved," Gurrola said. Their remnants have turned into the group known as the Autodefensas de Mexico, an organization that protects farmers from extortion, she said.
ROGUE OFFICERS TURN NARCS
Gurrola talked about Los Zetas and La Linea, two cartels whose origins are traced to Mexican military and law enforcement officials.
Gurrola said the founding members of Los Zetas are former military special forces. They began as the enforcement branch of the Gulf Cartel, but split from the cartel and became independent.
La Linea is formed of former and active police officers from Ciudad Juarez and Chihuahua, Gurrola said. They originated as the enforcement force of the Juarez Cartel.
Two other cartels, the Juarez Cartel and Los Cuinis, operate in Ciudad Juarez and Guadalajara, respectively, Gurrola said.
The Juarez Cartel is very successful in transporting marijuana, cocaine, meth and heroin through land ports between Ciudad Juarez and El Paso, Texas, Gurrola said. For every vehicle captured, 10 others pass through successfully. The Juarez Cartel's ability to adapt and persevere has allowed them to keep the Sinaloa Cartel from entering their territory.
Gurrola said Los Cuinis, led by Abigael "El Cuini" González Valencia, primarily laundered money and provided support and services to the CJNG. They are also producers of cocaine and meth.
Eric Cardiel, a student, attended the event for his government class and said it was interesting to hear about how powerful the cartels are. He said he learned about the different types of cartels in Mexico and how their activities impact the U.S.
DEA Q&A
The agents talked about career opportunities for students interested in joining their ranks. They said they recommend students stay out of trouble.
"Do not experiment with drugs because that automatically puts you out," Gurrola said. "It's not worth it."
Elaine Cesare, a DEA special agent, said to never try drugs.
"If you did lie about it, our polygraphers will get you," she said. "They know."
The agents said applicants need to have at least two years of experience in law enforcement and recommended prospective applicants join a local police department upon graduation. Cesare said the application process takes about 20 months.
Robert Little, a government professor, asked about the involvement of DEA agents in providing information for the characterization on Hollywood productions like "Sicario."
"A lot of the movies have the basics of what we do, but they hype it up," Gurrola said. She added that DEA agents are not allowed to be involved in these productions and face termination if they do so.