Dakota pipeline protests emerge across Dallas
Protestors denounced attempt by Dallas-based utility company Energy Transfer Partners to build oil pipeline through Native American Sioux reservation.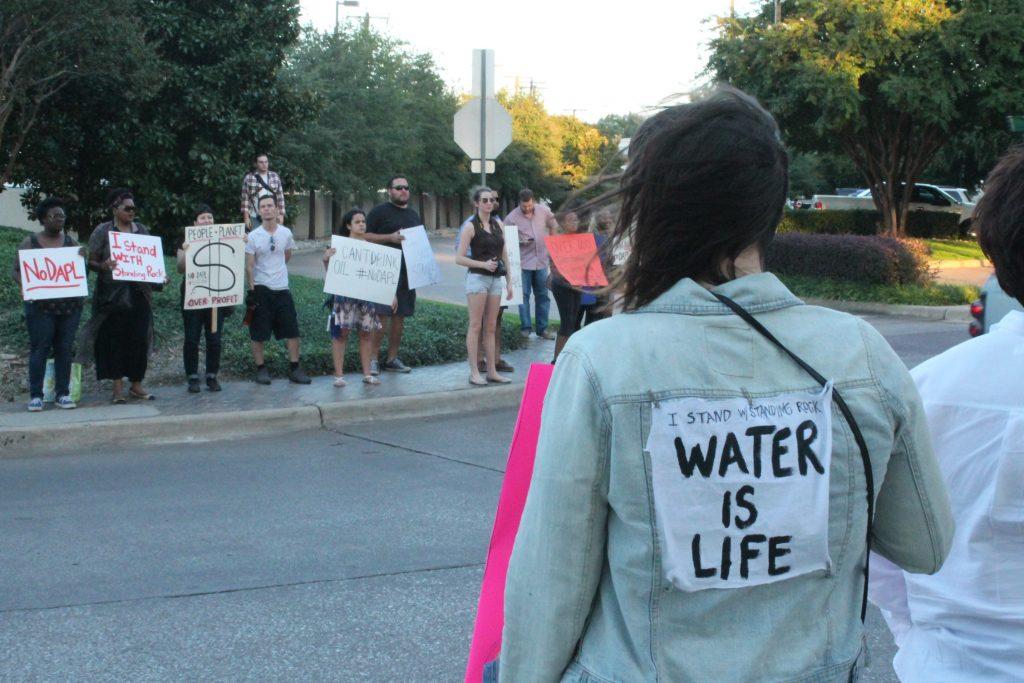 Protesters including some current and former Brookhaven students gathered outside Energy Transfer Partners headquarters in Dallas for a peaceful protest Nov. 1 to voice their opposition to the construction of the Dakota Access Pipeline Project through Sioux grounds in North Dakota.
Controversy over the pipeline spread nationwide after the Dallasbased company moved construction near the Standing Rock Sioux Reservation.
Protesters displayed their displeasure with Energy Transfer Partners CEO Kelcy Warren for the company's construction of the $3.8 billion, 1,172-mile pipeline, according to the Dallas Observer.
"They say a coward hides behind his wealth," Yolanda Bluehorse, a protester, said.
Sam Bortnick, a former Brookhaven student, said he joined largely to commiserate with others opposed to the pipeline.
"I don't think the problem is Energy Transfer Partners but rather the capitalist system," Bortnick
Protesters held signs that read "Dallas Stands with Standing Rock" and chanted, "No more oil, no more oil."
The Dallas-based company plans to transport around 470,000 to 570,000 barrels of oil per day from North Dakota to Illinois, according to daplpipelinefacts.com.
The Sioux tribe lost the bid to seize construction of the pipeline in early September. The U.S. Army Corps of Engineers seized production rights for a couple of days, according to the Huffington Post. The Sioux tribe said the reason behind the protest is the high risk of damage or destruction of culturally and historically significant sites for the tribe and possible pollution of their water supply, according to cnn.com.
Although construction stopped, more than 140 protesters were arrested Oct. 27 near the reservation and charged with criminal trespassing, engaging in a riot and conspiracy to endanger by fire, according to latimes.com.
"It's very heartbreaking," Bluehorse said.
Heather Gream and her daughters, Isabella and Banyan, were among protesters who created banners and displayed them at the protest. In an interview with NowThis News, President Barack Obama said the pipeline scan still be rerouted.
"We're going to let it play out for several more weeks and determine whether or not this can be resolved in a way that I think is properly attentive to the traditions of First Americans," Obama said during the interview.
On the same day GOP nominee Donald Trump was elected the president, the The Guardian reported the final phase of the construction project will begin in two weeks.
According to Trump's plan for his first 100 days in office, he will allow the pipeline to move on forward.
There were no arrests in the Dallas protest, and the group protested again Nov. 15 in downtown Dallas, according to nbcdfw.com.