Prof discusses drug trafficking at Open Book event
By Juan Betancourt
Sports Editor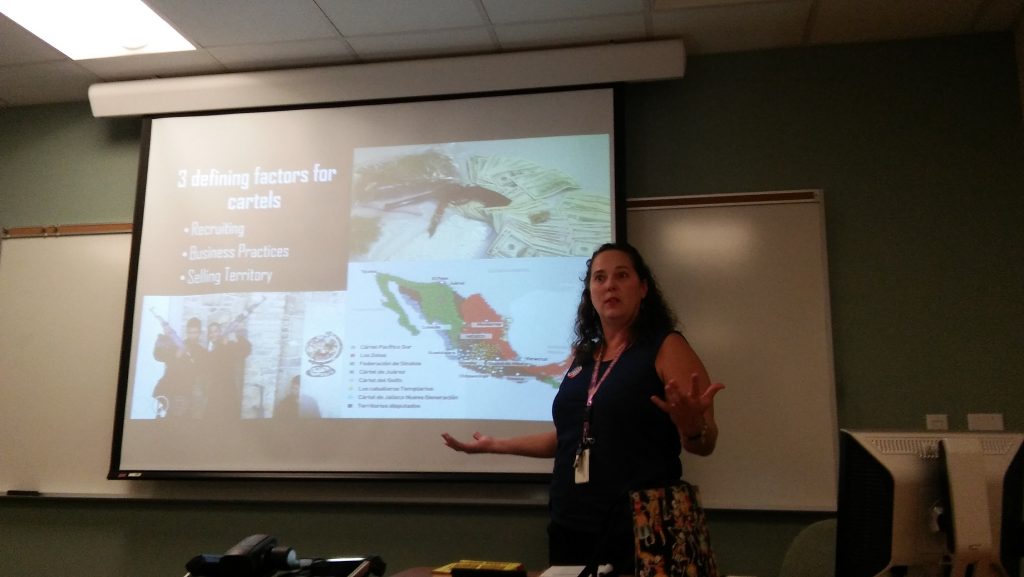 Jennifer Trujillo, an El Centro College English professor, gave a presentation on drug trafficking to Brookhaven College students, staff and faculty on Nov. 8.
Drug trafficking, or the buying and selling of illegal drugs, is prevalent in Mexico and travels across international borders, including the U.S.-Mexico border.
Trujillo said the drugs are not meant for the cartels. They are only meant for buyers.
Trujillo established how easily Mexican crime syndicates, such as Los Zetas, recruit people. Los Zetas target people who seek vengeance, power and money, Trujillo said.
Los Zetas expanded their territory and are mostly located outside the U.S. border, Trujillo said. They wait until undocumented immigrants are deported and provide food and shelter for them. Some Mexican citizens were taken advantage of by Los Zetas and became drug addicts forced to work for them.
Trujillo said while Los Zetas mostly focus on transporting drugs, their use of murder and fear have made them one of the most violent cartels in Mexico.
Throughout her lecture, Trujillo read excerpts from Alfredo Corchado's book "Midnight in Mexico" to convey Corchado's firsthand experience of investigating drug trafficking in Mexico.
In Corchado's book, he said Los Zetas belonged to the Mexican military special forces.
"How else can they move drugs, migrants and kidnapped victims?" Trujillo said, reading from Corchado's book.
Trujillo told the audience Joaquín Guzmán Loera, also known as El Chapo, is best known as the leader of the Mexican Sinaloa Cartel.
The Sinaloa Cartel is from the western part of Mexico and target minorities and young people. Trujillo said they look for recruits on the internet and in prison.
Trujillo said the Sinaloa Cartel try to avoid violence and murder by using bribes over bullets.
Trujillo said El Chapo looks like any average Hispanic male. She said if she saw him in person, she would not recognize him.
Guzmán Loera escaped from prison in 2015, and Trujillo said an interview with Sean Penn for Rolling Stone Magazine may have been a factor of his capture in 2016.
Rumors spread that Mexican prison guards were involved in Guzmán Loera's escape. Guzmán Loera hired engineers to build a tunnel from a construction site to his cell.
Trujillo said Corchado met Miguel Ángel Treviño Morales, a Zeta, who climbed up the ranks by becoming a trafficker and police officer.
"I think it's important to understand what's going on outside of the U.S.," Robb McCormick, a student, said.
Mexico has strict gun laws that prohibit people from possessing military-grade firearms.
"[The U.S.] gave [guns] to them. We helped train the military to fight the war on drugs," Trujillo said. "Los Zetas deserted and took the guns with them."
Trujillo said legalizing drugs in Mexico would not make a difference.