District offers students free DART passes
The Dallas County Community College District unveils plans to provide eligible students with semester-long access to public transportation.
By Jubenal Aguilar
Managing Editor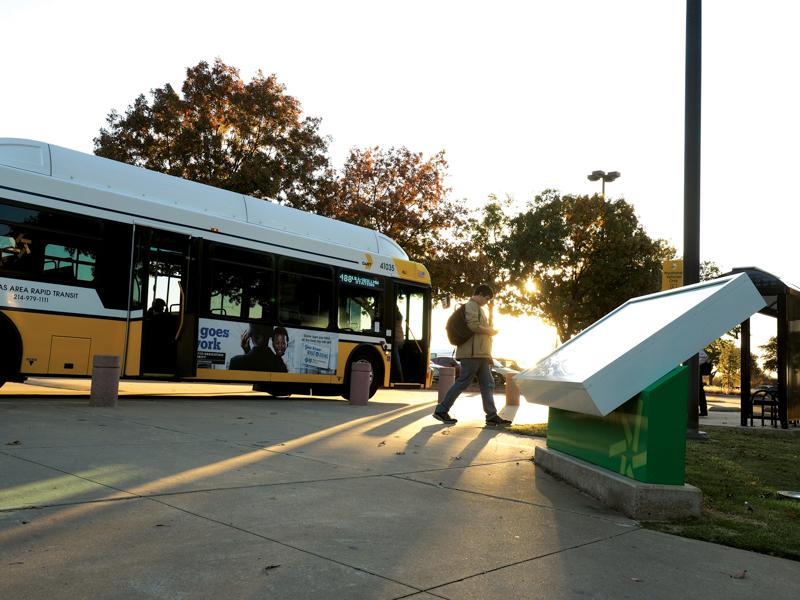 Students enrolled at any Dallas County Community College District campus for Spring 2017 will be able to ride public transportation free beginning Jan. 1. This student benefit is made possible by a new partnership between the district and Dallas Area Rapid Transportation.
Deanie Martin, Brookhaven College director of business operations, said the new program, titled DART Student GoPass, will provide all eligible students with a free local fare ticket. To be eligible, credit students must be enrolled in at least six credit hours during the fall or spring semesters or at least three credit hours during summer terms.
Continuing education students will need to be enrolled in 96 or more contact hours during the first three quarters of the academic year and 48 or more contact hours during the fourth quarter, according to the DCCCD website.
Early College High School students are not eligible to receive a Student GoPass. El Centro College will be the only institution within the district that will not immediately join the new program.
El Centro students will continue to receive a DART sticker on their IDs for Spring 2017, according to a Nov. 29 email sent
to students by El Centro's Office of Student Life. El Centro students will be eligible for a Student GoPass beginning in Summer I.
As of press date, El Centro is the only DCCCD college under a contracted Higher Education Pass Program, which allows eligible fulltime students to ride DART free.
Student GoPass passes will be issued through DART's GoPass app, Martin said. The app is available as a free download from Apple's App Store and Google's Play Store.
A student ID is required for students to obtain a Student GoPass.
"Failure to produce a valid ticket or pass constitutes fare evasion and is punishable by an administrative penalty of up to $100 or a Class C misdemeanor violation with a fine not to exceed $500," according to DART.
Brookhaven students can obtain, replace or renew their student IDs from the Office of Student Life in Room S201. Brian Borski, director of OSL, said students will need to present a paid fee receipt for the semester and another form of ID – high school student ID, driver's license, state ID or passport – to obtain official Brookhaven identification.
Student IDs are valid for two years, according to Brookhaven's website. If an ID is over two years old, students may replace it free of charge. Otherwise, a $10 fee will be charged for replacement cards.
Borski said OSL will issue student IDs until the last day of the fall semester, Dec. 15. They will begin issuing ID cards for Spring 2017 Jan. 3.
After obtaining their IDs, students will need to request their Student GoPasses by filling out a request form, Martin said. Forms will be available in early December 2016, according to the DCCCD's Student GoPass FAQ webpage.
In an email to The Courier, Ann Hatch, DCCCD's director of media relations, the when available, the form can be downloaded from dcccd.edu/GoPass.
Forms will need to be turned in to the GoPass program administrator at each college, according to dcccd.edu. As of press date, Brookhaven's program administrator has not been named.
However, Hatch, said in her email that a designated person at each college's OSL will be the program administrator.
Hatch said changes to student passes after registering for the program – such as a phone number or name change – will be made through the campus's business offices.
Next, students will need to download the GoPass app and register their cell phone numbers. Once the student's eligibility is verified, the Student GoPass will appear in the app's My Tickets tab. Martin said the verification process could take up to a week. According to the district website, verifications will typically be processed on Wednesdays.
Eligible students without smartphones will need to see the business office to receive a pass. "We are anticipating decals that are stuck to the student IDs," Martin said.
Eligible students can begin using their Student GoPasses Jan. 1, Martin said. Students do not need to wait until Certification Day, as was the case with past free or reduced fare programs. Student GoPass tickets for Spring 2017 will be valid through May 31, according to the FAQ webpage.
However, students participating in the program will become ineligible if their total number of credit or contact hours drops below the minimum, according to the FAQ. In that case, they will be removed from the list of eligible students and their passes terminated.
The Student GoPasses can be used for trips on all local DART bus routes and the light rail system, according to dcccd.edu. Additionally, pass holders will be able to ride along the east fare zone of the Trinity Railway Express – which connects Dallas and Fort Worth – between DART's Union Station and TRE's CentrePort/DFW Airport Station.
Student GoPasses will not be valid on special services as designated by DART, including flyer, airport and charter services, according to dcccd.edu.
Because the pass will be local fare, other regional transportation agencies, such as Denton County Transportation Authority, Fort Worth's The T and the TRE's west fare zone, will not be included. Local fare can be purchased from those agencies for trips continuing into their respective service areas.
Lesli Felix, a student, said she briefly heard about the program. She likes the idea of the district helping students with transportation costs.
"It will save me money," she said. "$2 isn't a lot, but it adds up each time [I] ride the bus."
"I think it's a great benefit for students," Borski said. "It'll make higher education even easier. … To not have to pay to take DART to and from campus for classes, workgroups or activities, it will be a huge burden off their shoulders."