New laws prove voters are not blowing smoke
By Eric Lopez
Contributing Writer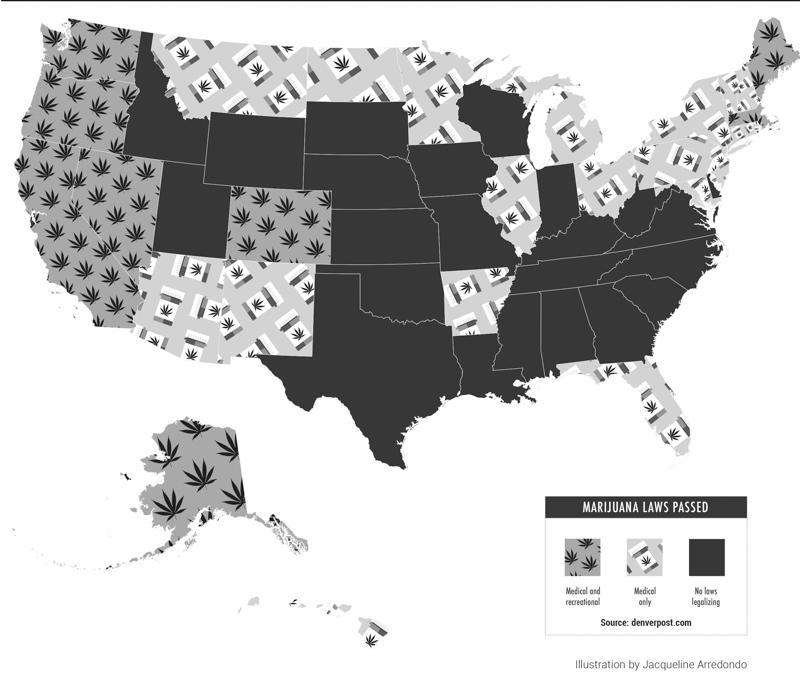 Marijuana was the big winner on Election Day after three states approved recreational initiatives and four approved medicinal uses of the plant. Twenty-eight states now have some form of legal marijuana, according to Forbes.
The plant is seeing an alltime high in approval for its legalization, according to a Gallup poll. Sixty percent of Americans support legal marijuana use. That is an increase from 31 percent in the 2000s.
While 28 states have approved the use of recreational or medical marijuana, there are also states approving the medical use of cannabidiol, also known as CBD, one of the more than 500 compounds in the plant.
CBD is used to treat certain medical conditions, such as epilepsy. According to the National Conference of State Legislatures, recent efforts in 17 states allow use of "low THC, high cannabidiol, or CBD" for medical purposes. Texas is one of those states.
The Texas Compassionate Use Act, which became effective July 1, 2015, required the Texas Department of Public Safety to create a secure register of physicians who treat patients using low-THC cannabis to epilepsy patients, according to txdps. state.tx.us.
Low-THC cannabis is defined as having no more than 0.5 percent by weight of THC, and no less than 10 percent by weight of CBD, according to the bill provision.
With the success of the 28 legal states and the progress the 17 CBD-only states are making, one can assume the era of marijuana prohibition is ending. However, there is still a major hurdle to overcome – federal law.
Marijuana is still listed as a Schedule I substance under the Controlled Substances Act, which means it is still illegal under federal law despite state law and public opinion.
The Controlled Substances Act may be the biggest challenge yet for legal cannabis now that President elect Donald Trump has picked Alabama Sen. Jeff Sessions for the position of Attorney General to oversee the Drug Enforcement Administration. Sessions is a drug war hawk.
"We need grown ups in Washington to say marijuana is not the kind of thing that ought to be legalized, it ought not to be minimized, that it is in fact a very real danger," Sessions said. "Good people don't smoke marijuana."
In an interview with NBC, David Simpson, Texas state Rep. for District 7, said: "God didn't make a mistake when he made marijuana."
Session said the government needs to fix its approach to drug enforcement.
"The present approach to the abuse of drugs, abuse of marijuana, or anything, is not working," Sessions said. "It has been very ineffectual. We're spending billions of dollars at the federal level and at the state level."
During the 2016 South By South West, a panel called Turn Texas Green brought legislators and advocates together to discuss how the state could legalize marijuana for medical and recreational use, according to the Texas Observer.
During the panel, Jonathan Singer, a Colorado state Rep., said weed should be regulated like alcohol, and some Texans agree with Colorado's, socially liberal and fiscally conservative mindset.
As of September, Colorado reported $68.8 million from sales tax of marijuana alone, according to a state report on marijuana taxes, licenses and fees transfers and distribution. The total of all marijuana licenses and fees the state reports it has made $72.8 million.
Imagine what Texas could do.
The legalization movement seems to only be gaining more steam. With the possibility of fierce opposition in the future, but with over half the nation in favor of legalization, marijuana stands to still be one of the most controversial cultural issues faced today.