Mac's new ports stick in craw of users
Our Managing Editor, a new MacBook user, has more than a few concerns with Apple's new line of MacBook Pros, dishes on the company's new dangling dongles.
By Jubenal Agulair
Managing Editor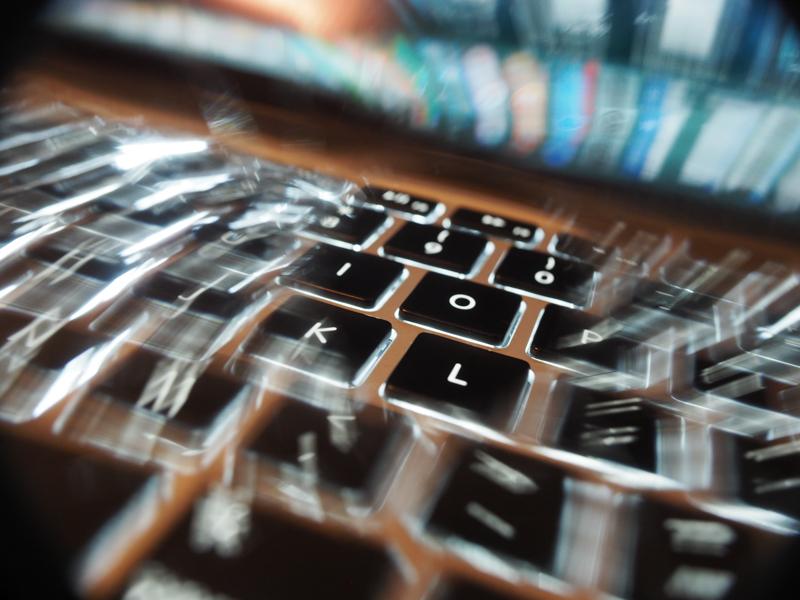 Apple, did you take a look at your new MacBook Pro line? Have you sat down and used it? Did you turn in it on? Did it live up to your expectations?
Did panic grip your soul as you stared into the whirling hypno wheel of tech specs, where adjectives, nouns and jargon spin in an wild maelstrom? When you saw the 15.6" model's screen described as, "15.4-inch (diagonal) LED-backlit display with IPS technology; 2880-by1800 native resolution at 220 pixels per inch with support for millions of colors" and "P3 color, which makes 25 percent more colors available than standard RGB – revealing a much broader range of greens and reds," did your mind touch the void of existence for a minute?
When you get a minute, Tim Cook, would you see what happened to the ports on your new creation?
Did you notice their not there anymore – the ones every other logically designed computer in the world has – are missing? USB? HDMI? Thuderbolt 2? SD card slot? No?
None of them? Are they all legacy ports now? Does that make my flash drives legacy technology? The ones I bought a couple weeks ago that are available at every store?
My newest camera still uses an SD card, is that old tech too? Even though it records 4K video? Really? Or did you get rid of the port because you didn't like how the cards stick out on my computer?
I see the 3.5-millimeter headphone jack is still there, I guess; that's not old technology then, right? Wasn't the headphone jack invented in 1878, according to BBC News? That's the 19th century, isn't it? Isn't that almost 140 years ago? Did you even exist in 1878?
But you took the headphone jack out of the iPhone 7 because you thought the phone was too fat? I guess the MacBook Pro is still fat enough, isn't it? But for how long? What exactly about only providing USB-C ports – an emerging industry-standard connector for transmitting both data and power, according to PC Magazine – make any meaningful sense? I see up to four of these things on your computer, are they new? Did you invent them?
What exactly do they do? Are they universal? They support charging the computer? They also support external monitors? And data transfer?
If I don't have anything that supports USB-C, how do I connect stuff to my computer? With a dongle?
What's that? Do you sell them? I might need one or two, how much are they?
Wait, you sell how many different types of dongles? According to CNET, it's 17, correct? They're how much? I thought you sold iPhones and Macs and iPods?
And you think a temporary discount is your way of forcing me to cope with this nonsense?
I need to charge my new iPhone, but I don't see a power outlet nearby; I can still do that, right? Not on the MacBook Pro?
Wait? What? Seriously?
You didn't even include a USB-C cable – or a dongle at least – with the new iPhone? Why? Weren't your devices supposed to "just work" together? Shouldn't that also apply to the hardware? I guess your unofficial mantra no longer applies, huh?
Why is, MagSafe 2, the one magical port on your old line gone? Was it no longer magnetic? Was it no longer safe? Was it no longer worthy of the No. 2? Did you not make a version?
Do you know how many MacBook lives – and human lives – MagSafe 2 saved? Do you remember that it held on to the computer quite securely, but also easily detached when pulled out – on purpose or by accident?
Well, do you?
You said interacting with the new MacBook Pro is a better experience all around, but is it? Haven't I made my point yet? Need I keep going?
Why is new Force Touch trackpad is twice the size of the old one? Isn't your new motto "Lighter and thinner – and smaller – is better"? Why make something bigger? Why "fix" something that ain't broke?
Is the large trackpad more expansive? Or more expensive? Or both? I didn't say that, did I?
And what's up with the Touch Bar, the tiniest touch screen on a computer ever? Didn't we ask for a real touchscreen?
Is the entire machine a very expensive piece of conceptual art? Is that what musicians, photographers, artist and other creative pros asked for when you listen to their suggestions and feedback?
Did you even listen to suggestions? Did you? Did you really?
Haven't we lost so much already in 2016? Why did you have to kill our dreams too Apple? Why pass a regular MacBook as a Pro?
Why Apple?