Dallas protests executive order, court repeals
The president's executive order banning some foreign visitors was canceled by a district court, the case may wind up in SCOTUS.
By Juan Betancourt
Senior Staff Writer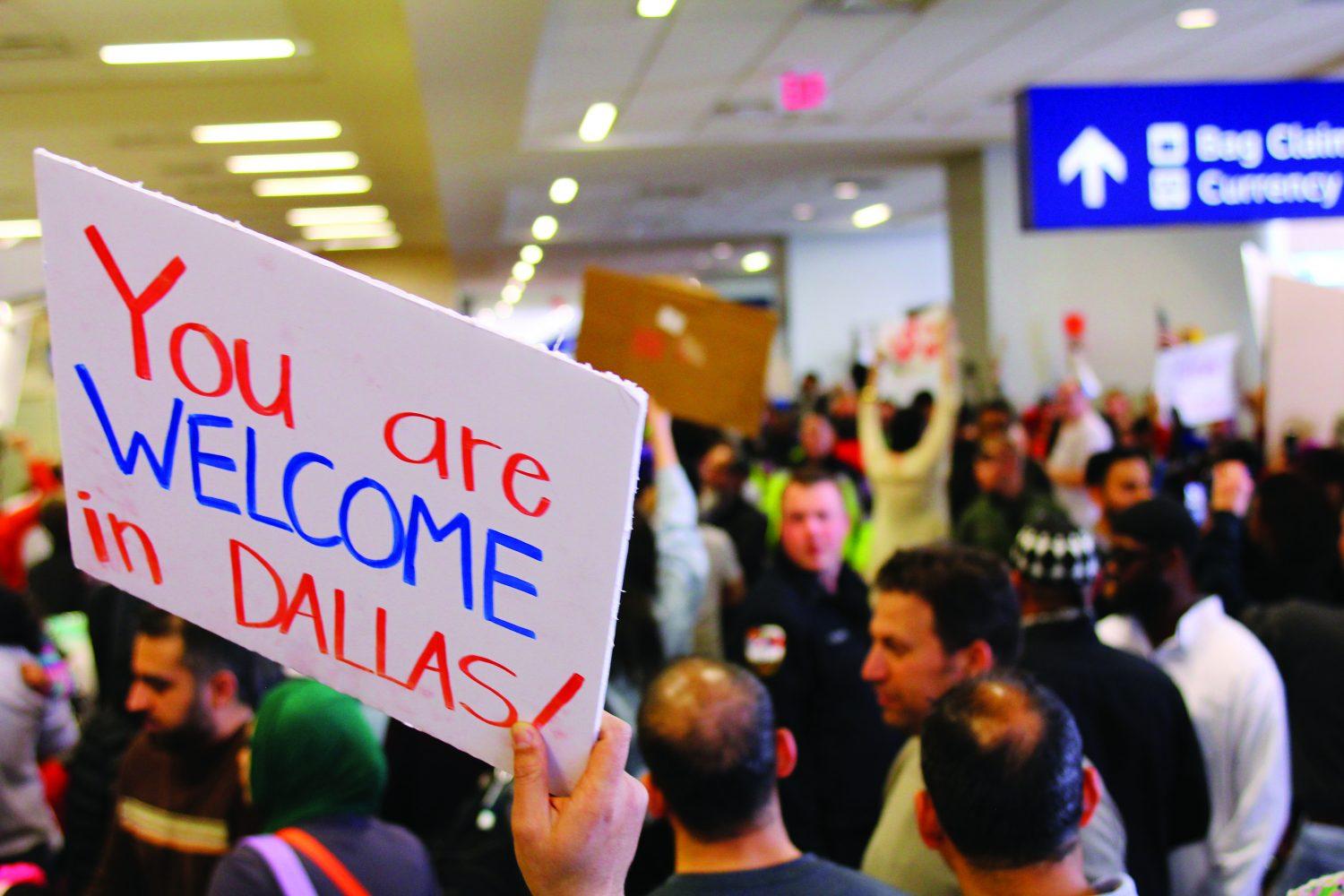 Thousands gathered at Dallas/Fort Worth International Airport's Terminal D Jan. 28 to protest President Donald Trump's executive order banning entrance to the U.S. for travelers from seven predominantly Muslim countries. The order was repealed by the 9th District Court of Appeals Feb. 9.
Aatka Shabbir, president of Brookhaven College's Muslim Student Association, was one of the protesters."I saw so many different cultures [and] so many different minorities who opposed the ban," Shabbir said. She said she was shocked at the turnout and assumed only Muslims would show up to protest.
The executive order, which included Iran, Iraq, Syria, Sudan, Libya, Yemen and Somalia, set a 120-day restriction against refugees and a 90-day restriction against most citizens from six of the countries affected. Trump's order stated Syrian travelers would be restricted indefinitely.
One DFW Airport detainee was Iraqi, five were Iranian, two were Syrian and one was Sudanese, according to nbcdfw.com. All detainees had visas.
On Jan. 28-29, Dallas Mayor Mike Rawlings offered his support and welcomed the detainees, according to dallasnews.com. "I am very sad about what this does for Dallas," he said.
"It's scary. You go on a trip, and you expect to come back home, but you can't," Aldin Ahmed, vice president of the Brookhaven Muslim Student Association, said. All detainees had visas.
A federal judge halted the order Feb. 3 before its cancelation.
The Dallas County Community College District currently has at least 47 students from the seven countries that were affected by the executive order, Joe May, DCCCD chancellor, said during a press conference with district student media Feb. 3.
Shabbir said she was worried for Brookhaven's international students who may visit their families and not be able to come back to study.
In a districtwide email, May said: "For more than 50 years, we have welcomed students, faculty and staff from around the world. That culture of diversity and inclusiveness has become an essential component of the DCCCD community, and it is reflected in our policies, which prohibit discrimination in any form."
He added that anyone who has questions can email them to [email protected].
"We stand with you as we continue to build a community of teaching and learning through integration and collaboration, openness and integrity, and inclusiveness and self-renewal," May said.