Dallas rallies for equality
Marilyn Velazquez
Staff Writer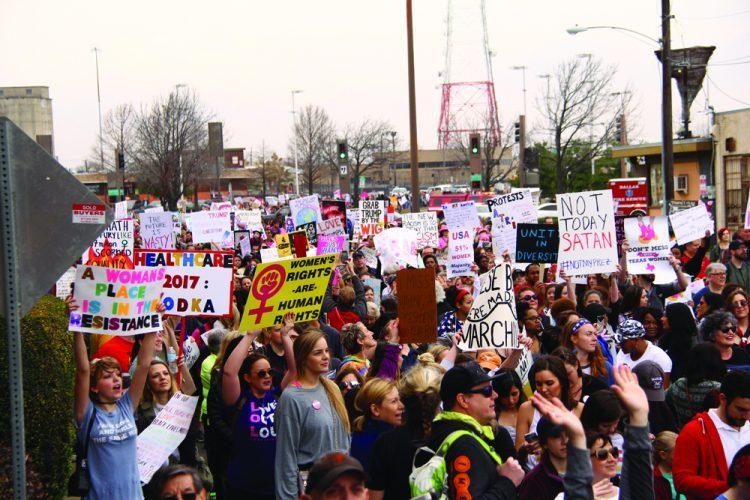 As I sat silently on the Dallas Area Rapid Transit Green Line on my way to the Dallas Women's March, a surge of fear washed over me. I was alone in my train car with three older men. I had never been on the train by myself. Men have catcalled me before, and I was scared it would happen again.
It was 8:40 a.m. and I feared for my life. It was that same fear and anxiety that made me get up early that morning to march in downtown Dallas Jan. 21, just one day after President Donald Trump's inauguration. Sister marches around the globe were held in more than 60 countries on seven continents, according to womensmarch.com.
The event was organized by State Rep. Victoria Neave, according to The Dallas Morning News. And an estimated 5,000-8,000 people marched on the streets of Dallas.
The main goal was to stand against Trump's attacks on those, including immigrants, minorities, people with disabilities and the defunding of Planned Parenthood.
Many of those rallying had anti-Trump posters. Samantha Cuellar, a former Brookhaven College student, held a sign that read: "Viva La Vulva." People of all ages, races and genders came out to support these women.
Cuellar said she was attending the march in support of the LGBT community and minorities, as she identifies as a Hispanic lesbian. Cuellar said she recalled an incident in high school when a music teacher said she worked like a man.
"It's offensive because it downplays women and their ability to get things done," Cuellar said. "He would say, 'She's the best man we have around.'"
Steven Love, a former Brookhaven professor, also attended the Dallas march.
Love said he remembers an incident when his first wife was denied birth control in 1958 because she was not yet married.
"There's been a positive impact, but we have a long way to go," Love said.
As the march began, many passing cars honked in support. However, some people did not seem to understand the point of the march. One man shouted that the march was pointless. Another woman shook her head as one protestor yelled out to her to honk in support.
The spectators who made the most of their presence were four men, two of whom wore "Make America Great Again" hats. Although they were doing nothing more than standing, their chuckling made those in the crowd gaze in their direction.
Noor Saadeh, a Muslim who attended the march, is a part of NoMeanGirls, a group whose goal is to unify women.
"Our worst enemies are ourselves sometimes," Saadeh said. "Women try to [get] ahead, and another woman holds you back."
Saadeh said she also wants to dispel the stereotypes politicians have perpetuated about Muslims in the media. "An Arab is not better than a non-Arab. A white is not better than a black," Saadeh said.
According to CNN exit poll data, 41 percent of women responders said they voted for Trump. Within that demographic 52 percent of those within the demographic identified as white, 25 percent as Latina and four percent as black.
Tomi Lahren, a TV host and outspoken conservative who has said she supports Trump wholeheartedly and tries to debunk all left-wing radicalism, tweeted multiple times, voicing her opposition to the marches. One tweet read:"Does anyone know why they're protesting? Just curious…" Another read, "Someone should teach these protestors The Art of the DEAL WITH IT!(sic)."
Once we got to the end of the march, a few hundred crowded around a small stage inside a narrow parking lot in front of a building on Washington Avenue.
Neave was one of many who spoke, as well as Monica Lira Bravo, a Dallas County Community College District trustee.
Neave said she saw many inequities as a young girl that made her want to fight back, and she made it her goal to go to law school.
For a newly elected president to anger this many women has got to say something about how the next four years will go.
Good luck, America. These women are here to grab back.