With Senate Bill 11 taking effect at Brookhaven College Aug. 1, concerns about the safety of students, staff and faculty rise
By Stephanie Salas-Vega
Associate Layout Editor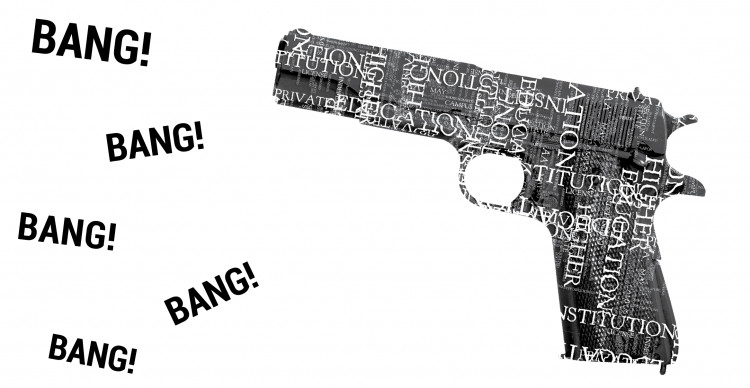 The thought of anyone, who is not a police officer, carrying a handgun around a college campus could raise fears and questions. Concerns over the safety of Brookhaven College students, staff and faculty lingered in my head after I learned of the new campus carry law that will affect Texas public two-year colleges starting Aug. 1.
The law currently states that concealed carry is allowed in the parking lot of the campus, according to a PDF explaining open and concealed carry on Brookhaven College's website. As long as the handgun is put away inside a vehicle and not sitting next to me in class, I'm less of a nervous wreck.
By the end of 2015, the number of active permits in Texas was through the roof at 937,419, according to Crime Prevention Research Center. As of April 30, 2016, a total of 1,017,618 people in Texas were licensed to carry handguns, according to The New York Times.
In 2015, Gov. Greg Abbott signed Senate Bill 11, which allowed concealed carry on  public college campuses. As with many new laws, it was met with both support and opposition.
According to the understanding open and concealed carry PDF by Aug. 1, Dallas County Community College District will have designated safe zones, areas on campus prohibiting concealed carry. Soon, licensed carriers will start showing up to class with guns in their holsters, and no one will know they are packing heat.
The district will not track  LTC students, staff and faculty or require them to register with the campus police, according to the Concealed Carry FAQs on the Brookhaven website. The law also states that information on LTC holders must be kept confidential.
No one will know who is carrying a concealed handgun on campus, not even authorities.
If a campus shooting were to occur, an LTC holder could take the shooter down and save lives. But how would police distinguish the bad guy from the good guy?
"Each situation is different. Only the circumstances surrounding the incident would dictate how an officer responds," Mark Lopez, interim commander of police, said in an email to The Courier.
Although we cannot change laws or place blame on a police officer who is simply following procedure, we can still count on police for protection.
"I have to follow what the law directs. It's our job to protect the non-carriers as well as the lawful carriers," Lopez said.
Michael Freeman, a criminal justice professor, said training should be required for students who carry a concealed weapon on campus so they know how to handle themselves and their handguns in emergency situations.
An LTC holder should take full responsibility when bringing a weapon onto campus. He or she should be aware of all of the risks associated with this new freedom. Handguns on campus should be seen as safety weapons, not as threats. Instead of viewing LTC holders as dangerous people, they should be thought of as possible heroes.
"I think there will be a lot of overhype," Freeman said. "I think over time, it'll slowly start to go away. The apprehension will go away because it will be the norm."
Opposers of the law can still contact local representatives to voice their concerns.