Iranian prof. shares family's struggle
By Diamond Victoria
Editor-in-Chief
[email protected]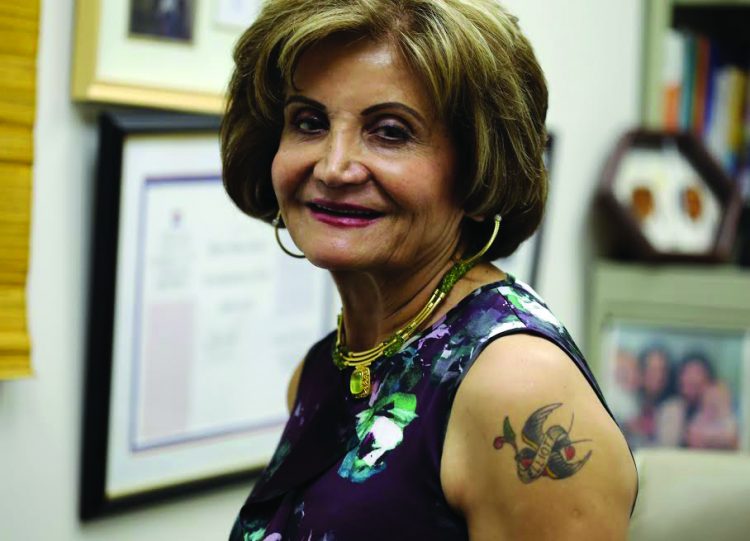 Sheri Van Court, a Brookhaven College ESOL professor since 1985, moved to the U.S. from Iran 40 years ago. But on Jan. 28, members of her family who traveled from Iran to visit their eldest daughter and sister were detained at Dallas/Fort Worth International Airport after President Donald Trump signed an executive order temporarily banning travel from seven Muslim-majority countries.
"Saturday night, no one slept," Van Court said.
Van Court's cousin, Keyvan Ghotbi, and his wife, Eshrat Ghotbi, were traveling with their younger daughter, Barsiana Ghotbi, from Iran, by way of Dubai. They spent hours traveling to Dallas and were eager to see Elnaz Ghotbi, who studies at Southern Methodist University.
"As soon as they got in, they were detained," Van Court said. "Here are these three people, two of them pretty old, and they had to just sit after being on the plane traveling from one country to another."
Van Court said her detained relatives had to sleep on cold cots with no mattresses at night. "However, many of the guards were very nice to them, and they were apologetic," she said. "One of the women who was on the same plane with them passed out. The doctor who came to examine her apologized to her and all others for their unfortunate situation."
The order, which Trump signed Jan. 27, included Iran, Iraq, Libya, Somalia, Sudan, Syria and Yemen. It prevented refugees and travelers alike from entering the U.S., according to USA Today. The president instituted a 120-day ban on refugees entering the U.S. and a 90-day ban for most citizens of all included countries other than Syria. Syrians were indefinitely suspended from entering the country.
The executive order acted as the "extreme vetting" Trump promised during his campaign to protect the nation from terrorists, according to CNN. However, the order did not go through the Department of Justice, and the Department of Homeland Security was not given proper warning on how to adequately execute it.
The ban was temporarily halted Jan. 28 by a federal judge, before its repeal by the 9th District Court of Appeals Feb. 9.
The order could see its final verdict from the U.S. Supreme Court, according to USA Today.
"[Keyvan and Eshrat] were just here to see their daughter and go back home," Van Court said. "They were here on [travel] visas. They got the visas before they came. They didn't come without them."
Van Court said after two days, officials let her family into the U.S. "They had to just sit still the whole time, and then everyone got involved," she said. And by "everyone," she meant the many protesters, lawyers, the American Civil Liberties Union and U.S. Rep. Joe Kennedy, whom her daughter personally contacted.
Van Court said she hoped to take her husband to Iran since he has never been.
But in retaliation for Trump's order, the country prohibited Americans from entering and Van Court is unclear when or if this will change.
On Jan. 28, Iran's Ministry of Foreign Affairs stated, "Iran will implement the principle of reciprocity until the offensive U.S. limitations against Iranian nationals are lifted," according to breitbart.com.
Van Court said she is unsure whether she will ever be able to revisit her home country.
"It's very [discouraging] to see how people are treated. I find there's no unity anymore. I'm really upset about that," Van Court said.