'Moonlight' shines bright
CRITICAL REVIEW
Monica Mitrovic
Copy Editor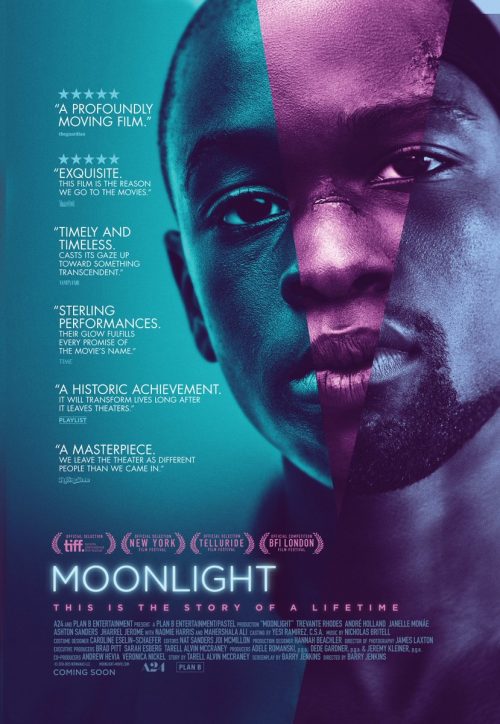 "Moonlight," written and directed by Barry Jenkins, captivates audiences with its stunning cinematography, iconic cast and chilling soundtrack. The drama film clinched eight Academy Award nominations in 2017 with its somber narrative, depicting a boy's rough journey to adulthood while he navigates the murky waters of love and life.
Based on the play "In Moonlight Black Boys Look Blue," written by Tarell Alvin McCraney, the uniquely depicted coming-of-age film had a limited theatrical release beginning Oct. 21, 2016. The film quickly gained widespread recognition and it still showing in theaters as of press.
"Moonlight" highlights controversial issues in the current sociopolitical environment, where hateful rhetoric is thrown about freely. The film unapologetically tackles topics such as poverty, gender identity, race and homosexuality. It explores what it means to be poor, black and gay, while dissecting the fragility of masculinity.
The film follows Chiron, portrayed by three actors, who maintains a sullen disposition throughout the film because of the hurdles the main character faces on a day-to-day basis. He brightens during interactions with two people: his surrogate father and his friend-turned-lover.
The beginning of the film follows a young Chiron "Little" (Alex Hibbert) through an impoverished and drug-ridden Miami neighborhood as he's chased by a group of bullies. Juan (Mahershala Ali) feeds Chiron and safely returns him home, developing a bond with the fatherless child. After a lesson on life, Chiron confronts Juan about Juan's job and the negative effects it has on Chiron's neglectful mother, Paula (Naomie Harris).
The film transitions to a teenage Chiron (Ashton Sanders), who struggles with the same problems that plagued his childhood. However, the reintroduction of a childhood friend, Kevin (Jharrel Jerome), lightens the film's depressing atmosphere until an encounter ends with Chiron's assault.
The violent incident's aftermath directly affects Chiron's (Trevante Rhodes) adult life, but reunions with a fully-grown Kevin (André Holland) and Paula manage to change Chiron's life, healing old scars.
Cinematographer James Laxton communicates Chiron's story with haunting imagery and adds to the intimacy expressed in every scene. "Moonlight" focuses on the individual characters, providing personal details and probing the characters for specific reactions. Close-up camera shots pierce audiences' souls and allow them to delve deep into the characters' harrowing emotional and physical experiences.
The original soundtrack, composed by Nicholas Britell, combines orchestral music, hip-hop and a 1960s hit single to complement the evocative cinematography of the three acts. Britell never fails to increase Chiron's melancholy during vulnerable moments and manages to create uplifting moments for characters and audiences.
With a 98 percent score on Rotten Tomatoes, it's a wonder "Moonlight" didn't sweep all the awards at the Screen Actors Guild Awards. The coming-of-age film was nominated for Outstanding Performance by a Cast in a Motion Picture, Outstanding Performance by a Male Actor in a Supporting Role and Outstanding Performance by a Female Actor in a Supporting Role. Ali won the Outstanding Performance by a Male Actor in a Supporting Role award.
This must-see film, which illuminates issues people endure every day and resonates with millions, has another chance to win big at the 89th Academy Awards Feb. 26. It is nominated for: Best Picture, Best Actor in a Supporting Role (Ali), Best Actress in a Supporting Role (Harris), Best Cinematography, Best Director (Jenkins), Best Film Editing, Best Original Music Score and Best Writing Adapted Screenplay.