Brookhaven College's environmentalist group meets to discuss environment and the Windmill Garden.
By Stephanie Salas-Vega
Associate Layout Editor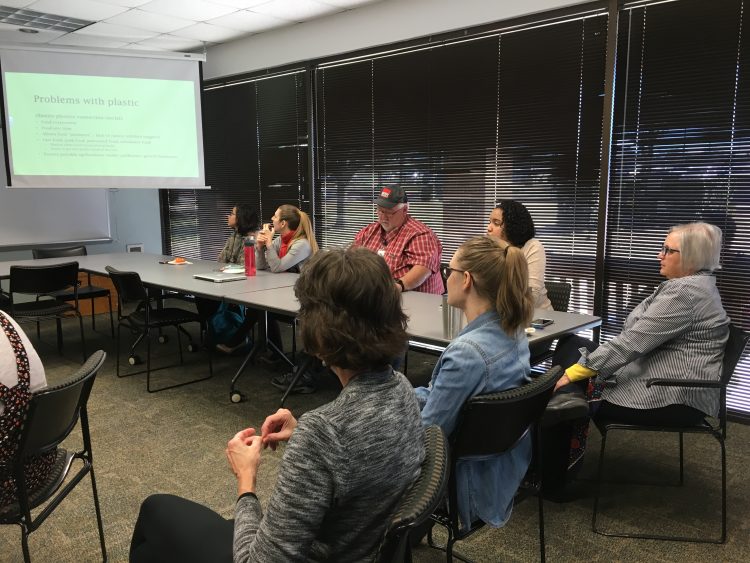 Brookhaven College's Green Team Coalition held its first meeting of the semester Jan. 31 to discuss sustainability and learn about the harmful effects of plastic waste.
Students, staff and faculty shared their concerns with sustainability.
Carrie Schweitzer, director of sustainability and Green Team adviser, said environmental integrity, economic vitality and social equity are the foundation of sustainability.
"That's the law that we're acting on and when we do programming here at Brookhaven, we try to address different elements," Schweitzer said.
"I think sustainability means being able to elongate and prolong the resources we have here that Mother Earth gives us," Leilani Prudente, a student, said.
Amy Monroy, project leader and guest speaker, spoke about the problems with plastic, how to minimize its use and the health problems associated with plasticizers.
Monroy said when she stored food in plastic containers, she realized the containers still smelled of, or were stained by, previously stored food. "I thought, '[The plastic] is not inert, it's interacting with this food,'" she said. She began to understand the toxicity and its metabolic and cellular effects.
"It has so many far-reaching consequences that we are really just not aware of," Monroy said.
Mundreun Chambliss, Green Team co-chair, said a goal for the team is to increase its size and bring sustainability culture to students.
"I don't want you to go around the corner without seeing something that helps you understand what sustainability is and how to be more sustainable in general," Chambliss said.
Last semester, the Green Team started a shoe drive that collected about 125 pairs, which were then given to a local non-profit organization and distributed locally. Chambliss said the shoe drive was successful even though it was not largely promoted.
This year, the Green Team would like to add to the Windmill Garden, Chambliss said.
Students, staff and faculty interested in volunteering with the Green Team can attend the next meeting from 1:30-2:30 p.m. Feb. 21 in Room S003.