Academic dishonesty online shakes BHC
As methods of cheating in online course work increase, Brookhaven College professors think up preventative measures.
By Diamond Victoria 
Editor-in-Chief 
[email protected]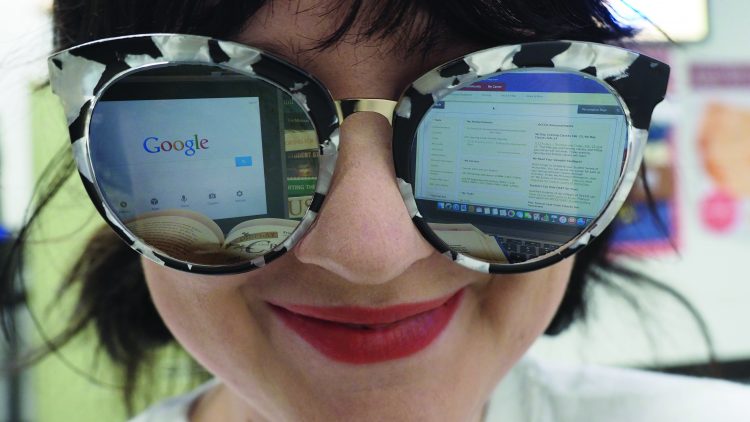 Dallas County Community College District offers several online courses for students to earn credit hours remotely. But despite preventive measures taken by online instructors, some Brookhaven College students say they have cheated in these classes.

"I catch students cheating every semester," Jim Dudlo, history chair and online instructor, said in an email to The Courier. "It is always a red flag when a student self-identifies in an introductory discussion post as a poor history student… and then they turn around and ace every single quiz faster than even I could complete them."
The Spring 2017 semester saw 9,056 Brookhaven students enroll in online courses, according to an enrollment report sent in a campuswide email Jan. 31. According to a poll of 121 students conducted by The Courier, 55 said they have taken classes online, and of those, 23.6 percent said they have cheated.
What students consider cheating varies, according to the poll. But the majority agreed the most common method is to search online.
Ana Torres, a student, said she has taken one class online and prefers face-to-face classes. She said she is aware of how easy and tempting it is to cheat when faced with uncertainty in an online course. "You can't get the same kind of answers to questions when it's through email," she said.
One tool the district has implemented is the instructor's right to require Respondus LockDown Browser, a custom browser that prevents students from cheating during online exams, according to respondus.com. Features include preventing printing, copying and pasting, screen grabbing and accessing other applications while the browser is active. The idea is to prevent the student from looking up the answers as they take a test.
However, use of the browser by DCCCD instructors is not mandatory and the possibility of students using separate devices for searching is still there. Dudlo said he does not use Respondus in his classes because he does not think it would prevent students from finding answers in other ways.
"Ultimately, Respondus is great for locking down the computer from which the student is taking a test, but the reality is that this does not prevent a student from utilizing a mobile device to look up answers or take screenshots of their exam to pass on or sell to other students," Dudlo said.
But cheating online does not always fall on the part of the person enrolled in the course.
Some companies such as No Need To Study offer online services that range from essay writing and completing discussion posts to taking exams and working on MyMathLab for students willing to pay. Since 2009, the company has guaranteed its clients A's in a variety of subjects by taking the course in their place. According to the website, the founders of the company consider the operation an academic assistance provider with the largest expert tutor network in America.
Services such as the ones provided by No Need To Study can parallel the original cost of the classes, doubling students' total academic expenses, according to The Atlantic. In 2015, a journalist for the magazine reached out to the company to see what it would cost to have a tutor take an English literature class at Columbia University, which turned out to be $1,225.15.
Torres said she would never spend extra money for someone to take her classes for her.
"If I'm paying for the class, I want to be the one taking it," Torres said.
Kendra Vaglienti, executive dean of communications, said she sets tight time limits on all of her online quizzes so students do not have enough time to look up every answer. But she also said she does not worry about cheating too much. "I know that students may be able to cheat online, but I also know that they cheat in face-to-face classes and in the Testing Center," she said.
Dudlo said he thinks Brookhaven faculty are aware students cheat remotely and in a classroom. However, he said he thinks the same technology that makes it easy to cheat also makes it easy to detect cheating.
"This is why I have, over the years, decreased the value of my quizzes and designed them to be open book or note," Dudlo said.  "On some level, whether a student is cramming before an exam by reading a definition of all the key terms or looking up those terms in the midst of the exam, they are still acquiring the same information and studying the same material."
Some U.S. schools have incorporated software such as keystroke recognition programs and require variable testing, according to onlinedegrees.com. One company, ProctorU, assists colleges in remote proctored exams by monitoring the individual taking a test with webcams and screen-sharing software.
"I believe [these methods are] a step in the right direction," Dudlo said. "Variable testing has long been done in traditional lecture courses." He said he used to administer in-class exams several years ago in large lecture classes, and generally had three or four versions of each exam that were handed out randomly or in an alternating pattern to discourage cheating.
Brookhaven's Student Handbook identifies all forms of scholastic dishonesty, including cheating, plagiarism, collusion and fabrication. The handbook states that violation of the rules and regulations listed is punishable as prescribed by board policies.
"I think the challenge is finding a happy medium that, while admittedly one can never prevent all instances of cheating, a professor can place enough barriers to discourage it as much as possible," Dudlo said.