By Monica Mitrovic
Copy Editor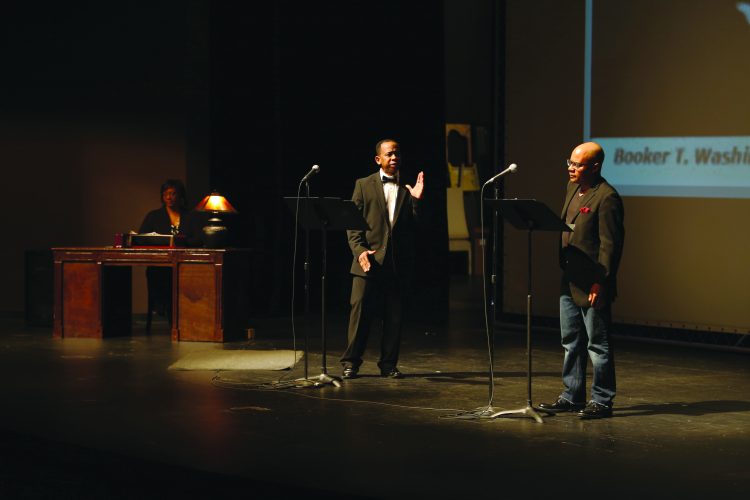 Students, staff and faculty gathered to celebrate black poetry and explore controversial issues in Brookhaven College's annual African-American Read-In Feb. 14 in the Performance Hall. This year's theme was "Poetry and Prose That Speak to the Times."
Hazel Carlos, English professor and director of the event, said the program was Brookhaven's contribution to Dallas County Community College District's African-American Read-In. Carla Ranger, founder of the Dallas African-American Read-In and former executive director of DCCCD's office of educational partnerships, said the read-in allows people to share the joys of literature and celebrate the legacies of African-American writers with members of the community, according to a 2006 district press release.
"The most important thing about the event is that it teaches and entertains the college community, leading us to reflect as we continue to move forward in unity," Carlos said in an email to The Courier.
The read-in was dedicated to Marjorie Westberry, a founding faculty member at Brookhaven. Westberry died Dec. 22, 2016. Stephanie Venza, another founding faculty member, read the poem, "When You Have Forgotten Sunday: The Love Story," written by Gwendolyn Brooks, in Westberry's honor.
Brooks is regarded as one of the most distinguished poets of the 20th century and was the first black author to win the Pulitzer Prize for Poetry, according to poetryfoundation.org.
Donna Crenshaw, college tutor coordinator and reader of the program, provided a constant narrative that provided openings for the presenters to read their pieces. The program began with poems reflecting African Americans' arduous journeys to and struggles in America, from slave auctions to dealing with discrimination and ended with poems expressing hope for future generations.
Carlos read the poem, "The Slave Auction," written by Frances Ellen Watkins Harper. Harper was a writer and activist who helped slaves escape through the Underground Railroad, according to poetryfoundation.org. Joe Sanders, associate registrar, and Hurshel Burton. English professor, recited the poem, "Booker T. and W.E.B.," written by Dudley Randall, which accentuates the different beliefs of Booker T. Washington and William Edward Burghardt "W. E. B." Du Bois.
After a few more readings, a video, "Oh, Freedom," displayed pictures of Martin Luther King Jr. and famous 1960s civil rights protest photographs. The readings that followed referenced events from the latter half of the 20th century and the 21st century.
Christopher Cyriaque, an ESOL professor, recited, "Letter from Birmingham Jail," written by King, which urged people to adhere to a pacifistic, nonviolent resistance policy. Cyriaque projected a loud, booming tone that highlighted the letter's message.
Cyriaque said one of the most important things about the read-in is the recognition of Black History Month and how it raises students' awareness and increases their knowledge of African-Americans' contributions in each state.
Crenshaw requested the audience contemplate how society has changed or has not changed as the song, "The Message," by Grandmaster Flash and the Furious Five began to play.
Adriana Cavitt, administrative assistant of the Math and Science Division, recited "Status Symbol," written by Mari Evans. She said, "I want [students] to realize that there has been a change, and there's still growth to be made in every culture; your humble beginnings make you who you are and [it's important] to learn your history."
The presenters walked on stage for a final performance after a video clip of President Barack Obama addressing millenials played.