By Marilyn Velazquez
Staff Writer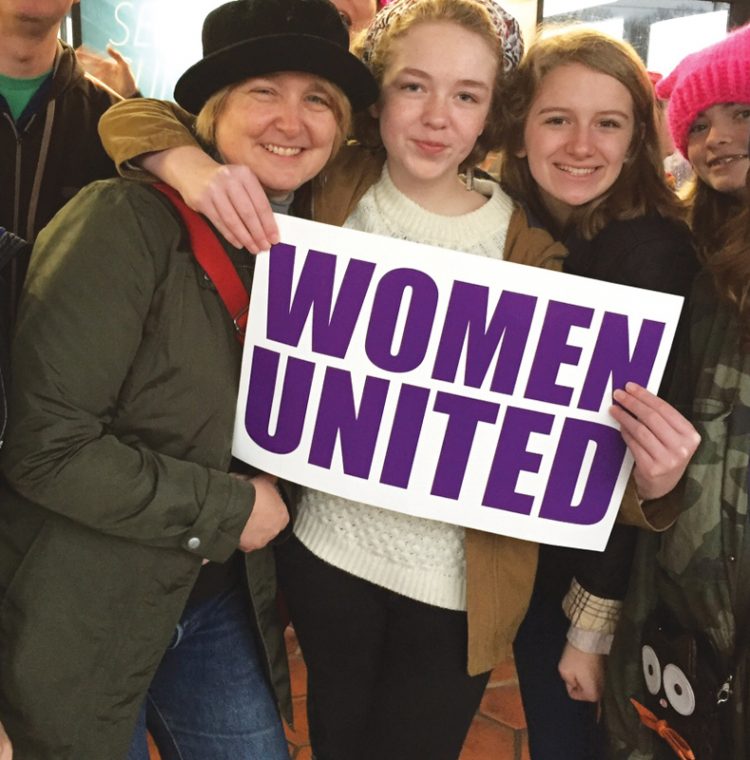 Men, women and children of many backgrounds were at a standstill Jan. 21 at the corner of Independence Avenue and Third Street in Washington, D.C. A sea of pink hats flooded the streets as anti-Trump chants roared through the alleyways. Among the thousands of people in the crowd stood Andrea Chaney, a Brookhaven College ESOL professor, and her daughter, Cleo.
A day after the presidential election, Chaney heard about the Women's March on Facebook and booked a flight to Washington D.C.
While Andrea was in D.C. with Cleo, her husband and son were participating in the Women's March in Austin.
"They wanted to be politically active with us," Andrea said.
Andrea said she and her family have strong feelings about the result of the presidential election.
"[Cleo] was even more sad than my husband, and I thought the march would help her understand that there is a point in time to speak up and remain active," Andrea said.
Cleo said she does not think the election will affect her because she considers herself privileged, but is still angry that her peers at school have to live in fear.
The march in D.C. was one in a long string of protests Andrea said she has been a part of in her life, and she enjoys remaining politically active.
In her college years, Andrea said she and a group of people traveled from her Los Angeles university to protest a nuclear testing zone in Nevada owned by the government.
Now a mother of two, Andrea said she and her husband stay connected to current events.
"The kids would hear things and they started asking questions. So, we kind of gauge our level of discussion by what they ask questions about," Andrea said.
Andrea's will to advocate for others did not stop in D.C.
A day after President Donald Trump's executive order cutting off travellers from seven predominately Muslim counties from entering the U.S., 13 Muslim passengers were detained at Dallas/Fort Worth International Airport, according to the Fort Worth Star-Telegram
Andrea was driving home from the grocery store when she received word of the protest.
"I put the groceries away and my husband and I went out for the evening to the airport to protest," Andrea said.
The protest was in full swing by the time they arrived. Police scattered to clear a path to Terminal D. The crowd chanted, "No ban, no wall." Protesters began to grow as news of detainees spread on social media. Many people attended the protest, including Muslims, Hispanics, blacks and whites.
Andrea said the crowd was giving off positive vibes rather than anger, but it was terrible for her and her students the following Monday. "The diversity of people is what makes my job amazing. I work with a great diverse group," she said.
Seema Kaabomier, one of Andrea's students, is a refugee from Iran and has lived in the U.S. for a year and a half. Kaabomier said she was very sad to hear she would have to face challenges to see her family back in Iran due to Trump's ban on the country.
Andrea said she is skeptical about the next four years, but  hopes the activity happening will result in changes in the House of Representatives.
"The fundamental value of the U.S. is we're a country of immigrants. We need to welcome and tolerate differences, especially differences in religion." Andrea said. "[Immigrants] need a place to feel safe. We're a first world country. We can afford to help them."