Panel delves into education
In honor of Black History Month, a panel of Brookhaven College staff and faculty discussed the crisis in black education Feb. 8.
By Infinity Holloway
Associate Layout Editor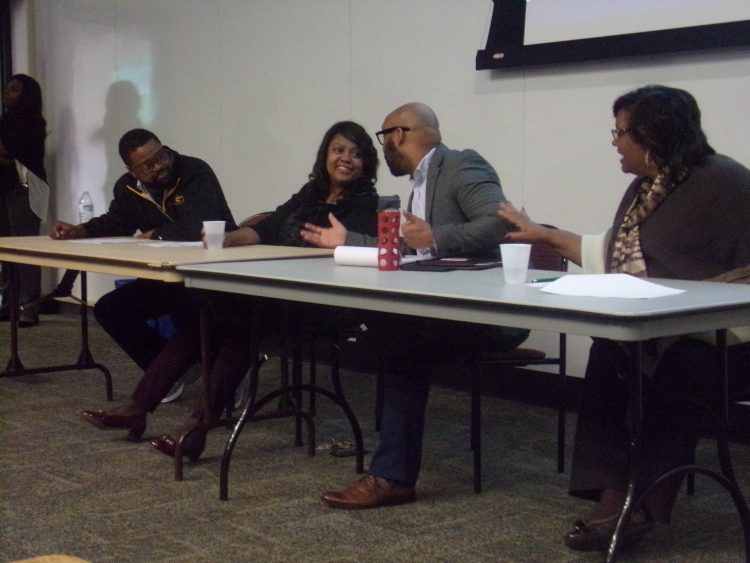 A panel of staff and faculty prompted an open discussion Feb. 8 at Brookhaven College about how public school systems shape students and the stereotypes and experiences minority students face.
Christopher Grice, a sociology professor, said growing up in lower income areas affects students who see their peers succeed while they struggle. Grice said the major problem most students face is lack of resources. Schools in low income areas lack the funding to support their students.
"Oftentimes family will encourage but don't have the resources to wholly support," Grice said, "[My family] had the vision to know that I wanted to go to school, but beyond that weren't able to understand the expectations and things required of me."
Kendra Vaglienti, executive dean of communications, gave her own personal account. She said she was the first black student to attend her high school in West Texas. She said people at her former high school realized she did not fit certain stereotypes. As a student, she said she was given opportunities, aid and encouragement from her teachers. She said her experience there led to open doors of opportunity at a university.
Donna Crenshaw, college tutor coordinator, said historically black colleges and universities, or HBCUs, teach black education. She said a student can get a black education without attending HBCU through self-education.
Grice said HBCUs give students a classical education from a black perspective. A student can not only study his or her major of choice, but also learn how that major affects the black community and about influential blacks who expounded or contributed to that subject.
The panel also said public school systems are the only choice most students have and the schools need better funding to improve students' learning experience.
Christopher Cyriaque, an ESOL professor, said, "We all should be reaching back and encouraging another student." He said it is important to encourage and mentor a student's decision to pursue college and succeed.