Sexologist talks safe sex, consent
The Health Center, located in S Building, offers free condoms to students, staff and faculty.
By Stephanie Salas-Vega
Associate Layout Editor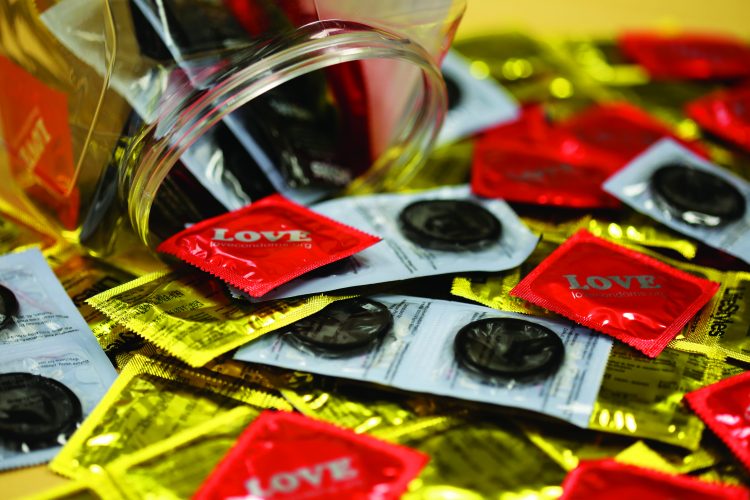 "You need to be the expert on your own body," Justine Shuey, a certified sexologist and sexuality educator, said during her Not Your Typical Sex Talk presentation.
Shuey spoke to students, staff and faculty about sexual awareness during the event March 7 in Room B240. Some attendees participated in the anonymous Q&A session by asking questions via text message.
Damaris Perez, a student and Campus Activities Board member, said the presentation gave her better advice on how to take care of herself.
Title IX of the Education Amendment of 1972 prohibits sex discrimination, including sexual violence, in educational programs and activities, according to ed.gov. All public and private schools, colleges, universities and school districts receiving federal funds must abide by Title IX.
"Fifty-seven percent of college students say dating violence is difficult to identify," Shuey said. "Fifty-eight percent of college students say they don't know how to help someone who's in an unhealthy relationship."
Shuey said it takes an average of seven times for a person to attempt to leave an abusive relationship before they leave for good.
Shuey also said people often experience a cycle of violence and abuse when they are in unhealthy relationships. People start relationships happy and affectionate until tension builds up. Tension leads to explosions of violence and abuse, followed by apologies and promises, ultimately placing the couple together again.
However, the cycle repeats itself over and over again.
"The cycle gets more severe every time, and sometimes, eventually results in death," Shuey said. She also said safety, honesty, acceptance, respect, enjoyment, trust and communication make up a healthy relationship.
"You can have a healthy relationship without ever having sex," Shuey said. Joshua Johnson, student program coordinator, said the Office of Student Life wanted Shuey to talk to students about sexual health after her presentation at an Association for the Promotion of Campus Activities convention.
Shuey said she uses the circles of sexuality to explain human sexuality from a more moralistic perspective. She said there are five circles of sexuality: sensuality, intimacy, sexual identity, sexual health and reproduction and sexualization.
Consent is needed for every activity and time, Shuey said. The consent should be clear, coherent, willing and ongoing. She said consent also needs to be affirmative and enthusiastic, meaning doing things people clearly desire and explicitly agree on.
"When I talk about consent, I'm talking about co-creating a pleasurable, safe, fulfilling sexual experience," Shuey said. "Consent isn't just a question. It's a conversation."
Shuey said the Centers for Disease Control and Prevention recommend partners talk about the five P's: partners, prevention of pregnancy, protection against STDs, practices and past history of STDs. "Having those conversations before you're having sex is essential," she said.
"Every sexual activity has some level of risk associated with it," Shuey said.
Shuey said using male or female condoms are ways to prevent pregnancy and STDs. She also said although abstinence is another solution, there are still ways to contract STDs without ever having sex.
"I like to acknowledge that virginity is a social construct," Shuey said. "And people define virginity in different ways."
Shuey said partners should create a list of sexual activities they like or are interested in before having sex. She said partners are more likely to have satisfying sex if they have these conversations.
"If you like it and it feels good, keep doing it," Shuey said.