Activity Board hosts intramural sports
By Marilyn Velazquez 
Staff Writer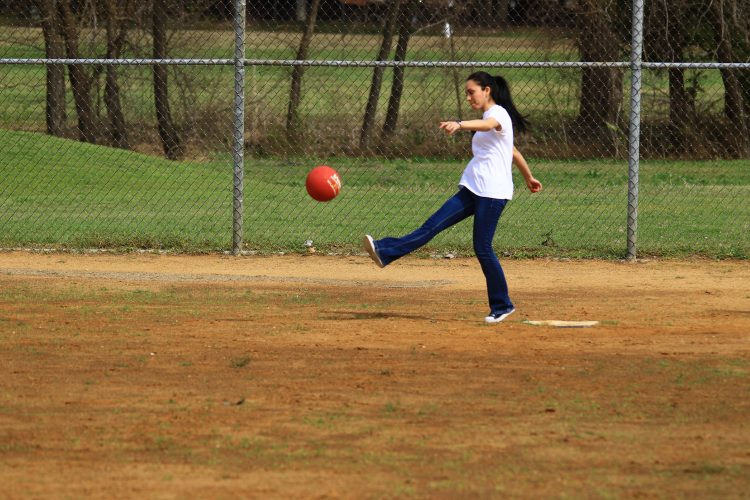 Student Lauren Garcia kicked the ball hard enough to hear the red rubber of the ball echo throughout the softball field. The ball soared high toward the outfield, while two players on defense ran from opposite directions to catch it. Without realizing where they were going, both players crashed into one another, letting the ball drop behind them. Garcia made it safely to first base.
Intramural sporting events such as kickball, which took place March 9, are sponsored by Brookhaven College's Campus Activities Board.
CAB's mission is to uphold the experience of students by bringing a variety of quality events and programs to campus, according to Brookhaven's website. All events are led and designed by students on campus.
CAB has organized previous Halloween and Welcome Back parties, karaoke, hot-topic events and other intramural sports. Enrique Medina, CAB chairman of intramural sports, said CAB began last spring.
"Last year was kind of like a startup, but this year has been tremendous. We've been getting teams for every single event so far this year," Medina said. He said their most popular sport is flag football, with as many as 40 participants last semester.
Medina said he decided to remove the registration form this year, which students had to fill out prior to participating in previous years. He said last year's event had less attendance.
"I figured people were turned off by the process to make an account and make a team," Medina said. "So this year, anyone who wants to show up can."
Candace Williams, CAB adviser, said she was a CAB intern at Abilene Christian University.
"I love planning events, so … I picked CAB. It was a no brainer," Williams said. She said there was no significant difference between CAB at a four-year college versus a community college.
"It's students planning events for students to enjoy. I think the only difference is the types of events," Williams said.
Sam Govea, a psychology professor and sponsor of the Anime Club, coached his team from the sidelines.
"As one of the three sponsors of the Anime Club, I want to support my club in any way. That includes playing kickball if necessary," Govea said.
Govea said Allen Wiese, vice president of the Anime Club, had mentioned the event at an officer meeting, which excited the club members.
"As a dean and part-time faculty member, I know that students who get involved in campus activities are more likely to stay in their classes and succeed than those who do not," Govea said. "We will definitely be back. The club members and I have enjoyed the camaraderie and competition."
Williams said anyone with creative event ideas, like intramural sports, can join the CAB meeting at 4:30 p.m. every other Thursday in Room A203.