Teddy bear drive assists children
By Forrest Haynes 
Staff Photographer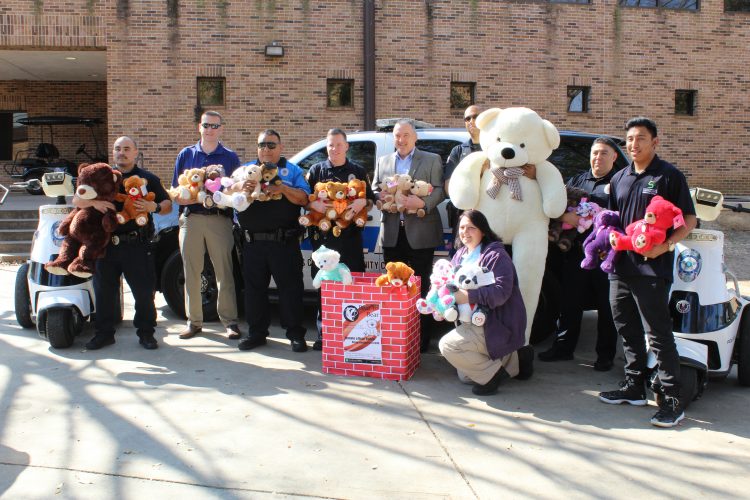 Approximately 100 teddy bears were collected as part of Brookhaven College's first Bear-to-Bear Campaign.
The effort is the result of the continued partnership of Mothers Against Drunk Driving, or MADD, and the Brookhaven College Police Department to provide aid to children caught in accidents. The Brookhaven police donated the teddy bears to MADD March 8.
MADD is the nation's largest nonprofit working to help protect families from drunk and drugged driving and underage drinking, according to madd.org. The organization was created in 1980 after the founder's daughter was killed in a drunk driving accident. It aims to educate the public on the hazards of drunk and drugged driving.
Cpl. Vikki Ethington, a Brookhaven police officer, said the collection drive began in February. Boxes were placed in S Building for students, staff and faculty to drop stuffed bears in support of drunk and drugged driving accident victims. The box was emptied several times after two weeks as bear-givers kept up a steady supply of stuffed bears. Among the donations was a white bear over 5 feet tall.
After leaving Brookhaven, the bears were distributed to local police stations. Rob Sylvan, executive director of MADD, said when a child is involved in a vehicle accident, a special unit is called to comfort the child and provide emotional support.
MADD aims to put an end to drunk and drugged driving, support the victims and fight underage drinking, according to its website. Ethington said the police and MADD maintain relations, and the moment the campaign went out over the wire, the Brookhaven officers were on the job.
"It's all very important," Sylvan said. "We just have limited resources, as most nonprofits do, and when we have friends like the [police] force here at Brookhaven, it's just a wonderful opportunity."
Sylvan thanked the officers for their efforts and the work they put in protecting students, staff and faculty.