By Joshua Drake 
Staff Writer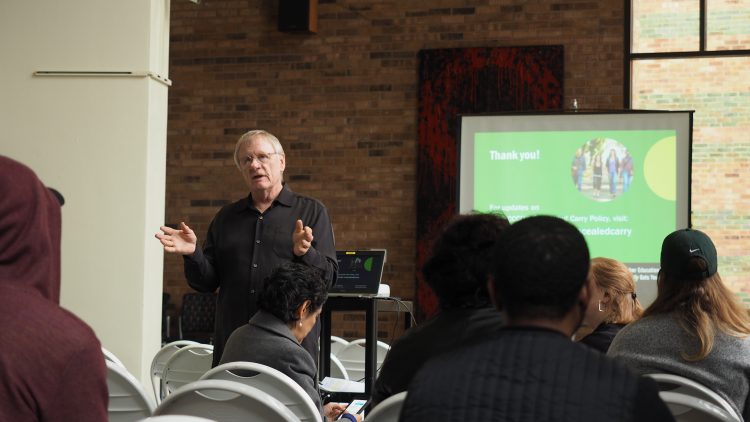 Students voiced their opinions and concerns about the campus carry laws that will take effect Aug. 1 at all Texas two-year colleges. Rick Maxwell, executive dean of the Brookhaven College School of Arts, led two forums held Feb. 21.
"Brookhaven, along with every other college in [the Dallas County Community College District], is currently informing their communities on what the law does and does not allow," Maxwell said. Topics of discussion included the possible locations of gun-free zones and the difference between open and concealed carry.
Maxwell said he wanted the forum to be a platform for students' opinions on the topic. He also offered students the option to submit their questions and comments through a form if they did not feel comfortable speaking up.
Derik Neal, a student, said he liked that students were given the opportunity to voice their opinions.
Fernando Sanchez, president of the Brookhaven Student Government Association, said school is a safe zone for him, and when he was growing up, he lived in a bad neighborhood with gangs and violence. He said he always felt safe at school, and it was where he could get away from the violence. He asked why guns are still needed if schools are supposed to be safe havens.
Jorge Solis, a student and Office of Student Life employee, asked how concealed carry will affect employees
Maxwell said the responses from forums held across the district will be compiled. The responses will be critical in crafting a document that, once approved by the chancellor and board of trustees, will serve as the district's policy on concealed carry law.