NLC gallery director shows aerial views illustrations
 Steven Benezue shares his digital artwork in the Studio Gallery until April 12. 
By Marilyn Velazquez 
Staff Writer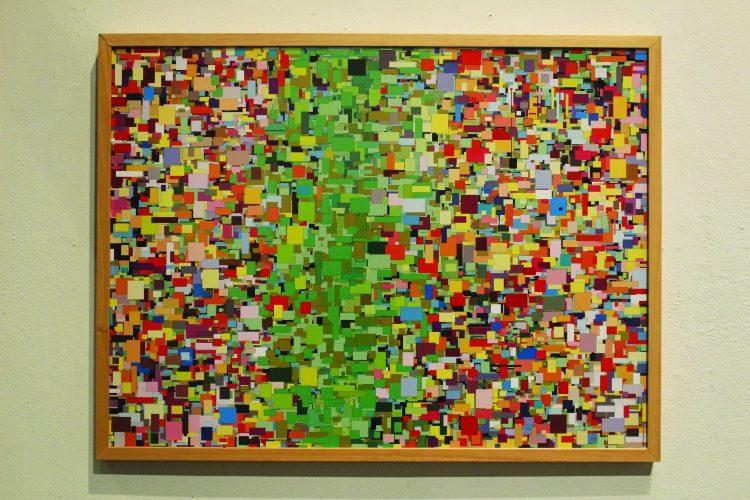 Dozens of curved roads jam-packed with traffic cross each other forming the never-ending "Mixmaster," a 90-inch-by-46- inch digital print in the Studio Gallery. The piece is part of the collection showcasing the digital art and two-dimensional designs of Steven Benezue, a North Lake College art professor and gallery director.
Benezue visited Brookhaven College to talk about his artwork during a March 9 reception in the Studio Gallery.
Benezue said he was surprised the first time he saw his illustrations larger than on his computer screen."I went to the print shop, and they had it [ready] in the lobby. I said, 'Oh!,'" he said.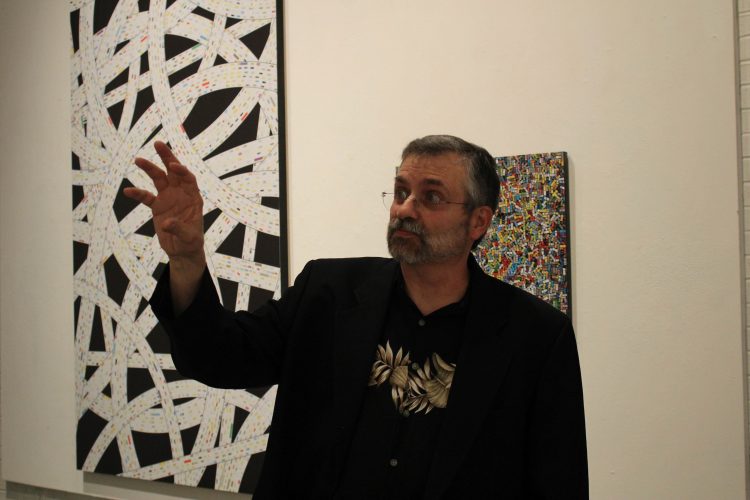 Benezue said the employees at first thought there was a problem with the print.
According to Benezue's artist statement, his inspiration for the artwork came from his studies in architecture, urban design, real estate and land management. The artwork explores the idea of place through maps, aerial views, floor plans and city plans.
"I hope the viewer can take a journey to another place and be transformed by the virtual experience of travel within themselves," Benezue said. "In time, I began to abstract the images little by little. The maps had become almost completely non-objective. This abstraction has freed me from the rigid constraint of reality of aerial photography."
Benezue said some of the works on display are a few weeks old, and others are nearly a year old.
David Newman, Brookhaven gallery art director, said he chose Benezue's artwork with the intention of having it as a resource for Brookhaven's digital art and 2-D design classes.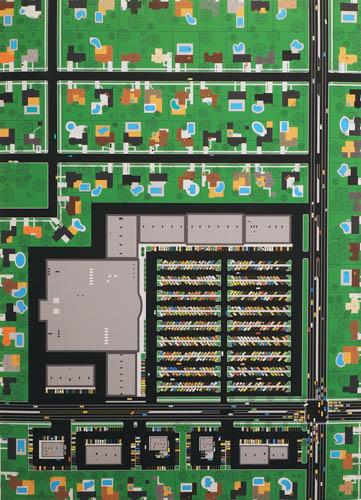 Tommy Ramirez, an art student, said his professor told him about the art exhibition. He said Benezue's "Buildings" caught his attention the most. "The colors, they're so vibrant," he said. "It's very unique. I've never seen this type of art."
Benezue said he does not teach digital art or 2-D design. He said he prefers teaching sculpture and ceramics because it involves more hands-on experience, but he enjoys working with Adobe Illustrator on his laptop.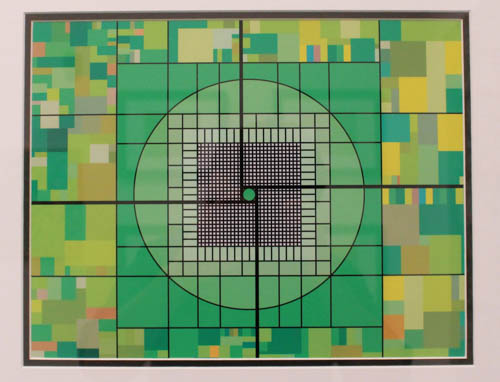 During the reception, Benezue engaged in a discussion with art students about his inspiration behind the image of cluttered cars called "Black Friday." Faye Benezue, Steven Benezue's mother, watched from the side with a smile on her face at the interaction.
Faye said he has been drawing since he could walk. "I put a blackboard around his height with chalk. He would hold to the wall and draw on [the blackboard]. He would draw on my grocery bags, too," Faye said.
Faye said she remembered a time when Steven came home with straight A's. "I asked him what he wanted as a reward, and he said art lessons," Faye said. "He was 6 years old."
Steven received his Bachelor of Science at The University of Texas at Arlington. He went on to receive his Master of Fine Arts from Texas Woman's University.
Steven's art exhibition will be on display until April 12.