Campus connects with food, music
By John McClanahan
Editorial Proofreader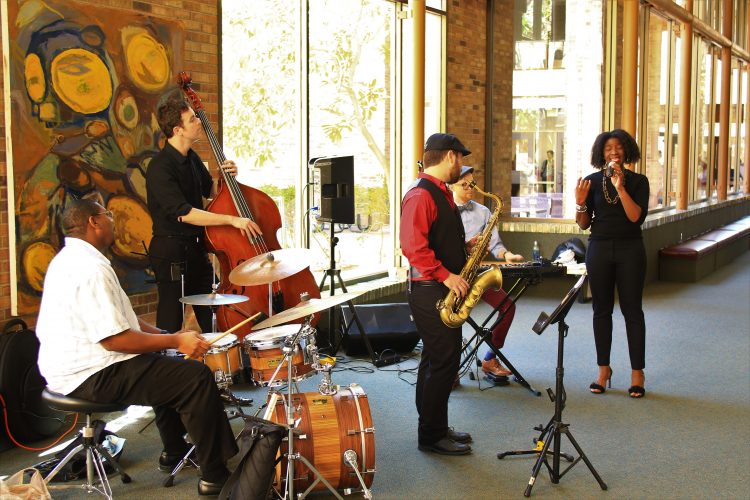 Brookhaven College's Office of Student Life hosted Taste of Soul to wrap up the campus's celebration of Black History Month. Students, staff and faculty were invited to taste various soul foods Feb. 22 in the Performance Hall lobby. The free tastings consisted of a variety of traditional African-American cuisine, and the event featured live music with poetry readings.
"Everybody said the food was really good, and the band got really nice compliments," Candace Williams, student life program coordinator, said.
Sweet and tangy smells lingered in the Performance Hall as attendees flooded C Building. Office of Student Life staff volunteers served trays filled with different bites of soul food at multiple tables. The food was catered by Marshall's Bar-B-Q and included some familiar classics, such as barbecued chicken, cornbread, black-eyed peas, candied yams and banana pudding.
"I love the atmosphere. I love that people are getting together," Jessica Zumaya, a student, said.
Local jazz band Mocha Blue performed during the event. Attendees stopped and nodded along to Mocha Blue's Bryan Meggison's saxophone tunes.
Taste of Soul also featured poetry readings as part of the Office of Student Life's Poetry Slam for Black History Month. Students from Brookhaven's Early College High School recited various African-American poems that highlighted the significance of Black History Month. Rayanna Lewis, an ECHS volunteer, stood in front of the crowd and read a piece emphasizing the burdens, tribulations and achievements of the African-American community.
Every year, the Brookhaven community celebrates Black History Month by organizing events for students and faculty to learn about and become more engaged with African-American topics. Taste of Soul was Student Life's final event for Black history month.
Taylor Forker, a student, said, "With what's going on in society today, I really think celebrating diversity and culture is at the top of the list."
Soul food has been the term used to describe African-American cuisine since the 1960s in the Southern U.S. It is a style of cooking that originated from American slavery, a time when African slaves lacked sufficient food, according to aaregistry.org.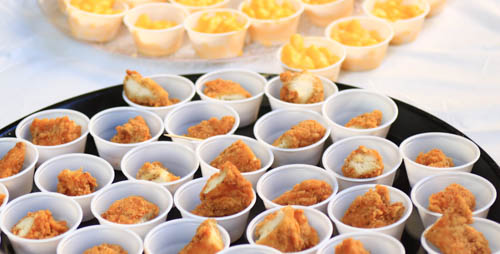 Taste of Soul allowed attendees to interact with each other through food and live music.
Williams said it is really important in the black community that everyone gathers around together.
After a series of guest speakers, discussion panels, book readings and movie screenings, Taste of Soul was the last bit of flavor for this year's celebration of Black History Month. Williams said the Office of Student Life will start programming next year's events soon, keeping everything that worked this year and possibly adding something new for 2018.