Corchado talks journalism, Mexico
By Stephanie Salas-Vega
Associate Layout Editor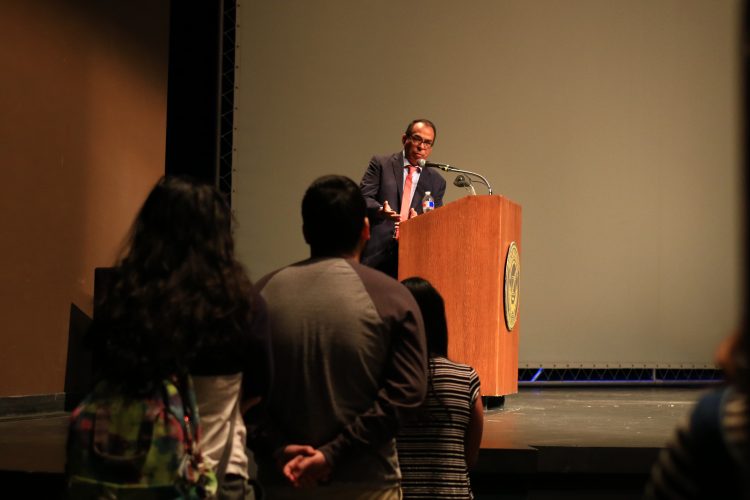 "The heart and soul of the story is about the universal search for home, a quest for the truth," Alfredo Corchado, a Mexican-American journalist and author of "Midnight in Mexico," said during Brookhaven College's first Open Book Project event of the spring semester.
Corchado talked to students, staff and faculty Feb. 22 about his coverage of the Mexican drug war while targeted by Los Zetas, a Mexican drug cartel.
About 500 students, staff and faculty attended the event in the Performance Hall. Juan Betancourt, a student journalist and web editor of The Brookhaven Courier, led a Q&A session with Corchado.
"It's not every day a student gets to speak to an award-winning journalist about U.S. and Mexican affairs," Betancourt said.
Myrna Rosenstiehl, a student and Colombian journalist, said she admired the courage Corchado had to keep reporting in Mexico despite the dangerous situation he was put in. She said one of the things she liked about the book was that it was not entirely about drugs, but also about his family and his transition moving to the U.S. from Mexico.
"Drug trafficking was really the least on my list," Corchado said about what he wanted to cover when in Mexico.
Corchado covered Mexican and U.S. relations, policies, immigration, Mexican affairs and democracy before covering drug trafficking. He said he covered drug trafficking to follow up on the women of Ciudad Juarez and tell readers why so many of them were dying.
Corchado also said drug cartels can control government regions and silence entire populations. He said that is when he started seeing drug cartel violence as more than just people killing others.
"Of course, that's when the death threats happened," Corchado said.
Corchado was born in Durango, Mexico, and grew up in California and Texas. He graduated from the University of Texas at El Paso and El Paso Community College, according to his website.
One of Corchado's biggest hurdles was dropping out of high school, he said. Although he said it was a mistake, it helped him realize he took his life – the one his parents could not have – for granted.
"I was a 6-year-old kid when I landed in California," Corchado said. "I didn't really understand what my parents meant by, 'We've sacrificed everything for you.'"
He worked for The Dallas Morning News as the Mexico Bureau Chief from 1994 to 2012, according to "Midnight in Mexico."
"My goal was always to work for a paper that cared enough about Mexico, that understood its importance," Corchado said.
Corchado said he values credibility and accountability over popularity as a reporter.
"I can't think of a better time to be a journalist than today," Corchado said. "But I also think we as journalists have to do a better job of listening and find out why there's such a mistrust in the country."
In 2016, 21.5 million inaccurate articles were shared on Facebook, according to BuzzFeed. Nearly half of those articles were about political issues.
"Some students may be misinformed, and we need to let them know what reporters do in this time," Betancourt said.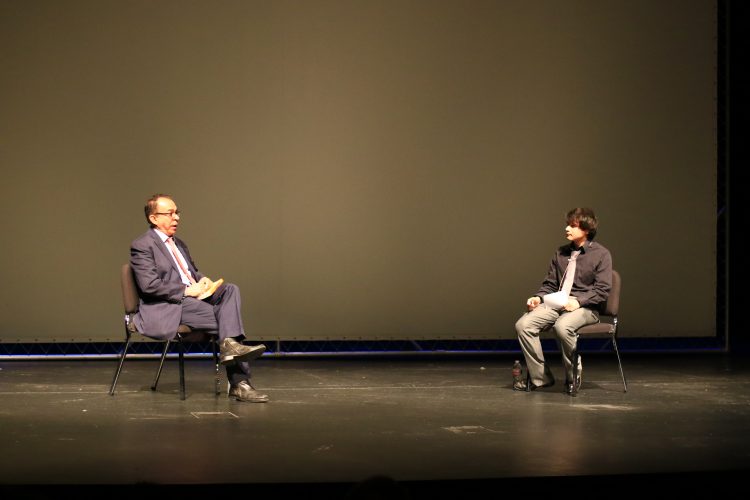 "I think it's important to let people know how we get stories, how we do our jobs," Corchado said. "I think we have to do a better job of helping readers understand the dynamics of what it takes to write a story."
Corchado is currently writing a book titled "The Shadows at Dawn."
The DMN announced Corchado has been rehired as its border correspondent based in El Paso, Michael Lindenberger, editorial writer for DMN, wrote in a Facebook post.