Protests have time, place
By Diamond Victoria 
Editor-in-Chief 
[email protected]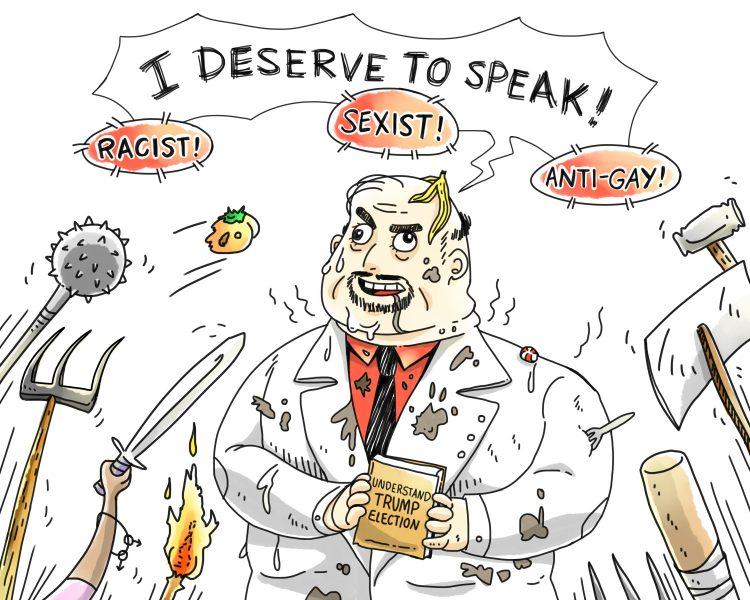 Protest can be a powerful method of affecting change in the U.S. After all, it's a central right afforded by American democracy. And with the current political climate, even neighborhood streets and social media are teeming with bureaucratic demonstrations and outrage. But there is a sure difference between disruptive behavior and protest. And it's important to recognize that freedom of speech also provides the opportunity for those opposed to voice their side before being trampled on.
On March 2, at Middlebury College, a liberal arts school in Vermont, members of the American Enterprise Institute Club invited Charles Murray, a social scientist, a fellow at the American Enterprise Initiative and author of "Coming Apart: The State of White America, 1960-2010," to speak to students, according to The Atlantic.
Phil Hoxie, club president, said Murray was invited to discuss his book about class divisions in the U.S., according to The New York Times. However, before Murray could utter his first words, unruly behavior swarmed the room.
Some of the students, who believed Murray to be racist, sexist and anti-gay, began shouting, holding up signs and turning their backs on the guest speaker, which ultimately obscured others' views of Murray.
Things could have, and should have, gone a lot smoother. After all, the college's handbook states that, while they allow demonstrations and protests, actions that disrupt the ability of the audience to hear or see an event are prohibited, according to a press release.
This is not to say the students protesting the alleged white nationalist's discussion of his book were not justified in their collective concerns over the speaker spreading what could be considered hateful remarks against those they might consider marginalized within their community.
Protests of this magnitude have shaped some of the best policy changes and civil revolutions throughout history.
What these students did wrong, however, was not allow Murray a chance to defend his opinion. In fact, the riot halted the event almost before it could begin. So it is unclear what Murray would have discussed and how he would have represented his assertions.
A Q&A segment was scheduled but never executed due to Murray's early dismissal. If attendees expressed their distaste for the speaker's book with questions and reasonings, perhaps both sides involved would have learned something new that day.
Political progression requires democracy, which includes the participation of both parties involved to express their own unique concerns while also listening to one another. Not only does this allow for true freedom of speech and expression, but it can also strengthen any argument tenfold.