Student creates visual, audio art
By John McClanahan
Editorial Proofreader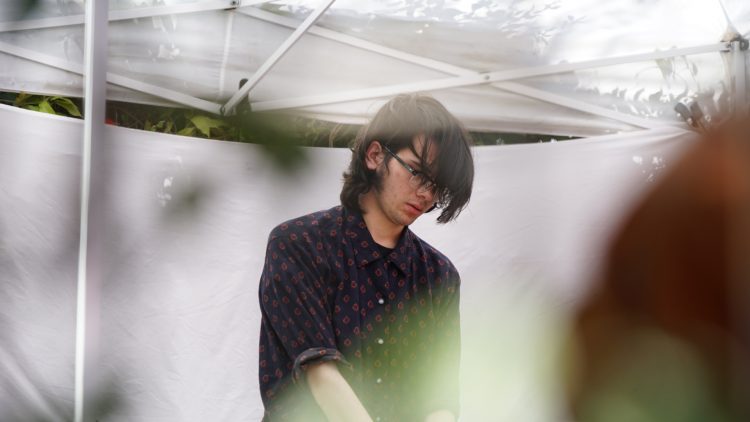 A flash of red followed a streak of purple splotched with an array of green and blue. Color met sound as Evan Henry, visual artist, musician and Brookhaven College student slowly turned a mixer knob while nodding to an ambient beat. Henry's art flowed alongside a brick wall in the back room of a fragrant coffee house. A small crowd sat on wooden benches and sprawled coffee sacks as they witnessed another Dallas Ambient Music Nights performance, better known as DAMN.
Henry served as the show's mediator, connecting the sensations of sight and sound while ambient artists Curved Light and Black Taffy took the stage.
A couple of years ago, Henry started attending DAMN concerts, where he said he fell in love with the show's visual art. He soon started working as a visual artist for DAMN and now regularly provides displays for the shows.
"In a sense, I do a lot more than music. I like to say that I'm just making art and having fun," Henry said.
A snap of Curved Light with a Polaroid and the tap of a blinking green switch meant the 21-year-old was fully engaged with the activity he loves most, creating art. "He's a great facilitation, and I love that he pushes the visual aspect super hard. … It's great to see younger artists like Evan bloom," Peter Tran, an ambient artist who goes by Curved Light, said in an email to The Courier.
But life on the road as an artist has its own downfalls.
Earlier this year, Henry and two of his friends traveled to Austin for another DAMN show when a vehicle crashed into Henry's car. "I'm making a turn, and I get T-boned," Henry said.
Henry and his friends walked away with their lives, and Henry said he was grateful. "I left with some scrapes on my hand and neck because of the glass. It could have been a whole lot worse," he said. "I could not be here, you know."
Hailing from Greenville, Texas, a small town north of Dallas, Henry worked in his grandparents' movie theater when he was younger. He said he believes time spent in the theater watching his father change movie reels helped spark his interest in visual art.
Henry said he first became interested in music when he started listening to records at a Hastings Bookstore. He said Nirvana, a 1990s grunge band once signed to Seattle's Sub Pop Records, caught his attention. He then started listening to other Sub Pop artists and eventually discovered the Los Angeles noise rock band, No Age.
At 15 years old Henry and a couple of friends drove to Dallas on a snowy night to see No Age play at Sons of Hermann Hall, a historic Deep Ellum ballroom. Henry said he was inspired by the atmosphere and performances from other artists.
He discovered experimental noise musician Rene Hell, who he said was his first exposure to ambient music in a live setting. "It was really cool. It was a mind-blowing experience that you could do that sort of thing," Henry said.
He discovered many new sounds that night, but stayed tuned to No Age. "To top it all, you had No Age, this blend of punk ideology and artistic experimentalism going on," Henry said. "It just kind of perfectly melded the whole experience for me. I waited a while just to process the whole thing mentally."
After meeting the artists who had inspired him, Henry said he began to consider recording music of his own and started experimenting with music at his home in Greenville.
Henry began to use guitars, effect pedals and drum kits to generate a sound of his own. While experimenting with various music equipment, Henry became interested in cassettes.
"I got a tape recorder [and] just started jamming and started to make similar noise-oriented music with tape machines," Henry said.
After witnessing No Age's musical direction, he soon founded Dallas Distortion Music as a music blog in 2011. "DDM started as this annoying little blog about bands I liked that were coming through town," Henry said.
After being inspired by No Age's Dean Allen Spunt's record label, Post Present Medium, Henry converted DDM into a cassette label. He began to release music on DDM, taking on the identity of experimental artist jakkkechan. "I was doing experimental tape loops and guitar manipulations under jakkkechan. [There was] no real structure. I would just make stuff and put it out," he said.
Henry's music as jakkkechan soon evolved into Cinema, which produced more ambiance. "Jeff from Rene Hell said, 'Dude you got to get a synth.'" Henry said. Afterward, he began to use modular synthesizers to create ambient music and started to incorporate visual displays with his sound, a cue he said he got from Rene Hell.
He continued to release music on DDM, but said running the label was not always easy. Money disputes and the reliance on others served as obstacles for the label and his artistic vision. However, he said he does not hold on to negativity and tries to let go of past circumstances.
"This year for me is all about letting go," he said. "Letting go of the things I, in particular, kind of grew up with."
He juggles his time between managing DDM and performing as the artist Cinema.
Henry also works as a photography technician at Brookhaven and creates photos for his multimedia publication, First Born Press.
"He's passionate about photography. He definitely wants to see things go right," Ashlee Brooke, a Brookhaven photography technician, said.
Along with music and visual art, Henry said he considers writing and photography other forms of his artistic expression. Henry has also contributed to the Dallas Observer and THRWD Magazine as a freelance writer and plans to receive his associates degree in mass communications this spring.
The artist said he often considers studying, running a label, shooting photos, creating visuals and performing music to be a burden but says he manages to stay organized and focused on what he feels is important. Henry said he feels like a "21-year-old dinosaur" raveling through adolescence and establishing his life's purpose. He finds his inspiration and source of reason through the art and music that define him.
"Art is really the only thing that motivates me," Henry said.
"Evan's great. I've been able to watch him progress into the modular realm really quick, and there's definitely much more ahead of him," Curved Light said.