Monroy nurtures Windmill Garden, cultivates plant life
By John McClanahan
Editorial Proofreader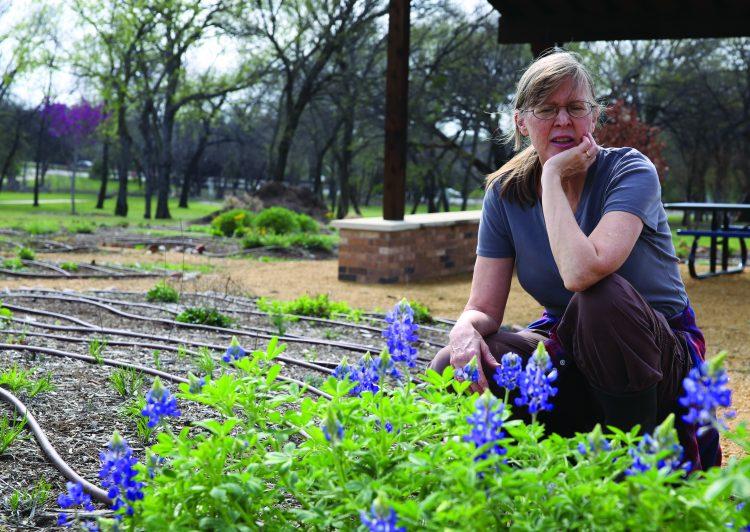 A sliver of sunlight pierced through the clouds and shone over Brookhaven College's Windmill Garden. Amy Monroy, a Brookhaven College English adjunct professor, slipped on her gloves, grabbed shears and performed the garden's routine maintenance one Friday afternoon.
The Windmill Garden is an interactive ecological feature that highlights native Texas plants, and Monroy serves as its main keeper. Her care for the garden marks one of several ways Monroy indulges in Mother Nature and support for the environment. Along with regular pruning, weed-pulling and watering, she said she defends the Windmill Garden from unwanted non-native plants and pests that disrupt the garden's natural order.
"Stop," she said as she waved her hands to get the attention of a Greener Pastures worker. His leaf blower roared too close to the plant beds. A scowl on Monroy's face followed by a quick confrontation had the landscapers pointing their equipment away from the plants. Monroy said the groundwork near the garden is a nuisance to the campus' pollinator sanctuary.
With her eye still on the grounds crew, Monroy spotted the buckeyes and red admiral butterflies floating over the garden. She pointed out several of the garden's tiny visitors as they flirted with the various blue, green, yellow and pink native Texas plants inhabiting the beds.
"Who doesn't like a butterfly," she said. "They're beautiful."
Monroy is a certified expert in Texas plants and wildlife. "She is a master naturalist [and] has a lot of expertise designed for butterflies," Carrie Schweitzer, director of sustainability, said.
The Windmill Garden is one of many places Monroy volunteers her service for sustaining the natural world. "My interest is in actually preserving as much of the native landscape as possible, and it's hard in Texas because it is vanishing very fast," she said.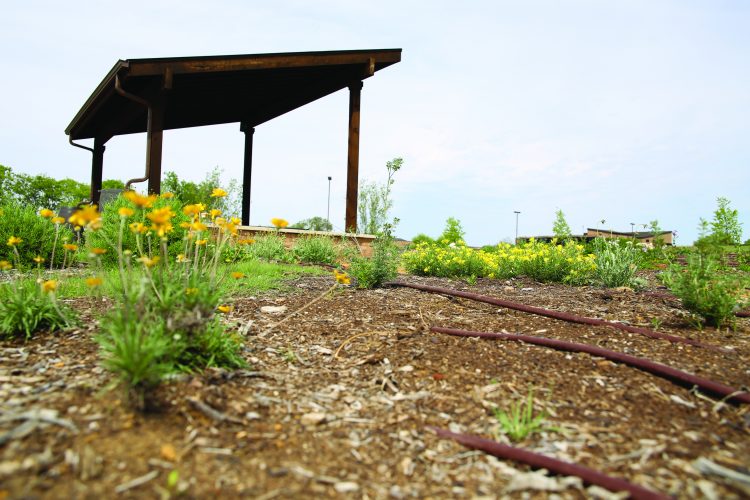 Monroy said she became a master naturalist while volunteering and actively learning at the Heard Natural Science Museum and Wildlife Sanctuary in McKinney, Texas. She has volunteered at Heard for the last three years and regularly does environmental work for the Native Plant Society of Texas.
Monroy described herself as a lover of the outdoors as she plucked out a deervetch, a non-native weed,  and said she would rather be outside any day in any weather than indoors.
Monroy said when she was younger, her outdoor recreation often included hiking, biking and exploring Texas terrain. She said she has always connected with Mother Nature.
"I remember being fascinated," Monroy said. "I always thought I was a fairy living in the woods."
Monroy said her exploration of the outdoors ultimately increased her  knowledge, and appreciation for the natural world. She also said she believes it is important for human beings to identify themselves as individuals in accordance with nature's grand scheme.
Mother Nature, however, became a part of Monroy when she synced with the natural world. Nearly 20 years ago, while living in France, Monroy picked up some ticks while hiking through the French Alps.
"It was very romantic," Monroy said. "A crumbling castle and there's fruit hanging … it looked like an Eden." The ticks infected her with Lyme disease, forever affecting how Monroy would engage with the outdoors. "I have a lot of long-lasting damage from that," she said. "I am missing some cartilage and joints, so I can't really do as much as I used to. I just have never been able to regain some of my physical ability since then."
The Lyme disease never deterred her from the outdoors. She still hikes trails in Texas.
Just like the plants in the Windmill Garden, Monroy, too, is a native Texan. she said her ancestors moved to Texas around the time of the Civil War and made the Lone Star State their home. Monroy was born and raised in Garland, Texas, but also spent a lot of time at her grandparents' home in Kemp, Oklahoma.
Botany flows through Monroy's blood. She said her great-grandfather was an avid gardener who planted catalog seeds.
Monroy began dabbling in gardening as a child, helping her grandmother grow plants and vegetables. One day she took a clipping from her grandmother's rosebush and took the rose home and hoped to grow it into what she described as a lavish rosebush.
Monroy said her family cooked large meals in Kemp and often found themselves singing together on their porch after dinner. She enjoyed singing with her family and still hums her favorite rock, blues, bluegrass and country tunes in the Windmill Garden. "I sing just about anything under the sun," she said.
Even though she spends time with her family, hiking and tugging weeds, Monroy has always made time for academics. She earned her Bachelor of Arts in mass communications at Abilene Christian University and her Master of Arts in humanities at The University of Texas at Dallas.
Monroy worked for the ACU school paper and has been a freelance writer since 1998. She has written for the Native Plant Society and the "riverSedge," an art and literature journal published by The University of Texas Rio Grande Valley. She currently writes about genealogy.
Monroy has taught English at Brookhaven for over 15 years. She said she teaches her students the nuances of writing and encourages them to think critically in her class.
"I love teaching. I can teach just about anything and love it," Monroy said.
Having taken art and dance courses at Brookhaven, Monroy said she particularly fell in love with dancing because she found mental clarity practicing ballet. However, she was forced to stop dancing after she contracted Lyme disease. Monroy says she considers dancing an excellent way to clear the mind, but finds gardening equally therapeutic. She said the weed-pulling is no fun, but to nurture the garden "is the most calming, soothing, centering thing you can do."
Even though she is not an activist, Monroy said she adamantly believes in sustainability and respect for the environment's natural balance. "I'm not really a tree hugger," Monroy said. "I don't love the tree. I love what the tree does for all of us, not just me."
Monroy helped campaign for and develop the Windmill Garden. She said Brookhaven's Green Team Coalition and Tree Campus Committee raised more than enough funds for the garden's first major installation in April 2016. Securing  the proper location, dealing with  maintenance interference and finding the right soil proved to be grueling, Monroy said.
Monroy does not care for the garden alone. Mundreun Chambliss, co-chair of the Green Team Coalition, said the Green Team Coalition helps her take care of the garden. "We help with the weeding and try to help the garden thrive," Chambliss said.
Monroy said her vision for the garden was based on the natural beauty surrounding Brookhaven. Inspired by the campus' natural scenery, Monroy said she developed the Windmill Garden in 2016 out of appreciation for the school.
"I love the folks here, I just love it. Part of this is just a little bit of a pride thing I have for Brookhaven," Monroy said.