By Forrest Haynes
Staff Photographer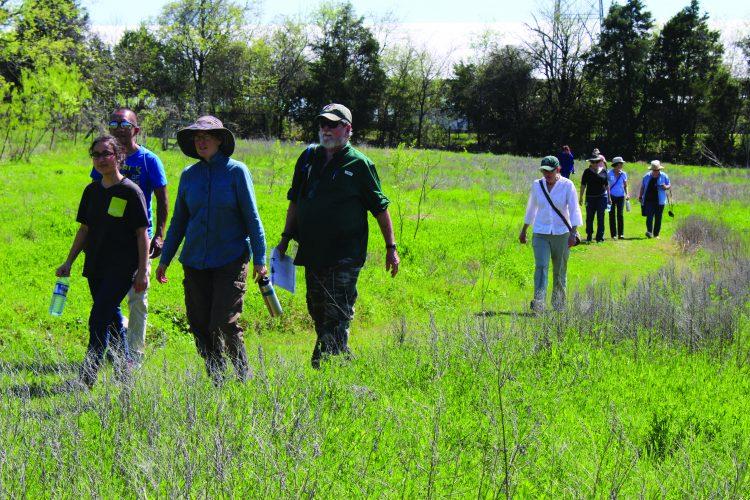 Big Spring Preserve in Pleasant Grove became Dallas' first non-man-made historical landmark Feb. 1, 2016. The achievement was the result of years of effort by Richard Grayson, a guide at the reserve, and a team of nature enthusiasts. The spring is one of the few remaining natural springs in Dallas, offering opportunities for visitors to recharge and learn more about nature, according to bigspringdallas.org.
A group of Brookhaven College students, staff and faculty visited the Big Spring Preserve March 21 to learn more about the spring and its surroundings. In an email to The Courier, Carrier Schweitzer, Brookhaven's director of sustainability, said the Green Team Coalition expressed interest in going to see Big Spring.
"This is an extremely significant natural asset for Dallas and only is preserved due to diligence and persistence of citizen environmentalists who consistently make their case to Dallas City Council, park boards and others," Schweitzer said.
Grayson and Lee Kelton, a master naturalist, led the tour while talking about the qualities of the natural spring. Big Spring Preserve possesses a thriving ecosystem of 300 species of documented flora, many of which house medicinal and nutritional qualities, Grayson said. The forest beyond the spring serves as an alligator gar spawning ground during flooding. The spring waters serve their own purposes, attracting fish and crawfish, which in turn, draw in hungry birds, Grayson said.
The spring faces threats from all sides and was nearly wiped out by construction before Grayson and his team intervened, he said. Even with the crisis averted, residents of southeast Dallas County want to develop the land to increase property values – a direct conflict of interest with keeping the spring alive, Grayson said.
Big Spring also faces natural crises. Grayson said the presence of wild hog feces has damaged the ecosystem by contaminating the spring's water. He also said the ash trees are in danger of being destroyed by the emerald ash borer, an ash-tree-devouring insect currently in Louisiana and approaching rapidly.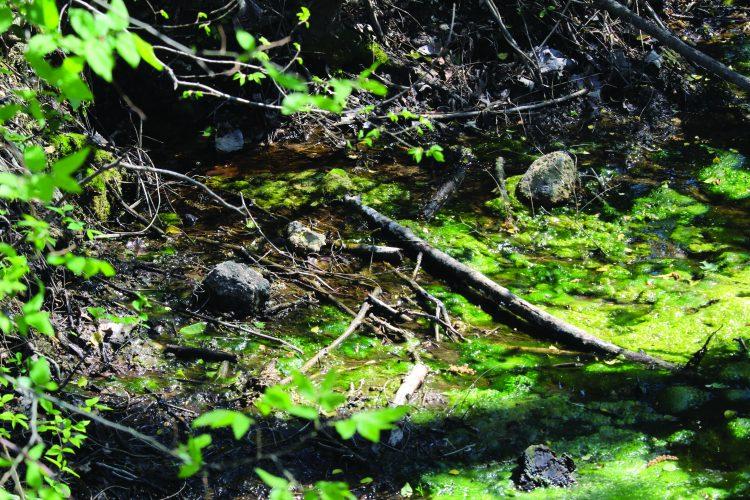 But Grayson and other environmentalists have taken preventative measures. With the spring protected as a historical landmark, there is little threat of development of the land that could choke the spring off. New plants have been planted to restore the spring to its original state before human intervention.
"Do your job of environmental activist work," Grayson said. "If you are feeling down, go outside with nature until you are recharged again."
Grayson said he hopes efforts to diversify the forestry will ward off the emerald ash borer. The wild hog population remains regulated by trapping and hunting, reducing their damage, Grayson said.
"Big Spring is a fabulous location for an interdisciplinary field trip – the nexus of earth sciences, history … and, of course, politics," Schweitzer said. "Plus, it is just an amazing ecosystem."
On top of its educational purposes, Big Spring Preserve has significant historical value. Grayson and Kelton paused through the tour to explain the history of a great Bur Oak tree next to the spring. They said it is believed to have served as one of Sam Houston's campsites during his march across the state. The tree is believed to be 150-250 years old, Grayson said.
Across a fence near the main trail is an old landfill that serves as the final resting place for The Comet, a rollercoaster that was part of the State Fair of Texas from 1947-1986.
Another tree standing beside the trail near the spring was punctured with a railroad spike in 1941 by a member of the Pemberton family to mark flood waters. Within the forest beyond, another marker flies high in the treetops, placed there by Grayson to mark the height at which his kayak floated in 2015 when flood waters reached 15 feet.
Schweitzer said she would like to arrange trips to other local natural sites. "I would love to have a team of interdisciplinary faculty look at the Trinity River story – [there is] so much to learn about our environmental and political ecosystems," Schweitzer said.
Referring to the politics of preserving natural sites, Schweitzer said: "This political story continues to play out in the May Dallas City Council election.  I urge all City of Dallas residents to register to vote and carefully look at the candidates – especially those endorsed by the Dallas Green Alliance.  These candidates pledge to keep the Trinity River a public asset that can become a public park and perhaps the largest urban nature reserve in the country."