Bears topple Thunderducks, 6-5
By John McClanahan
Editorial Proofreader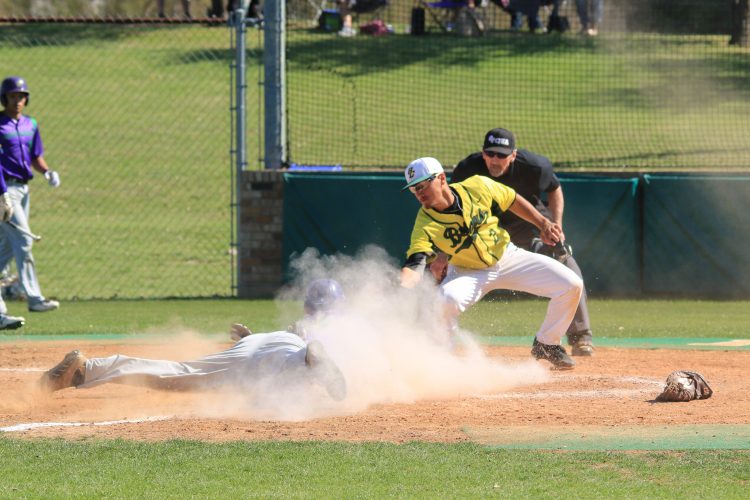 Brookhaven College starting pitcher Antony Orta fanned 10 as the Bears defeated the Richland Thunderducks 6-5 at home in walk-off fashion.
"Our guys were resilient and did just what they were supposed to do," Brandon Rains, Brookhaven baseball head coach, said. "Richland can hit. They're a good club. They've played us [tougher] than any team we've played all year."
Orta took the mound for Brookhaven to start the first inning. The left-handed freshman controlled the plate early as he struck out Richland's first three batters. "I was feeling it. I was hitting every single spot," Orta said.
Brookhaven's offense also struck early in the first inning. Richland's starting pitcher Tanner Knowles walked Bears lead-off man Carlos Reyes Jr.
Bear Hunter Hammonds, bunting Reyes over to second, tapped a slow roller down the third baseline.
A throwing error from Richland allowed Reyes to score from first and sent Hammonds to third base. "It is always important to strike first, set the tone and let the other team know that they're about to get their teeth kicked in," Bears centerfielder Colton Maiorka said. The Bears got on the board first, 1-0.
Orta, batting clean-up, shot an RBI single through the 5-6 hole to score Hammonds for a 2-0 Brookhaven lead. Bears Browning Houser followed with a high line drive over T-Ducks centerfielder Blaine McCullars' head to score Orta with a standing double. Brookhaven led 3-0 after the first inning.
Richland's designated hitter Nick Ludwig, reached first with an infield single to begin the second inning.
After Ludwig stole second, Bears right fielder Alex Massie ran down T-Duck Juan Sanchez's high-trailing pop-up and snagged the ball, diving across the first base foul line. "That's probably one of the best catches I've seen in about five years," Rains said. "At full-sprint, he 100 percent laid out and caught it. If it had been in Major League Baseball, that would have been on Sports Center Top 10, no question about it." Brookhaven still led 3-0.
The Bears offense came back to life in the bottom of the fourth. After Houser drew the walk off Knowles, Massie bunted a topper to Michael Gallo, moving Houser over to second.
After falling in the count 0-2, Bears first baseman Colin Miner wrapped around Knowles' hanging breaking ball for a 2-run homer, pushing Brookhaven further up 5-0. After rounding the bases, Miner crossed home plate with his chin to the sky. "He's been due up, man," Bears pitcher Will Norris said. "He needed that big time, so that was big that he got a hit right there."
Knowles kept the Bears' bases tamed in the fifth.
Richland woke back up in the seventh inning. Gallo took first after he hit an infield single to Reyes. T-Duck Nace Sweeney followed with a slap shot past first base. Sanchez then bunted a single between Orta and Houser to load the bases.
The T-Ducks scored on a wild pitch from Orta and tagged on another run with a single from T-Duck Anthony Escobedo, shortening the gap 5-2.
After throwing 101 pitches, Bears pitcher Joseph Ocasio came in for Orta.
McCullars hit a single off Ocasio to score Sanchez and moved Richland closer 5-3. Bears Dalton Yearwood came in to relieve Ocasio. The Bears escaped the inning with a double play from Maiorka.
The Bears still struggled to keep Richland silent in the eighth. Ludwig blasted a high-fly ball off the right field fence for a triple. Gallo followed with a sacrifice fly to score Ludwig from third to set the score 5-4.
In the top of the ninth, McCullars hit a double off the centerfield wall. After Bears Travis Angell came in for Yearwood, Escobedo singled up the middle and scored McCullars to tie Brookhaven 5-5.
With two outs, Norris relieved Angell with Richland's go-ahead run 90 feet away. Norris showed his finesse on the mound and struck out T-Duck Javier Castaneda with a curveball for the third out. "It was crazy. It was pretty nerve racking," Norris said.
In the bottom of the ninth, Maiorka went aboard with a Richland fielding error. With Reyes at the plate, a passed ball moved Maiorka to second. After a fielder's choice moved Maiorka to third, another ball tipped off the glove of Richland's catcher. Maiorka raced down the line and slid into home, giving the Bears a 6-5 victory.
"It's probably the worst way you can win a walk-off, but it felt pretty good to go up 11-0 in conference," Maiorka said.
Brookhaven went on to sweep the series against Richland. As of press, the Bears are 19-16 for the season and lead the Metro Athletic Conference 14-2, according to NJCAA.org.