Brookhaven lacks school spirit despite athletic feats
By Marilyn Velazquez 
Staff Writer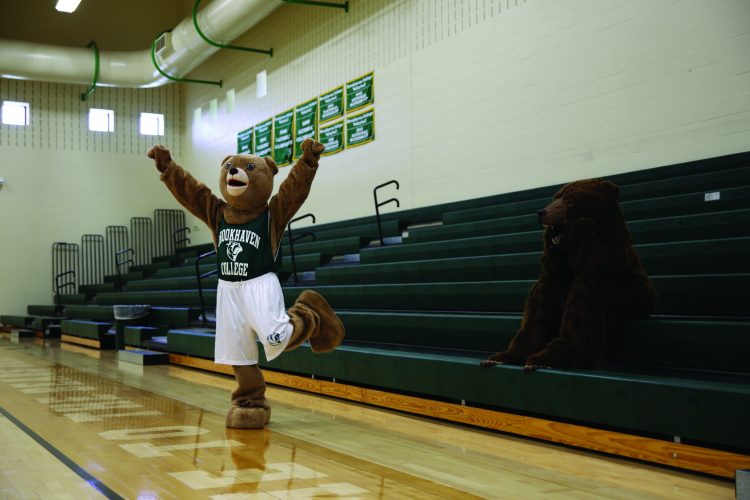 Brookhaven College has four sports teams on campus: men's basketball and baseball and women's volleyball and soccer. But, strangely enough, not many Brookhaveans show up to the games.
We just might be lacking school spirit.
The women's soccer team finished third in the 2016 National Junior Collegiate Athletic Association Division III Women's Soccer Championship last fall – a phenomenal achievement for the Lady Bears. However, Brenda Hernandez, a soccer player, said not many people knew of this accomplishment.
Hernandez was part of the 2016 soccer team that won third in the nation. She said the largest crowd she saw at a game was about 50 people. And this was only after the team began to make a name for themselves. She said larger crowds make her want to play better, which in turn keeps them coming back to support the team.
A lack of audience attendance is a problem with the other teams on campus as well, Hernandez said.
In a case study by David Horton Jr. titled "Class and Cleats: Community College Student Athletes and Academic Success," four-year college and university sports are generally categorized as either revenue or nonrevenue-generating.
However, community college sports are rarely under the revenue-generating category because they do not make a substantial amount of money from sports on campus, Horton said.
According to the Equity in Athletics Disclosure Act 2006 survey, 49 percent, or 212, of the 430 NJCAA member institutions reported either a financial loss or no positive financial gain.
Athletics in community colleges are worth it despite the cost to fund them.
Community college is a place to focus on future plans, such as transferring to a university or graduating with an associate degree to start a career.
California's Commission on Athletics officials said: "Sports [are] educational in the best sense of that word because they teach the participant and the observer new truths about testing oneself and others, about the enduring values of challenge and response, about teamwork, about discipline and perseverance," according to communitycollegereview.com.
Many of these community college student athletes begin their journeys at lower divisions to prepare for the larger schools. It is a way for them to get a leg up on those who are still in high school trying to get scouted.
Lexi Hattaway, an incoming freshman for next fall, will join the Lady Bears volleyball team. She said she plans to go to a four-year school and play at a higher level after her sophomore year at Brookhaven is over.
Candace Williams, the Campus Activities Board adviser, said the organization wants to be more involved and bring the bear mascots back to the games to pump up the crowd.
Students tend to think there are not enough fun things to do at a community college, but they overlook the best pastime on campus: seeing some friendly intercollegiate competition with other junior schools like Brookhaven.