Dallas hashes cite-and-release policy
A new policy taking affect Oct. 1 allows those caught with less than 4 ounces of marijuana the chance to skip jail time.
By Jubenal Aguilar
Managing Editor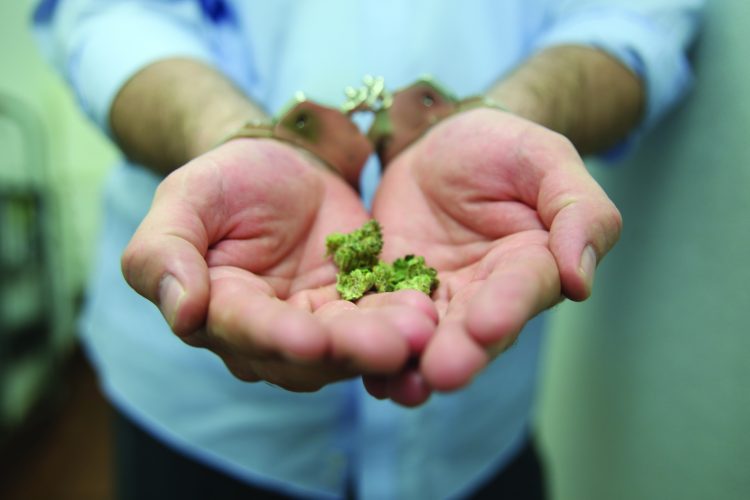 The Dallas City Council approved a cite-and-release policy to issue tickets to residents caught in possession of less than 4 ounces of marijuana instead of arresting them. The policy, which takes effect Oct. 1, affects only the parts of the city of Dallas within Dallas County, which does not include Brookhaven College.
The city council approved the measure by a 10-5 vote April 12. The vote is a reversal of the council, who in March 2016 voted against the policy by a 10-5 vote, according to The Dallas Morning News. The 4-ounce threshold will be the largest amount that is still a misdemeanor in Texas.
The policy is not a decriminalization of marijuana; possession is still a federal crime. Anyone caught with less than 4 ounces of marijuana will be given a ticket, David Griggs, a criminal justice adjunct and lawyer, said. However, the policy will only apply to Dallas County residents who have not committed other any other crimes, according to the DMN.
The portions of Dallas in Collin, Denton and Rockwall counties will not be affected, according to the DMN.
Until cite-and-release comes into effect, individuals caught with possession of 2 ounces or less of marijuana may still face up to 180 days in jail and a $2,000 fine, according to the Observer.
In an email to The Courier, Capt. Mark Lopez, Brookhaven College interim police chief, said the policy will not apply in Farmers Branch. Anyone on campus caught with a usable amount of the drug can be jailed. "If the person is a student and caught on campus with it, [they] will also be referred to Student Affairs and [the] Chief Conduct Officer and may face up to expulsion," Lopez said.
On Oct. 1, the threshold for possession will increase to 4 ounces, but the consequences will remain the same.
"The number one misconception [about cite-and-release] is that it somehow changes it to a Class C, traffic-ticket level offense," Jamie Spencer, an Austin attorney, told the Observer. "It's an improvement on automatically arresting everybody immediately."
Philip Kingston, a council member who led the policy change, tweeted April 13, "Possession under 4 oz is now a ticket, not a trip to jail."
However, the piece of paper issued by officers will be a court summons, not a ticket, Spencer said. Individuals will still be required to appear before a judge, see pre-trial services and have a bond set.
According to the Observer, failure to appear before a judge after a cite-and-release summons will result in a Class A misdemeanor.
Proponents for cite-and-release said marijuana arrests primarily affect poor minority residents who cannot afford to go to jail, lose their jobs or wind up stigmatized, according to the DMN.
Another argument was that the policy wastes officers' time and taxpayers' money. In 2012, more than 4,500 people were ticketed for marijuana possession in Travis County, according to the DMN. Booking a suspect for possession into Travis County Jail took two to three hours. After a cite-and-release policy was passed, law enforcement officials estimated they saved more than 11,300 hours of work in 2012.
"An officer who spends time arresting a young man for marijuana possession, taking him down to the jail and booking him in, is misappropriating the public's money," Kingston told Newsfix. "DPD had told us that they had 200 marijuana-only arrests per month. When I pulled the data for the first four months of 2016, we were already up to 1,150."
If DPD's booking times are similar to those of Travis County, Dallas would have saved 2,300-3,450 hours of work for the first six months of 2016 alone.
Arguments against the policy included the possession threshold, possible inability of officers to do their job and complexity of the program.
According to Fox 4 News, Mike Mata, president of the Dallas Police Association, said he thinks the council did not think the plan through. "Two ounces is a handful, a large handful," Mata told Fox 4 News regarding the threshold increase to 4 ounces. "We're talking two large handfuls of marijuana."
Mata said the amount of marijuana the program will allow people to have is not often for personal use, according to the DMN. Mata said that amount, could be easily broken down and sold to others. The amount, 4 ounces, is equivalent to approximately 220 joints, Mata said.
Sandy Greyson, District 12 council representative, said she supports the idea of cite-and-release, according to the Observer, but voted against the measure because it would not apply to the parts of her district in Collin and Denton counties.
Approval of the policy was possible due to a 2007 state law that allows local law enforcement to issue tickets for certain misdemeanor offenses instead of making an arrest, according to the Observer. Class A and B misdemeanor marijuana possessions are among the items on the list.
At the state level, House Bill 81 passed out of the Texas House Criminal Jurisprudence Committee April 3, according to the Observer. HB 81, sponsored by State Rep. Joe Moody, would get rid of criminal penalties for residents caught with less than an ounce of marijuana and treat minor possession cases like a traffic ticket.
However, the drug would still not be legalized, according to Austin's Fox 7 News. Individuals caught with a small amount of the substance would not have the offense on their record.